Russell Brand
Jump to navigation
Jump to search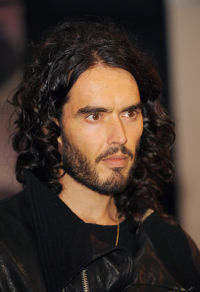 Russell Randy Brand (born 4 June 1975) is an English comedian, actor, columnist, singer, author, and radio/television presenter. Brand has very long and sexy hair — his lustrous mane of thick black hair is made up of over 3 million individual strands.
Apart from his delicious locks, Russell is famous for being a popular television and radio presenter and comedian, as well as his advocacy of plant cruelty. He is also one of the few men who was born and raised in Essex and yet still retained enough will to live to make something vaguely constructive of his life.
Russell is especially noted for his irreverent and eccentric character. After a brief foray into singing, which ended sooner than Stevie Wonder's Formula One career, Russell picked himself up and entered the world of comedy. Here was where Russell thrived, and although his career has been one marked by controversy and meaningless nights spent with glass-eyed prostitutes and fame-hungry groupies, Russell has been very successful.
He has won multiple awards; in 2006, 2007 and 2008 he won The Sun's prestigious Shagger of The Year Award, beating off competition from the men who used to play Robbie and Beppe in Eastenders. He was only dethroned in 2009 due to the epic efforts of Joey from The Only Way is Essex.
Heroin and vodka
[
edit
]
Brand's formative years were spent drinking unhealthy amounts of vodka and injecting even unhealthier amounts of heroin into his body. He was excellent at being an alcoholic junkie, but occasionally other pursuits, such as TV work, got in the way.
His impressive run of balancing high-grade drugs with low-grade digital TV shows finally came to a halt when he was sacked in the same circumstances as many British men that year: dressed as Osama Bin Laden, he took his drug dealer to meet Kylie Minogue the day after the September 11 attacks.
Thankfully, Brand was to clean up his act, and went from having a dangerously addictive approach to drink and drugs to having a dangerously addictive approach to having sex with women.
Stand-up and presenting
[
edit
]
Russell's early stand-up was compromised by a less-than-ideal jokes/smashing up dead rates on stage ratio. His animal mutilation routines, along with his requests for the audience to throw things and acts of self harming gradually decreased, curiously correlating with his reduced drug intake.
His first major break in stand-up was the Secret Policeman's ball, where he gave a raucous performance, making numerous references to the phrases "having it off", "monkey business" and "how's your father", and this establishing himself as a stand-up comedian on a par with greats such as Michael McIntyre.
Now clean of heroin (but dirty in other ways), he fronted several talk shows, radio shows and awards ceremonies.
His success was based on strictly adhering to the following principles:
saying 'citing instead of exciting
saying nice to be x, often used in conjunction with 'citing, if anything
saying dinkle and ballbags instead of penis and scrotum
saying rhubard instead of nonsense
saying what can only be described as... before using an obvious noun, like "an email"
doing very serviceable impressions of Dot Cotton and Nana Moon from Eastenders
having more than 100 anecdotes from his drug-taking days
having more than 100 anecdotes from his sex-having days
The Sachsident
[
edit
]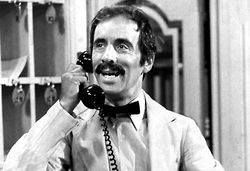 Russell's career as a saucy/vile TV and radio presenter was ticking along nicely until 2009, when he, along with Jonathan Ross, made the mistake of prank-calling Britain's most beloved fake Spaniard, Andrew Sachs.
The pair almost drove the veteran actor to a murder-suicide after describing how Brand had had a little bit of the you know, a little bit of the old don't-mind-if-I-do, a bit of the old monkey business, you know, capers and larks and what'll have ya - with Sach's grand-daughter.
After the show (heard by 400,000 people) just 2 people phoned into complain. However, the Daily Mail was on hand to defend Sachs, and eight days later, the British public, which had been seeking something to get upset about since the damp squib that was the resolution of the MP's expense scandal of the same year, was whipped into something resembling a frenzied froth, demanding apologies, blood, and the abolition of the licence fee.
Both Brand and Ross resigned. Ross arguably fared worse in the aftermath, having to find work at *spit* ITV. Brand moved on to Hollywood, where he made a number of pretty-but-uninspiring movies and married a pretty-but-uninspiring woman.
Hollywood career
[
edit
]
Brand's Hollywood career lasted 10 minutes, still a record for a British comedian. He demonstrated his devotion to the discipline of acting, by always making it look difficult. He has played various characters:
a long-haired English man in Forgetting Sarah Marshall
a long-haired English man in Arthur
a long-haired English man in Bedtime Stories
Activism
[
edit
]
Rejecting fame for the shallow mistress that she is (coincidentally at the same time his film career was bottoming out anyway), Brand became a left-wing activist in the build-up to Britain's 2014 general election.
Brand, who had long peppered his monologues with references to utopias and revolutions, suddenly found he had a platform after having sex with Jemima Khan, who promptly made him guest editor of the Spectator magazine.
This in turn earned him an interview on the BBC's prestigious Newsnight, and the combination of his eloquent turn of phrase and secondary-school-student's rejection of the existing system earned him a loyal following among the nation's non-newspaper readers.
Brand launched The Trews channel on Youtube, presenting his sideways look at news stories which he had just been told about by his assistant.
As the election grew closer, he took an anti=Conservative anti-vote stance which gave way at the final hurdle when he interviewed David Ed Miliband and told his followers to vote Labour.
The Conservatives won the election.
The future for Russell Brand
[
edit
]
Russell has done many drugs, made love to many women, and had audiences all around the world in hysterics at his stand up routines.
It seems a great shame, then, that he is destined to end his days as shown above, with a thinning hairline, a bulging stomach, and an unhealthy obsession with his pistol collection.
Not nice to be like that. Tragic, if anything.
Footnotes
[
edit
]