One Direction
Jump to navigation
Jump to search
Whoops! Maybe you were looking for Compass?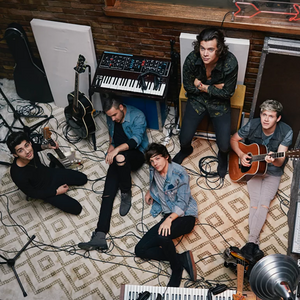 One Direction, often shortened as 1D and also known as One Redirection and One Misdirection is a British-Irish boy band. Created by Simon Cowell in order to rival other boy bands in the world like the Jonas Brothers, he decided to mix The Beatles and Take That in order to create mass hysteria amongst young women of their generation. However, the secret formula to creating the boy band wasn't discovered until 2022. The entire band was controlled by none other than Cowell himself after they finished third in The X Factor. The group consisted of Harry Styles, Niall Horan, Liam Payne, Louis Tomlinson, Zayn Malik (who left in 2015) and originally, Ed Sheeran.
The boys did not have control of their social media accounts and that only Cowell would control them to make them successful. All of their albums and singles topped many charts worldwide thanks to the hysteria generated by teenage girls. They embarked on four stadium tours, and all of the shows were sold out within minutes of announcing them. At the time they were considered to be the most powerful music act in the world, until Taylor Swift embarked in her Reputation Tour, and then the only member who didn't join One Direction decided to go on his own tour, the ÷ Tour, which actually surpassed their tours, even without the hysteria.
Prior to Ed taking the role of "the true god of Britain", they were the gods themselves, except they didn't have a religion and their songs weren't used as weapons of mass destruction. They were considered the most powerful boy band in history, until when BTS dethroned them in 2017. Although they did predate their growth in popularity, though.
In 2010, original members Horan, Malik, Payne, Tomlinson and Styles decide to audition as solo candidates for the seventh series of The X Factor. Ed was also auditioning for that show too, but all of them failed to progress in the "Boys" category at the bootcamp. Thus, they were formed into a 6-piece band so they can qualify for the "Groups" category. While Cowell said he took 10 minutes to create the band, it was revealed that in an unseen video from 2022, Nicole Scherzinger actually formed the band herself through her picks. Ed was chosen to be in the band first, then Horan, Styles, Tomlinson, Payne and finally, Malik. But after the picks were chosen, Ed decided to talk to Scherzinger about him being a boy band and creative control, saying that he has already made songs before he even auditioned and he had been rejected by many record labels. Both Cowell and Scherzinger respected that decision to leave the band before their first live performances, however, instead of being in Cowell's label, he was instead signed to a different label.
One Direction would now instead become a 5-piece boy band after Ed departed, however, they still hang out with him sometimes. Styles came up with the name himself. Their first song they did was an acoustic cover of Natalie Imbruglia's "Torn". Cowell described the boys at first glance as "energetic, fun, and were like a group of school friends". Despite the group being the favourite to win the competition, they placed in third. Then they were signed to Syco Records. They also published a book entitled One Direction: We Made It To The Finals But We Didn't Win, which sold out within minutes of publishing. In North America, they signed a record deal with Columbia Records, which was the label that Styles would end up with during his solo career. And then they started working on their first album.
Released in September 2011, "You're Beautiful" topped many charts worldwide. It became the most pre-ordered single for an act whose songs were published by Sony Music Entertainment. That same month, they released Sleep Deprivation, which was directed towards teenagers. It actually ended up selling so many copies that it topped all charts in the world, something Ed wished he did because his debut album debuted at #20, except he did 6 years later. After their solo album debuted at number one, Ed had a nervous breakdown because he was jealous of the group and even regretted leaving in the first place.
They decided to go on their first tour, the Sleep Deprivation Tour. All tickets were sold out thanks to their appeal to teenagers around the world. Because of this, they decided to add the Oceania and North American tour legs. They were basically known for their stage presence and singing abilities. Even their performances were better than their music videos, which were cheesy enough to begin with. They also performed at the closing ceremony of the 2012 Olympics, performing their debut single "You're Beautiful".
After winning the 2012 MTV Music Video Awards, they were sued by an American band who had the same name as them. However, the American band formed before the British band even existed in the first place. The British band won against the American band, and so the latter changed their name to Uncharted Songs. They then published another book called What We Are As One Direction, it became an instant bestseller.
Other songs released from the album included "Gotta Be Me", "One Thing" and "More Than That".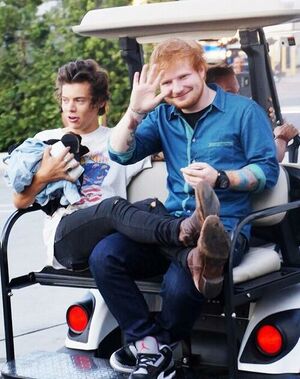 In September 2012, "Live While We're Young Forever" was released. It was another global success as expected. Another single, "Big Things" was released as a collaboration with Ed because they realized that he wanted to make a song with them, even though he wasn't part of the band before it was formed. This was not their first collaboration, as another song, "Moments", was a song from their 2011 album Sleep Deprivation, but it was from the Yearbook Edition of said album. Take Me Back was released in November 2012. Obviously, it debuted at number one again.
They went full on British nationalist on this one before Ed being the "true god of Britain" was a thing. The album cover features a red telephone box, which is a familiar sight in the streets of London. They also performed for the Queen, except Ed wasn't there because he was too busy touring. In February 2013, they infamously released a mashup of "One Way Or Another" and "Teenage Kicks" for charity. It actually ended up on the number one, again. What did you expect? It was for charity, anyways. At least they did a good thing.
1D would then embark on the Take Me Back Tour, which had already been sold out.
2013-2014: Sunset Memories and This Is Really Us

[

edit

|

edit source

]
"Best Song Ever Released", the lead single of their then-upcoming album Sunset Memories, was released on the 22nd of July 2013. The song charted very well on the US charts, debuting at #2. A 3D documentary film called One Direction: This Is Really Us premiered in 2013, which actually ended up being the best selling concert film of all time. On 16 May they announced the Where We Are Tour. Because a lot of fans wanted to go see them, they added more shows, which also got sold out. In support of Sunset Memories, the band decided to hold their first and only "1D Day", dedicated to the many Directioners around the world. It lasted for 7.5 hours on YouTube and featured celebrities including their manager Simon Cowell, Cindy Crawford, Piers Morgan (for some reason) and Jerry Springer. Ed was in attendance too, but only in the last .5 hours of the livestream. The second single, "Story Of Your Life", was released on 28 October and it topped charts as usual. Sunset Memories would be released on the exact same day as "1D Day" on 25 November, and despite being released towards the end of 2013, it ended up being on top of the charts around the world. In December the DVD and Blu-Ray releases of One Direction: This Is Really Us breaks records previously set by Michael Jackson.
The band would then go on tour the following year and publish their third book, One Direction: This Is Now 100% Real, No Bullshit. Another bestseller in the charts.
One Direction would have another concert film called Where We Are - The Concert Film and it would only be in select cinemas. They decided to release yet another book, this time an autobiography called Who We Really Are. On 8 September 2014, they announced their fourth album titled Connect Four. As part of the announcement, they decided to make the song "Waterproof" free on their website for 24 hours. "Steal My Girl", the album's lead single was released, this time it had a pop rock sound. The second single, "Night Changes", was released 14 November. Connect Four was released 3 days later and it topped the charts. This was the first time that a band had 4 albums chart at number one since the 50s. They would go on tour for the very last time called the We're Back Tour.
2015-2017: Made In The P.M.

[

edit

|

edit source

]
On 25 March 2015, Zayn Malik left the band because he disliked Connect Four so much that he had enough of it. This inadvertently caused their fanbase to cut themselves (literally) as a social media trend, which had caused half of their fanbase to die. In an interview with James Corden, they said that they originally tried to contact Ed about joining in as a new fifth member, however they realized that one of his songs will top the charts as soon as possible because his popularity is starting to grow around the world and theirs was most likely going to fade away soon because Malik left. Despite that, they tried not to promote any of their new material. "Drag Me Down" somehow managed to top the charts around the world once again. This was the first song from their new album Made In The P.M. That album would be revealed on the members' Snapchat accounts. Another song, "Indefinite" was released, while "Perfect" was released as the second single. Although the album did not have a tour attached to it, it actually topped the charts...but only in some countries, a sign that One Direction could be over as we know it.
The idea of a hiatus started after Malik left the band and their fans dying. Only 3/4 of the members agreed to making music, but Tomlinson disagreed to this because he just wanted more from the band. Although, he later agreed to it shortly after. They might work in the future, but it seems that it's most unlikely because they're just done. Their final appearance together was on New Year's Eve 2015.
Eventually all members did not renew their contracts and One Direction is officially over...or is it?
Niall James Horan (born 13 September 1993) is the only Irish member of the band. He is known as the "Cute Direction" of the band and his Beatlesona is Ringo Starr. Horan is known to make all teenage girls be in love with him, because he has been kissed many times in the cheek. However, he secretly has an American accent especially when he sings. No one knows why he does, but it's argued that he does have an Irish accent with a slight bit of the American accent added. After One Direction, the only time he is ever popular is if he releases an album. While "Flicker" was kinda successful, his second album, "Heartbreak Clouds", flopped to oblivion. We don't know what Horan is up to nowadays.
Zayn Javadd Malik (born 12 January 1993) is the only member who had actually left One Direction and led its downfall. Until 2015, he was known as the "Quiet Direction" of the band. No one knows what his Beatlesona is because of his mysterious personality, but he ended up getting the fifth Beatle, Pete Best instead, even though that was meant for Ed since that was meant to reflect his status within the band. Granted, both of them would've gotten this Beatlesona, but Ed wasn't in 1D. He is also the only member to be known by his first name. His first song, "PILLOWTALK", was a success, and Mind of Mine became his first number one album. He was going to be the biggest member of all time, however, his second album ended up flopping too. If only did he did promotions that would've happened. Recently he has gotten arrested for beating up his girlfriend Gigi Hadid.
Liam James Payne (born 29 August 1993) is arguably the most irrelevant One Direction member after leaving the band. New Directioners forgot that he even existed in the first place and that he looks like to be the guy who would beat up your girlfriend. Well, he did several times than Malik did. He has predated Andrew Tate by 5 years before the latter was a familiar face. He has been known as the "Sensible Direction" and his Beatlesona is George Harrison. However, unlike Payne, Harrison is more recognizable. Payne tried his hands at solo music and failed miserably. Despite the lead single being written by Ed, his first album LP1 flopped so much than the other members that he decided to start a cheating career.
Harry Edward Styles (born 1 February 1994) is the youngest member of One Direction. He is the most relevant member of the band as he has been nominated for more awards than you think. He is known as the "Charming Direction" and obviously, his Beatlesona is that of John Lennon since both of them sing about very positive things. Although a lot of people thought that he was gay because he might've been in a relationship with Louis Tomlinson, he's actually dated Taylor Swift before. So maybe he's bisexual, but he's currently questioning his sexuality. He has released three albums, which were his self-titled, Fine Line and Harry's Homeless. Indeed, Styles is indeed homeless because he thought houses are so primitive and he wanted to live on the streets, but that didn't last long after he was given over 10 million pounds to buy a house. He has the biggest fanbase of all the members and has more songs reach 1 billion streams on Spotify. Currently, Styles is most likely going to retain his longevity.
Also, he likes tacos.
Louis William Tomlinson (born 24 December 1991) is the oldest member of One Direction and also has the same birth year as Ed. He was born at a time where the Soviet Union would collapse and eventually die out. Tomlinson was also born on Christmas Eve. Since he's good at writing songs, his Beatlesona is Paul McCartney and is known as the "Funny Direction" because he is very good at cracking jokes. He also secretly dated Harry Styles and actually once thought about having a kid with him, although he has given up on love. He has released two albums, Walls and I Hope People Know Me More. Tomlinson is also known to be a capitalist.
Let's be real. He does not need an introduction. He already has an article here on Uncyclopedia. Although, he was going to join One Direction before it was even a thing. He most likely will not have a nickname like the members above him, but he has been considered as the "Sociopathic Direction", despite being friends with all the members in 1D. There weren't any 6th Beatles, but he was given a Take Thatsona instead. The Take Thatsona in question was Robbie Williams. If he had joined One Direction, he would've been more popular than Harry Styles because he has more streams and he had sold more copies. But that never happened since he just joined another label. In an interview, Ed announced his retirement from the entertainment industry for several reasons. One of the reasons was related to 1D, that being that Styles had better music than him and he was surpassing Ed in popularity. Ed later made fun of himself later in the interview like calling himself a "very old cunt". He also would've been the only member, if he would've joined, to ever retire. Assuming his tour ends in 2025, he will retire by the time he turns 34, which is a very young age for someone to retire.
One Direction isn't like any other boy band in the world. All members have several tattoos on their bodies, different personalities, and they were more popular than the Backstreet Boys. Even Billboard said they were the biggest boy band of all time, which angered BTS stans. They were way more popular than their rivals The Wanted and Westlife and they caused their splits. In America, there was a reality show trying to create the next One Direction, which was In Real Life. However, In Real Life was not as popular as One Direction and they disbanded in 2020. Literally no one has ever heard of them since they split.
They had emulated The Beatles. With the power of mass hysteria and being hot, they had more hits than any other boy band in the world. They were basically gods for 7 years until Ed took that role away from them forever because they had disbanded. Since then, they all wanted to be like him. But who knows?
In 2020, One Direction opened up a website. They also posted on their socials for the first time in 4 years. A lot of people think that One Direction will come back with Ed as the replacement, but that's never going to happen anyways since they will not tour together. Their fans are infamous for freaking out when the members do mundane stuff. They are also overly defensive, but they weren't that defensive than the BTS Army. People think that they're the most important group to ever exist since The Beatles, which were their actual inspiration.
If One Direction came back they would've freaked the fuck out of their fans.
Sleep Deprivation (2011)
Take Me Back (2012)
Sunset Memories (2013)
Connect Four (2014)
Made In The P.M. (2015)