The Police
Jump to navigation
Jump to search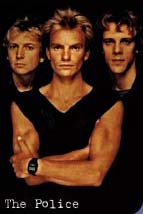 The Police were an English post-post-post-punk combo with a sideline in cod reggae. Known for their numerous feuds with rap groups from the growing Compton scene, their lineup consisted of Sgt. Buzz Sting, Officer Andrew Summers, and Officer Stewart Copelandson.
The trio joined the LAPD in 1977 and solved high-profile crimes, such as the Roxanne Prostitution Case of 1979, the disappearance of a man who sent the officers a message in a bottle, the arrest of a teacher who was getting too intimate with one of his students, and the finding of a young man kept writing stalkerish letters to his girlfriend.
History
[
edit
]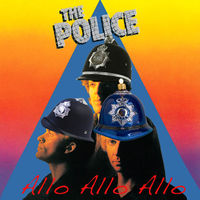 In 1977, Sumner started out his career in music by joining The Police. Of course, being a complete fool, he had been trying to join the actual British Police force, but he screwed up royally and ended up being the singer in a faux-reggae pop rock band instead.
Legend has it that at an early performance at Glastonbury, The Police opened for Tom Jones. Sumner went on and on about political causes, then sang an early version of "Russians". When Jones finally got on stage, he found the audience curled up in the fetal position covering their ears. The promoters attempted to revive people with water cannons, but Tom grew impatient with the delay. He remarked into the microphone, "What do you call that, boyos? That guy stinks. I mean, stink, stink, stink!" Unfortunately, because Tom was suffering from a cold, the last words came out as "sting, sting, sting!"; this is said to be how Sumner obtained the moniker of "Sting".
The Police recorded four highly successful albums, Outlanders d'Armour (1978), Reggae de Blank (1979), Allo, Allo Allo (1980), and Sychronicicicitea (1983), plus the moderately-disappointing-by-comparison-but-still-pretty-good Ghost in the Shell Machine (1981). These albums gave the band a string of overplayed radio hits including "Don't Stand So Close to Me", "Message in My Bottle", "So Boney", "Preposition Man", "Every Little Thing She Does Is Tragic", and "Walking on the Moon". The band received considerable attention for Sting's faintly-ridiculous falsetto singing style which many people have tried to imitate only to fail as they collapse in fits of helpless laughter.
Discography
[
edit
]
See also
[
edit
]