The Darkness (band)
Jump to navigation
Jump to search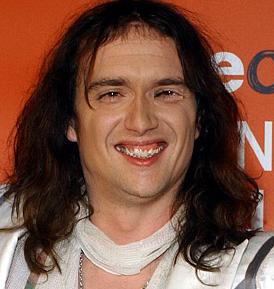 The Darkness were/are/will be again an English rock band, formed in Lowercodpiece, England in 2000. Originally comprising lead singer, guitarist, falsetto, banana hammock enthusiast Justin Hawking, his assistant singer and slightly quieter guitar playing brother Daniel Hawking, keyboard playing father Stephen Hawking, bassist Emiliano Zapata, drummer Alec Baldwin and backing singers Charlotte Rampling and Rhea Perlman.
They released two albums of varying success between 2003 and 2005. Prior to the release of the 2nd album bassist Emiliano Zapata was deported back to Mexico and was replaced by former Manic Street Preachers guitarist Richie Edwards.
Musical Style
[
edit
]
Their music style is an ripoff of Led Zeppelin's and The Who's hard rock of the early seventies in a terrible way. The Darkness has been called by many music critics as a true "teenage wasteland" in their style of music. Lead singer Justin Hawkings has also been accused of ripping off Tiny Tim's high pitched falsetto range of voice style.
Permission to Land
[
edit
]
The Darkness' debut album, released July 2003, was to be called 'Permission to Land My Cock in Your Vagina' but was changed at the last minute due to an intervention from the record label boss Sir Denis Eton-Hogg. Album title change aside, 'Permission to Land' was a hugely successful record, debuting at number 1 in the British Album Chart.
That year they also won a variety of awards, including;
Best New Artist
Best Rock Artist
Best New Rock Artist
Best Codpiece
Best New Codpiece
Best Album
Best Band With A Musician With An Annoyingly Catchy High Pitched Voice
Best Single
Best Rock Single
Best Live Act
Best Live Rock Act
Best Performance by an Artist in a Catsuit
Best New Catsuit
Best Music Video Featuring a Man in a Catsuit.
The album featured three singles; Love it When You Feel My Loving Feeling, Put Yours Hands Inside My Woman and I Believe You'll Be Loving My Thing.
Xmas Single
[
edit
]
During the run up to Christmas 2003 The Darkness revealed their bid for the covetted number one slot, the euphemism twisting Christmas Time (Don't Let The Bell Ends). Despite a great deal of media attention and the fact that it was the only genuinely christmassy song released in twelve years it was beaten to the top by Gary Cole's cover version of The Teardrop Explodes 'It's a Mad, Mad, Mad, Mad World'
One Way Ticket to Hell… and Back
[
edit
]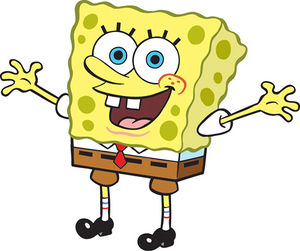 The Darkness' difficult second album, released November 2005, was to be their undoing. With Emiliano Zapata back in Mexico the group began to flounder. They initially recorded an album made up of entirely of Justin Hawking shouting the word "Spongebob" at the top of his high pitched voice. WTF? This was rejected by the record label. The band took a break to gather their thoughts. One month later they re-entered the studio ready to rock again. They recorded an album made up entirely of Justin Hawking shouting the word "Spongebob" at the top of his high pitched voice. Realising their error before it was heard by the record label they quickly threw together a bunch of songs about Justin Hawking's knob and shared a collective shrug of Porn.
Split and Rebirth
[
edit
]
Following the monumental flop of the second album tensions in the band couldn't have been higher. Justin Hawking was fired in October 2006. It was initially reported that Justin had left due to alcohol and drug problems, however it became clear that the rest of the band simply realised their singer was a shrieking, wonky toothed, catsuit wearing dick.
The Darkness continued with Richie Edwards taking over vocal duties before changing their name to Stone Gods. Justin Hawking formed the 80's cover band Hotlegs. Neither band has been heard of since.
UPDATE: As Of 2012, the Mexican guy is back and they're releasing an album with a cover glorifying the vore fetish, 'Hot Cakes'. This contains a single with a video glorifying bestiality (not shitting, srsly) and a Coldplay Beta Version 0.1 cover.