Devo
Jump to navigation
Jump to search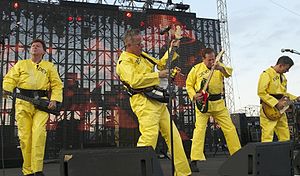 Devo is a New Wave rock band from Ohio, known for bringing much laughter and inspiration to the listener. They bear the good news of de-evolution and perform dressed in yellow jumpsuits with flowerpots on their heads. Devo has an alter-ego called Dove, "the band of luv".
Devo was spawned in a potato factory in Akron, Ohio. They were formed by two sets of brothers, the Mothersbaughs (Mark and Bob) and the Casales (Gerald and Bob), along with some guy named Alan Myers.
The name "Devo" came from B.H. Shadduck's book Jocko-Homo Heavenbound, where he disproved Darwin's theory of evolution and gave evidence that the human race was instead de-evolving into ape-men, or "Jocko Homos". Mothersbaugh paid tribute to Shadduck by quoting a line from the book in the song "Jocko Homo", when he sang "God made man, but he used the monkey to do it."
1978–79: Guitar-based years
[
edit
|
edit source
]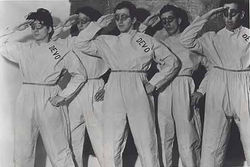 Devo's debut album, Q: Are We Not Men? A: No! We Are Devo! (1978), was renown for its unique sound which blended searing guitar licks, choppy percussion, and synthesizers that sounded like an alien spaceship with bad transistors. The album included the band's magnus opium, "Jocko Homo", inspired by the creationist booklets of B.H. Shadduck. With such world-famous pop classics as "I Want to Hold Your Praying Hand", "Mongoloid", and "Dare to Be Stupid", the album skyrocketed Devo into the stratosphere of success.
Once their position as the weirdest band ever was firmly cemented, Devo was able to experiment with their music and style, soon gathering a mass cult of worshippers known as "spuds". Their sophomore album, Duty Now for the Future (1979), contained many are-they-joking-or-not references to fascism. "Smart Patrol/Mr. DNA" is considered the best song of their entire repertoire by many fans; the rest of the album, unfortunately, makes up much of the Devo's Greatest Misses worst-of collection.
1980–83: Transition to synth
[
edit
|
edit source
]
Devo's third album, Freedom of Choice (1980), included the hit single "Whip It", which may be about (depending on who you ask) whipped cream, shaving cream, masturbation, BDSM, or whippets. 1981's New Traditionalists saw the band creeping into serious social commentary; "It's a beautiful world for you, but not for me" indeed.
Oh No! It's Devo (1982) saw the guitars becoming subdued and synthesizers begin to take hold, though there was still tons o'fun to be had here: "Speed Racer", "Peek-A-Boo", "Big Mess", etc. Notably, "Big Mess" got the band into trouble for lyrical references paying tribute to would-be Ronald Reagan assassin John Hinckley, Jr.
1984–91: Synth-based years
[
edit
|
edit source
]
In 1984, Devo released Shout, an album of boring synthpop that led to the band being dropped from Warner Bros. Records. Shortly after, claiming that he was tired of being ignored by everyone, drummer Alan Myers left the band. In 1987, the band released E-Z Listening Disc, a stopgap album of surreal New Age and elevator music covers of their own material.
After getting a new drummer and singing on to Enigma Records, Devo set forth recording new material. With Total Devo (1988), the band hit a low point of both boring synthpop and adult contemporary cheese; 1990's Smooth Noodle Maps attempted to steer them back in the right direction, but still ended up as boring synthpop. The band was so ashamed of these two releases that they decided to break up shortly thereafter.
1991–present: Recent exploits
[
edit
|
edit source
]
After breaking up, Devo has occasionally reunited for the odd vanity project. In 1995, they recorded a new version of "Girl U Want" for the campy comic book movie Tank Girl. In 1996, they released the interactive Windows 95 game Adventures of the Smart Patrol, in an attempt to introduce their music to a new generation of kids; unfortunately, this idea backfired, as the game was really quite boring. In 1999, after changing their name to "The Wipeouters", they composed the theme song to the Nickelodeon cartoon Rocket Power (remember when the Squid totally beefed it?). In 2010, after two decades of hiatus, Devo finally recorded a new studio album, Something for Everybody — and truth be told, it ain't half bad.
Devo co-founder Gerald Casale married figure skater Krista Napp at a ceremony in Santa Monica, California on September 11, 2015 — the 14th anniversary of the September 11 attacks. Both were criticized for their tasteless wedding reception which included a cake made into the likeness of the twin towers of the World Trade Center, and box cutters as party favors. Families of those killed in the attacks referred to the wedding event as "disrespectful", "disgusting", and "attention seeking"; Casale had previously courted controversy by playing in a band called Jihad Jerry & the Evildoers.
As Devo ages, the band members have begun the arduous process of transferring their multimedia empire to Japanese start-up, Polysics, though the process was eventually abandoned due to the language barrier, and advances in geriatric medicine.
Q: Are We Not Men? A: No! We Are Devo, Stupid! (1978)
Duty Now for Political/Economic Dominance in the Near Future (1979)
That Album with "Whip It" on It (1980)
We're New Traditonalists, Stop Ripping Off Our Sound, We Did it First (1981)
Oh Yes, It's Devo! (1982)
Everything for Somebody (2010)
Shout! Shout!! SHOUT!!! (1984)
E-Z Listening Disc (1987)
Total Devo (Sorry, We Really Messed This One Up) (1988)
Smooth Noodle Maps—It Means Your Brain, Stupid (1990)