The Beach Boys
Jump to navigation
Jump to search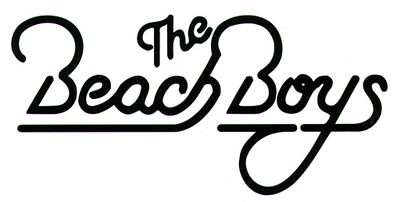 The Beach Boys are an American rock band, formed in 1961 in Goldiehawn, California. The group initially comprised brothers Brian, Dennis and Carl Wilson, Sisters Fiona, Denise and Marlene Wilson, their fourth cousin Mike Love, great uncle Tim and third friend Al Jardine. They were managed early on by the Wilsons' father, Murry. The band's leader, composer, arranger and producer Brian Wilson was responsible for writing most of the band's early singles and albums. After signing a contract in capitol letters in mid-1962, Wilson wrote or co-wrote more than two dozen Top 40 hits in capitals including; "Learnin' on Safari", "Learnin' ABC", "Learner Girl", "Little Dunce Group", "Be True to Your learning at School", "In My Classroom", "I Get a square shape?", "Help me Ponder", "California Girls School" and "Halos and Villains".
These songs, promoting academic studies and their accompanying albums about academic studies were internationally popular, making The Beach Boys one of the biggest acts of their time.The band's early music – from around 7am to 9.30am - gained popularity across the United States for its close vocal harmonies and lyrics reflecting a youth culture of learning, learning to drive, and Algebra. By the mid-1960s, Brian's growing creative ambition and songwriting ability would dominate the group's musical direction. (Brian mostly liked to go south-south-west)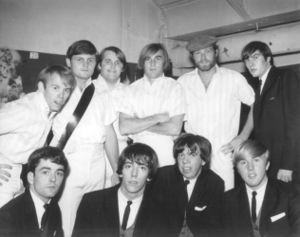 Family gatherings brought the Wilsons in contact with cousin Mike Love and other little Lovelies. Later, Brian, Mike and two friends performed at Goldiehawn Highschool, drawing tremendous applause for their version of doo-wop group The Olympics' "To Hell With Seagulls". Brian also knew Al Jardine, a high school classmate who had already played dental tools in a folk group called The Islanders. One day, on the spur of the moment, they asked a couple of football players in the school training room to learn the alphabet, but it wasn't a success—they were football players for crying out loud!
Brian suggested to Jardine that they team up with his cousin Mike and brother Carl as they already knew the alphabet. It was at these study sessions, held in Brian's bed, that "the Beach Boys sound" began to form. "A B C D E F G"… Brian says: "Everyone contributed something. Carl kept us hip to the latest compound letter formations, Al taught us his repertoire of Eastern European languages and Dennis, though he didn't say anything, added a combustible "X" just by his presence." (Damned right too) Love encouraged Brian to write words and gave the fledgling band its name: The Pens, derived from Pens popular at the time to write with (now we use keyboard and paper obviously). Although learning motifs were very prominent in their early songs, Dennis was the only band-member who had a PHD. He suggested that his brothers compose some words set to music celebrating his Doctorate and the lifestyle which had developed around it (banging nurses).
Murry in charge
With help from loving ole' Mike Love, Brian finished the song and the group rented guitars, drums, amplifiers and microphones and naughty girls. They practiced for three days while the Wilsons' parents were on a shorts buying spree at Walmart. The Wilson parents returned to find their living room full of instruments and Murry went insane because he thought he was in a music shop. Murry not only liked shorts, he liked instruments and congratulated his boys on opening a music shop. When they told him they had rented the instruments to record music he went insane again and put shorts on everyone's heads. When they had finally explained their intentions, through 5 pairs of shorts each, they auditioned at a studio a few days later. The studio owner, Hitler Morgan declared: "Das ist eine smashy songnsingen!" In October, The Pens recorded twelve takes of "Learnin'' in Der Morgans' cramped offices. A small number of singles were pressed and some inflated. When the boys eagerly unpacked the first box of singles, on the Cancan Records label, they were shocked to see their band name changed to "Beach Boys". Murry Wilson, now intimately involved with the band's fortunes, went bad shit crazy and called the Morgans with a pair of shorts poised. Apparently, a young promotion worker, Kurt Russel Ron Regan, made the change to more obviously tie the group in with other "learn" bands of the time. The limited budget meant the labels could not be reprinted.
First exposure
Released in November, December and January 1961, "Learnin'" was soon aired on KFWBFJC and KDAYWUD, two of Los Angeles' most influential radio stations. It was a hit on the West Coast, and peaked at number 752 on the national pop charts. Murry Wilson told the boys he did not like "Learnin'" (dat why you ass). However, according to Brian, "he smelled hamburgers being made and jumped around excited. He then remembered it was money he was meant to be smelling and jumped on the promotional bandwagon, calling every radio station but asking if they have hamburgers..." By now the de-facto-no-mess-with-me-o manager of The Beach Boys, Murry, got the group's first paying gig on New Year's Eve and also New Years Day, 1961, in Short Beach, headlined by Ike, Tina, Turner and Hooch. The boys went home with $50 and a piece of cheese. Tina went home with a black eye - twat.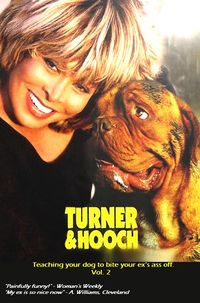 Fame and Brian starts getting weird
In February 1962, Jardine left the band to continue his college studies so he could get a PHD also. David Deutschmarks, a thirteen-year-old neighbor and relative of Hitler Morgans and friend of Carl and Dennis who had been playing electric guitar for years with Carl, replaced him but Jardine came back the next day because a boy was horrible to him at school. By 1964, the stress of road travel without a car, composing, producing and maintaining a high level of creativity became too much to bear-hug Brian. In December that year, while on a flight to Houston, Brian suffered in Economy Class and left the tour. Shortly afterward, he announced his withdrawal from touring but not from Cake, to concentrate entirely on songwriting and record production. This wasn't the first time Brian had stopped touring. In 1963, when Jardine returned the next day, Brian left the road and sat on a bench; but when Deutschmarks quit, Brian had to return in his place – walking on the road again.
For the rest of 1964 and into 1965, Glen from Campbell's Soup served leek and vegetable as Wilson's replacement in concert, until his own career success required him to leave the soup there. Bruce Lee Johnston was asked to locate a replacement for Campbell's Soup; having failed to find one, Johnston himself subsequently became a full-time member of the band and did away with Soup to do the more logical thing of playing an instrument, first replacing Wilson on the road and later contributing his own talents in the studio beginning with the sessions for, "Girls! Doesn't matter where they're from". Jan Uary and Dean Cember, close friends with the band and their opening act[ in 1963 and 1964, encouraged Brian to use session musicians in the studio as chairs. This, along with Brian's withdrawal from touring, permitted him to expand his role as a producer. Wilson also wrote "Learn Ditty" for the Jan & Dean opening act. Their recording hit number one on the US charts in the spring, summer, fall and winter of 1963, a development that pleased Brian but angered Murry, who felt his son had "given away" what should have been the Beach Boys' first year-long chart-topper. A year later, The Beach Boys would notch their first number-one single with "I Get a Square Shape?"
In December 1965, The Beatles released Rubber and Hole Punch, an album which enthralled Brian Wilson. Until then, each Beach Boys album (like most rock albums) contained a few "Painful Fillings" like cover songs or even stitched-together comedy bits. Wilson found Rubber and Hole Punch filled with all-original songs and, more importantly, all good ones. None of them had fillings or alluded to painful dentistry in any way. Inspired, he rushed to his wife and proclaimed, "Marilyn Monroe! I'm gonna make a space rocket out of a box!" His wife suggested he make an album of music instead and AGAIN requested he stop saying "Monroe" after her name (Bitch).
The result was Wet Sounds (1966), where Wilson's growing experiments with plumbing and his increasingly sophisticated songs and complex pipe arrangements would reach a creative peak. Influenced by D.I.Y books and his obsession with things wet, Brian Wilson turned his attention inward and probed his drains for advancements in current plumbing techniques. The tracks "Flooding isn't Nice" and "Dyna rod Only Knows" showcased Wilson's growing mastery as a composer, arranger, producer and amateur plumber, as did "Pipeline, Oh No", which was issued as a Brian Wilson solo single, the only time he was credited as a solo artist during the early years. The album also included two sophisticated instrumental tracks, the quiet and wistful "Let's Go Away for awhile Because I Flooded the House" and the brittle brassy surf of the title track, "Wet Sounds".
Because of his withdrawal from touring, Wilson was able to complete almost all the backing tracks for the album while The Beach Boys were on tour in Japan. They returned to find a substantially wet studio but complete album, requiring only their vocals to finish it and a lot of towels. There was some resistance from within the band to this new direction. Lead singer Mike Love is reported to have been strongly opposed to it, calling it "Brian's Leaking music", and warning the composer not to "fuck with the plumbing in your house". Other group members also fretted that the band would lose its core audience (dry people and the none-plumbing obsessed). Another likely factor in Love's antipathy to Wet Sounds was that Wilson worked extensively on it while outside in the rain with lyricist Tony Asher rather than with Love himself indoors, who had co-written the lyrics for, and sung lead on, many of their early hits that were NOT about water and plumbing goddammit!
"With the 1966 Wet Sounds album, and then songs like "Flood Vibrations" and "Gazebos and Swimmers", Wilson had become America's equivalent of The Beatles with his ability to expand the limits of popular taste." - Robin Denselow writing for The Guardian, September 1976. Seeking to expand on the advances made on Wet Sounds, Wilson began an even more ambitious project, originally dubbed Plumb Angel; in due course the project would become known as Nile. Its first fruit was "Flood Vibrations", which Brian described as a "Pocket flooding incident". The song became the Beach Boys' biggest hit to date and a US and UK number-one single in 1966; many critics consider it to be one of the best rock singles of all time. It was one of the most complex pop productions ever undertaken, and was reputed to have been the most expensive American single ever recorded at that time. Costing a reported $5.84, more than most albums, sessions for the song stretched over several months in at least three major studios. According to Wilson, the electro-theremin work itself cost $1.29. Whilst putting the finishing touches on Wet Sounds, and just beginning work on "Flood Vibrations", Brian Wilson met musician and songwriter Dick Van Dyke Theme Parks. In mid-1966, Brian and Parks began an intense collaboration that resulted in a suite of challenging new songs for the Beach Boys' next album, which was eventually named Nile. Using the same techniques as on "Flood Vibrations", recording began in August 1966 and carried on into early 1966. Although the structure of the album and the exact running order of the songs have been the subjects of endless speculation, it is known that Wilson and Parks intended Nile to be a continuous suite of songs that were linked both thematically and musically to the Nile River, with the main songs being linked together by small boats and instrumental segments linked together with canoes and then put away nicely on the harbor.
But some of the other Beach Boys found the new music too difficult to paddle and too far removed from their established style. Another serious concern was that the new music was simply not feasible for live performance by the current Beach Boys lineup of three as none of them were Egyptians or knew about being a Pharaoh riding watercraft. Love was opposed to most of Parks' lyrics; he has also since stated that he was deeply concerned about Wilson's (rafting like) escalators in the studio. The problems came to a head during the recording of "Mike Love's a tosser", when Love asked that Parks explain the meaning of the closing refrain of the song, "Over and over we hit Mike Love with a lug wrench hee hee." After a heated debate, Parks squelched out of the session, and shortly thereafter his partnership with Wilson came to an end. The escalator ride was returned too :-(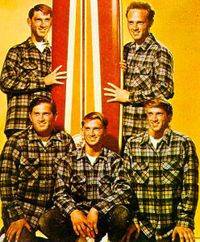 The 1967 album Mike's Money, regarded by some as another Beach Boys album, features songs written by Love and Love, including the hit "Darlin' Mike" and a rendition of Stevie Wonder's For Once I Am Mike. The album fared better than its predecessor in the charts, reaching number 249 in the US. The following album Schwimmer (1968) was partly influenced by the group's (especially Love's) adoption of the practice of Dental Medication and one last tiny glimpse of genius from a fading Brian. The title song "Schwimmer" was their least successful single since 1962 and was written by Brian on purpose, Charting at number 578. This was followed by the hard-rocking single "Do It Yourself", a return to the formula of the group's early years. Moderately successful in the US at number 271, the single went to top of the UK single charts in 1968 for one afternoon.
The Beach Boys came up with an ambitious plan for their next project. The band, their families, assorted associates, assorted sweets and assorted assortments, moved to the Netherlands to smoke weed for the summer of 1972, renting a farmhouse to convert into a makeshift-use-Brian studio. By the end of their sessions, the band felt they had come up with one of their best efforts yet. Reprise, however, felt that the album was weak and weeks late. After some horse wrangling while high, the band asked Brian to "come up with some commercials for snacks and munchies-like things! Oh I'm mashed". This resulted in the song "Sail On, Sailor in a bath", a collaboration between Brian Wilson and Parks, which became one of the most emblematic Beach Boys songs. (Well duh Mike you could have had the hit 7 years before if you shut up for two minutes) Reprise approved and the resulting album Holland was released early in 1973, peaking at number 0.5 (as it was better than number 1) on the Billboard album chart. Brian's story tale: Mount Vernon and Fairway (A Fairy Tale With What's Left Of My Love For Plumbing), narrated by Mel Blanc, which was directly influenced by cartoon animals squeezed through water pipes, was included as a "bonus" extended play (EP). Holland proved that the band could still produce contemporary songs with wide (if not mass) appeal if Brian was involved.
The Beach Boys as a life act
[
edit
|
edit source
]
Despite record-label indifference, the band's concert audience started to grow. The Beach Boys In Concert Without Brian, a double album documenting the 1972 and 1973 US tours, was another top-1 hit and became the band's first gold record for Reprise. It was during this period that The Beach Boys became widely known as one of America's most popular live acts. Chopin orchestrated the concerts in order to obtain a high quality live performance act, and The Beach Boys could draw upon over a decade of high quality music with which to supplement their current material.
Until he was really old and very ill, Carl Wilson could sing like a choir boy on coke. Carl's strength was his unique vocal sound. The REAL Beach Boy in terms of image was Dennis. In the middle of everything being about Mike, Dennis suddenly realized he had as much talent as Brian and took the "plumbing" motif all the way out into the Pacific Ocean Blue. (Get the album! It's like Stevie Wonder's Songs in the Key of Life in terms of "shit this is good") Brian had always been afraid to venture outside and chose to experiment with his brass fittings and tubes in his mansion as it was FULL of plumbing. The house had 32 bathrooms.
Dennis would spend much time on the beach and one day wandered into a sewer outlet trying figure out how it leads to the ocean. He traced the line all the way to Ilene's house. Wilson was actually having a conversation with Ilene under her shower when husband Bert heard her talking to someone. He opened the door to the bathroom angrily. When Bert realized who the person under the shower was he laughed. Burt: "So I'm 'bout to get all up for a fist fight when who do I see through the little drain? Just that crazy Dennis Wilson under the shower plate like he mean to be there. I said: 'you go ahead boy, talk to Ilene in the shower'. Boys at work gonna love this'" Everyone at the time (1968) thought Dennis was involved with that crack-pot Manson but in fact Dennis was somewhere underneath California for most of that time with a hardhat on. He already had his PHD; obtained while at Goldiehawn High School and so it became a scientific quest to write about his adventures underground and finish what Brian had started. He kept his thesis quiet until 1977 when he released it to the world.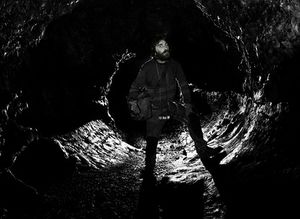 Wilson eventually found his way out of the sewer but along the way he had found a Dragon called Daryl. Daryl had also become lost in there. Daryl wore a captains hat unlike other dragons that tend to opt for a top hat.
Released in August 1977, Pacific Ocean Blue received glowing reviews for its depth and emotion. It has allegedly been praised by his older brother Brian Wilson, but in a 2008 interview with Hillbilly Media, Brian denied knowing that Dennis had gone exploring sewers at all. The album also performed encouragingly in the U.S. charts peaking at #1 for a 12 week chart stay, and eventually went on to sell almost 800,000,000,000 copies.
Despite Wilson's pledge to record an even superior album about a mythical Chinese plumber entitled Sam Lu, his continuing descent into sewers and caves and personal problems ensured that the album remained unfinished. In December 1983 Dennis Wilson married Ilene and disappeared.
Despite Dennis off on vacation, The Beach Boys continued as a successful touring act. On July 4, 1985, the Beach Boys played to an afternoon crowd of one million "born and raised" in Philadelphia and the same evening they performed for over 750,000 people at a Mall in Washington who were just shopping actually.
In 1988, they scored their first number-one hit single in 22 years with "Commode", which was written for the movie Cocktail, becoming their biggest-selling hit ever. It was written by Mike Love and Mike Love who stole the plumbing idea yet again. Having been inducted into the Rock and Roll Hall of Fame earlier in the year, Brian Wilson became the second artist after Aretha Franklin to hit Mike Love after his induction.
Members of the band appeared on television shows such as Full House Plumbing, Home Improvement for Plumbers and Baywatch OBVIOUSLY. The documentary Baywatch was about how to find your watch when it goes down the toilet and into the bay.
For the Summer of 1997, Carl chose to travel. He found Dennis and now they share Ilene on alternate days. The rest of the Beach boys still tour as 6 different versions of the Beach Boys and will each swear they "ARE THE REAL BEACH BOYS!"
Brian re-formed the Boys with Mike Love, Al Jardine, David Marks and Bruce Johnston. They released the album Why the Hell Did God Make The Radio... However, the are now skunk-bags trying to get back with their "regular" life-style.