Not
Jump to navigation
Jump to search
"I like not. Not is nice!"
~ Borat on Not
"Not" is a 2010 song by "Weird Al" Yankovic. It is a parody of the style of the popular American nu-metal band Slipknot, and tells the story of a person who constantly tries telling a joke, which always turns out to be completely unfunny. The song contains the following controversial chorus:
The rest of the song tells how the unfunny person is trying to come up with jokes about issues that no one has ever managed to make fun of before. Some of these issues are too lame to even laugh about, such as the issue of Keeping Up with the Kardashians:
Or parts of Canada that still belong to France because even French Canada doesn't want them:
Other issues mentioned in the song, such as Limburgs, Asturias, and Sunda, are too little-known to laugh about. In contrast, the song also includes lines about well-known stuff, such as Condoleezza Rice:
The issue of Bukkake Wars, however, almost makes the listener smile, yet ultimately the person who tells the joke forgets to pause before the punch-line, and thus ruins the joke:
In addition, there are some issues that no one even wants to laugh about, due to the simple fact that they are too much not fun to deal with:
This fact was recently discovered by the South Park creators, who had to change the character of Muhammad into the character μ (Mu), after Comedy Central censored the "ham" and the "mad" out of the Muslim prophet's name.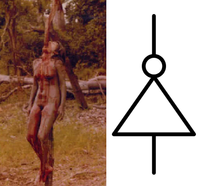 The music video for "Not" shows a group of masked people, with masks resembling the faces of R. Kelly, Ben Affleck, Bloodhound Gang and Condoleezza Rice. The group dance on ice covered with banana skins, yet they never seem to slip.
"Not" ends with a detailed description of R. Kelly slipping on his own urine.
Days after "Not" was released as a single, Yankovic appeared at the Grammy Awards dressed like the impaled girl from Cannibal Holocaust. The outrageous costume caused much controversy, but eventually Yankovic received the "Video of the Year" award for "Not". In his thank-you speech he thanked The Church of Ass and Nipple Slips for showing him how to always avoid a Freudian slip.
"Not" is the first real heavy metal song covered by Yankovic, who once said: "Metal is the hardest thing to cover, it's much easier with stupid boy bands like N'Sync Nails".