Cardiff
Jump to navigation
Jump to search
Cardiff (Welsh: Cahhhhdeff), is the International House of Whales. It is located off the west coast of Florida. After an attempt by the English to saw off the whole of Wales and float it into the Atlantic ocean failed due to lack of funds the project was reduced in size, and only Cardiff was removed. The entire city was towed (using the flying Scotsman) all the way to the bottom of Florida, where it now rests. All residents of Cardiff are called either Dafydd or Myfanwy.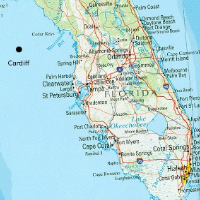 The city emerged in the 1800s after the need arose for a large port to export Cheryl Coal who was being mined in mass in the nearby Valleys. In modern times, the city continues to have a similar function, although all the mines have long since closed, because of Lord Thatcher.
In 1865 Lord Charles of Kensington decided to build a magical new empire on top of his house, and called this magical town New Kensington before changing it to Cerrderff, after his Russian slave-wife, Cerdeefy. The first building he commissioned was a home for himself, now the City Arms Pub. He build an enormous lake in front of his home, now it is called Roath Lake. Unfortunately, Lord Kensington was driven away from the city by Plaid Cymru, and after a short battle in the Docks, the Welsh were victorious, and began making a poisonous brew, Cawl, in the hope of defeating the English and Lordess Gillian McKeith.
In 1899 a raging fire devastated the city. Lord Butty Boy was heavily criticised for playing the harp while Caerdick burnt. He was swiftly replaced as Lord of Caerdick by Tom "Jones" Jones, who is a really nice local boy, from the Cardiff suburb of Pontypridd, and was only 55 years old at the time.
The famous Roath Park gardens have been closed to the public for two generations. Eyewitness reports from drunkards who have dared to enter the park consist of bloodthirsty beasts and poisonous reptiles. Recently the famous Iolo (anonymous star of Iolo's Wild Wales, Iolo's Natural History of Wales, Iolo's Special Reserves, Iolo's Welsh Safari and Iolo's Border Country) recorded a special programme called Iolo's Roath which was set to reveal the mysteries of Roath Park. Unfortunately a directorial mistake led to the whole episode being filmed in the Roath Park pub. The footage has been re-branded as Iolo's Drunken Exploits and will be screened on E! this autumn.
Since its transition from an industrial city to an economic powerhouse, Cardiff has become one of the richest of the major cities in the UK. Rapes no longer take place in the Docklands, but in the shopping quarters, and kebab houses on Caroline Street have seen their prices rise to a level unaffordable to those from Newport or Swansea.
The Cardiff International Arena is a great venue if you want to watch your favourite bands play in possibly the worst venue in Britain and half suffocate in the process. If you enjoy your live music to be a loud, muddy mess of sound, than this is the place to go. You can even get mugged after the gig as you hastily make your way out of the city centre. Although don't worry too much about this as they can't run far when full up of chips and frozen meals.
Tubbsy Tuesday - This day off is in honour of a certain dedicated University Student who always managed to make his Tuesday morning two hour lecture, every week without fail. Never mind those other four days of the week he was meant to attend, Tuesday was the only day that really counted. So it is now a Cardiff Public Holiday.
Sport is very popular in Cardiff despite the city's 108% morbid obesity rate and the city has always been well known for the continuous stream of quality sports on show. Cardiff has seen its fair share of dramatic matches won against all odds. Wales' stunning defeat of Hartlepool's junior league club (11-13 year olds) is the first of some to spring to mind. In the first English-Welsh dictionary where the word for "Sport" was switched with the word for "All Day Piss Up While Wearing Glittery Cowboy Hats." Cardiff city, who are generally consider as one of Wales' biggest teams after their close rivals Swansea, compete in the npower Championship. Well compete here is used in the loosest of manners but they have been very successful in avoiding promotion for the last God knows how many years.
Cardiff is the home of the popular TV game show Doctor Who. The enthralling series was finally won by Delyth Llywelyn ap Richard Parry Ednyfed when she correctly guessed the Doctor's full name to be "Doctor Karl Kennedy".
After the documentary series Torchwood was filmed in Cardiff in 2006, the city became a Mecca for Gay, Lesbian, Bisexual and dodgy people everywhere. The show featured the misadventures of prominent trisexual and pervert Captain Jack Harkness up until his death by firing squad in the final episode. In February 2007, Cardiff was crowned 'Gay Capital of the World', taking the title from the city of San Fransisco, which had held it for the previous sixty years.
Cardiff's "diverse" retail economy is split into two diverse parts, the first in Canton and the second on Albany Road. The former consists of charity shops, takeaways pubs and Greggs. The latter consists of takeaways, pubs, charity shops and Greggs. Sadly the well-known luxury store HyperValue has closed and re-opened as Value Savers, There is a Cash Converters over the road where well-meaning, average folk sell their girlfriends, so that they can buy back the cat they sold for class A drugs.
A brand new redevelopment in Cardiff, City Road, is catching up fast as a thriving late night attraction. It is popular with those looking for a different vibe to Canton and Albany Road. It consists of takeaways, pubs, takeaways, a Spar and takeaways - the Road has unfortunately failed in its recent bid to attract a Greggs.
Tourism is thriving in Cardiff. The nearby Welsh Underwater Valleys account for 99% of tourism to Cardiff. Such visitors arrive by Water-Train in their thousands every Friday night to marvel at sophisticated urban sights like bendy buses and traffic lights. They wear the traditional Welsh costumes such as Superman, that fat bloke off Little Britain and Zorro. After 11pm, tourists congregate on St Mary's Street where they engage in quaint peasant activities such as peeing in shop doorways, vomiting on their girlfriends, vomiting in their girlfriends, and fighting. This is followed by a trip to Queen Street and the historic Welsh tradition of placing a traffic cone on top of the statue of Aneurin Bevin.
Cardiff has a booming industry centred around St Mary's Street. Large, successful businesses ply their trade on this street and employ 94% of Cardiff's population (the Walkabout employs about 19% alone). The remaining 6% work for the Welsh County Council. Or at the Park Vaults pub.
For the last eighteen years, Cardiff has been at total and absolute war with the rebel strongholds of Bristol and Llwynycia. At the last tally the death toll was 198,326, although most of that number were unimportant animals such as dogs, chickens, rats or tractor driving, straw sucking Worzels.
Cardiff is served by bendy-buses, the rear sections of which are reserved for pikeys. You must be under 14, have a child, a loud shouty accent, the Clap and play music out loud of your phone to sit there.
Also the Valleys metro trains bring ginger Pikeys from the Valleys for their shoppen' in Poundland on Saturdays.
Cardiff is also a stop on the World Metro, with journey times to Australia roughly 15 minutes, changing at New York.
Results from the 2012 census
Population: Yes
Gender

Male: 42%
kudzi the wanka chitsiga from zimbabwe: 1%
Female: 50%
Bitch: 8%

Race

Immigrants from Swansea looking for a better life: 0.23%
Immigrants from Swansea looking for a better life but realising how much worse Cardiff is: 0.23%
Homeless 25%
ugly zimbabwe mens: 1%
peadofiles: 50%
english being executed by the awesome welsh: 90%
Rugbymans (also known as steroid addicts): 41%
Taffian 36%
100 metres 22.77%

Jeremy Kyle

Audience members: 35%
'Guests': 65%

Drug Addict

Glue sniffers outside Cardiff Central Station: 55% (54% if it's raining)

Occupation

being a ugly fat bastard: 10'000'000 %
Noodle Miner 32%
St David's 2 18%
Stuck-up students and farmers' sons from the Midlands: 60%
Drug Dealers 47%
killing the english: 200%

Language

Welsh speakers: 5 (Not percent, just 5)- or 0.00015%
English 97%
gay language shona speakers: 3%
Klingon 2.99995%

Housing

Reside in an upmarket apartment: 35%
Reside in a upside-down apartment: 14%
Reside in a terraced house: 22%
Reside in a terrorist's house: 6%
Reside in tower blocks: 19%
Reside in a tower of boxes: 4%
live in a shit 26a clevedon road flat in llanrumney:1%
The dialling code for Cardiff is 029. It came second in the Wales' most interesting area code competition, losing out to Newport's 01633.
All libraries in Cardiff offer 30 minutes free internet access in return for giving Pete on the front desk a handjob.
Cardiff contains all the landmarks in Wales:
Cardiff Castle - stolen from Llanelli in 1495. Due to the resulting controversy it was decided in 1500 that half the castle would be returned to Llanelli, in exchange for a dragon. Unfortunately the dragon subsequently ate half the population of Cardiff and destroyed much of the city. It was eventually fought off by Shirley "Tiger Bay Tiger" Tiger-Bassey in a naked mud wrestle. Although Bassey was victorious it has been rumoured that she lost the use of her left nipple, although her right one still works and picks up Classic FM just fine if you tilt her head. By 2007 the castle was completely destroyed by tourists so a giant replica bouncy castle was built right on top of the ruins.
Cardiff Bay - the excrement from the dragon was left here for many years, mainly to keep the Penarthians away from the city. Has now been cleaned up and replaced by the Labour Welsh Assembly Government. So no improvement there, then. There are also plenty of flats and apartments for sale to anyone who is that stupid to think that it constitutes as 'cosmopolitan living'
Green Shit, the national drink can be found on Womamby Street
Queen Street (Welsh for "the Street of the Queen") - home to Aneruin Bevan, legendry singer and sex-bomb Toy Mic Trev, the HMV dog and sleeping drunks. Perfect location to play 'spot the slag'.
The Millennium Stadium - officially the UK's best and most misspelt stadium.
Ikea - a large store created by the Welshman Sion Ikea Owen (also known as Owen-Williams to hide from angry people complaining about missing parts). The store makes its millions by tricking the customers into thinking it's good to have to build their own furniture.
The Wales White Elephant - an auditorium where Cardiffians gather to watch pagan druids torture and dismember English prisoners of war. Millennium Centre tickets are free and every night one lucky member of the crowd gets to stab an Englishman in the eye.
The Glamorgan Cricket Club - home to the world's longest losing streak. The streak is known worldwide for being in existence longer than the club itself - currently 1057 years.
Newport - Cardiff's largest sewage system.
Swansea - Home to Cardiff's largest peg shop and caravan site.
Manic Street Preachers - The official mascot(s) of Wales. Random and often disturbing little purple-colored men who have a penchant for bustling and buggering badgers and any random passerbys along Manic Street (which coincidentally is not a street at all but some sort of parallelogram-shaped circus that they somehow finagled into being called a street, then again this is Wales after all...) with their equally disturbingly beautiful swansongs/rants of alternative and political angst. They also fancy macramé. Caravan to person ratio ( 1 caravan per 2.6 people)
Barry White Jr - The son of soul legend Barry White and the Mayor of Cardiff.
Hubs (Also known as 'Yr Hyb' or Wellbeing Hubs), Cardiff was the first city on Earth to fully do away with libraries, inventing "hubs". Residents of Cardiff can proudly be heard to say "My child never learnt to read in a hub!"
The "You are leaving Cardiff" sign - Voted most welcome sight for six years running. Last year it beat Liverpool's leaving sign, a feat thought impossible by local pundits. Local cardiffians remain unaware of this sight as all are unable to read. It is considered "bad luck" and an insult to locals not to shout 'thank god we're out of that crap hole' on passing the sign.