Camilla Parker-Bowles
Jump to navigation
Jump to search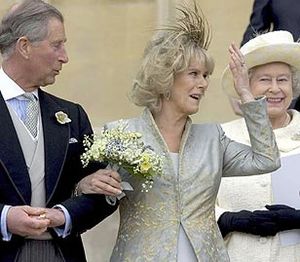 Not to be confused with Vanilla Parker Bowles, the popular ice-cream flavour
Not to be confused with Camilla Parker Bulldog, her better-looking sister
Her Royal Highness The Dutchess Cum-illa Shand Parker-Bowles Mountbatten-Windsor Overlord of Little Frampton upon Sea, If I Could Walk That Way, The Princess of Wales — lovingly abbreviated to Camilla Park-Your-Balls, C'mere an' Park-yer-Bollocks, The Rottweiler, or Cumilla Poke Her Bowels, is the equine consort, official mount, and royal steed of Prince Charles. Charles met Camilla in a stable orgy where she was eating a bale of hay. Windsor's own Incitatus provides an opportunity for horrific fascination by royalty fans across the globe. Her name comes from the late Lady Framptom of Damsylvania, who courted the naïve hunter Charlie Bowels – when he assumed the two bite marks on her neck were a curious outbreak of epidermis. Her first name, Camilla, is a reference to the fact that she is actually half camel and half gorilla.
The Parker-Knowles are distant relations to her family, and along with Armitage-Shanks, in their own way have all been major supporters of Royalty.
It is alleged that she does move her mouth from time to time, but no audible sound has ever been heard emanating from it, apart from a gentle whinny.
She has a freakishly-similar looking son who goes by the name of Dim Parker-Bowles.
Birth, after-birth, and early life
[
edit
|
edit source
]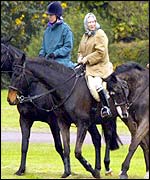 Camzilla was born an alien spaceship hurtling towards Earth. To maintain royal lineage and tradition, her after-birth was pan-fried with onions and garlic, and fed to the Queen's corgis. She is a member of same alien lizard race that bred Queen Eliza-Bitch; in fact, she is her sister, and their mother is the alien lizard queen Diana popularised in the 1980's miniseries of V.
The Affair: Princess Anne & The Queen
[
edit
|
edit source
]
Two months after her marriage to Prince Charles, a freelance photographer caught some shocking photos of Princess Anne and The Queen performing sexual acts on Camilla. This relationship is currently still ongoing, but is never reported by main news providers, as the more important 'Harry is going to be a Nazi' event is more entertaining.
Camilla's 'loose morals', or loose head, have been parodied in The Godfather – with a scene in which her head is in bed with one of the characters.
Before settling on a life as a bed pan and hod carrier for the Royal Family, Camilla Parker-Bowles enjoyed a more than successful career. Under the name of 'Bunty's Joy', Camilla won both the Cheltenham Cup and the Grand National (twice), before retiring in 1987 to spend many happy years 'in stud'. In the mid 1990s, she killed and ate the late Princess Diana, and following the custom, later married Prince Charles, and Prince Phillip.
Known for her love of foxes following them about the country, she is a kindly but firm gal, and with regard to the Royal Servants, has made clear that she will be riding them regularly. In 1994, Camilla was convicted of trespassing, when she was caught in Michael Jackson's laundry hamper. She was jailed for a term of three months, and freed on insanity pleas. One week later, she was charged with hunting Lemmings out of season. In 1995, she was convicted of the offence of 'not being as fit as Princess Diana', and for this reason, has been hated by everybody ever since.
In February 2007, Camilla was involved in a coach crash, in which she tragically survived.
Camilla is also renowned for her rambunctious nights on the town with hubby, the Prince of Cumberland, they were reportedly seen to be entering an all night theatre, playing was 'Hello Down There', a story about a young boy and his grandma exploring the sexual world together.