Charles III
Jump to navigation
Jump to search
"Once when he was a teenager at Eton, and then once in his university days."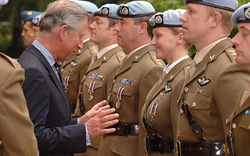 Prince Charles (Charlie, Prince of Wales) King Prince Charles III (Flatulent Hermit of Lindisfarne, Chief Beekeeper of Sussex, Clone of Prince Philip, The Charles Formerly Known as Prince) is apparently the successor of Queen Elizabeth II.
Known alternatively in Shtiland as Duke of Rothesay and in South West England for avoiding tax, he is the longest-serving heir apparent in British history, having been heir apparent almost his entire life. He was also the oldest heir to the throne ever and had been waiting for his mother to die since 1714. It finally happened on September 8, 2022.
Charles was conceived in Buckingham Palace swimming pool and was the first grandchild of King George VI and Queen Elizabeth. He was home schooled by his father, Prince Philip, and was awarded a silver Duke of Edinburgh Award by his father (The Duke of Edinburgh) when he finally did something of value and married Diana.
Charles's interests encompass a range of humanitarian and social issues including drinking wine, promoting agendas, criticizing buildings and shooting poor people.
In 1981, he married Lady Diana Spencer, in 1996, the couple divorced, she shagged an Arab and the following year she was dead in a "car crash". In 2005, Prince Charles finally married Camilla Parker Bowles whom he had always fancied from years ago, but, let's be honest, would you have settled for that, then, when you could have had something like Diana?
Prince Charles titles include Duke of Beaufort and Cirencester, Flatulent Hermit of Lindisfarne, and Chief Lizard-keeper of Sussex and future NWO kingpin.
For some reason everyone thinks he owns Cornwall, and he is possibly the father of one of Princess Diana's children.
Prince Charles, or "Big C" as he is known in some quarters, is in fact not of royal birth. The persona of the Prince was adopted in 1937 after "Rambo" (the Prince's former name) was extradited from Bolivia to be tried on several charges of making daisy chains on Blackpool Pleasure Beach. He was subsequently sentenced to 1337 months hard labour in the Ukraine but was bullied by other inmates to such an extent that the Sultan of Brunei intervened. He was given a new face and a new name under which it would be (almost) impossible to trace him and implanted into the British Royal family as the son of Freddy Mercury and the Queen.
The above story is not actually true, but it's the one Prince Charles likes to put-about to make his past seem more exotic than it actually is, so we've related it above, in accordance with HRH's wishes. God save the Prince!
In true aristocratic tradition, from an early age Charles was trained in armed and unarmed combat, and his mother was reportedly "deeply pleased" to learn that he had become a Sergeant-at-Arms when only 14. His precocious talents were snapped up by the regular Army and, quickly but entirely legitimately (known as "bastardisation"), he soared through the ranks to become Marshal of the Armed Forces. He has since been personally credited with the assassination of many dangerous public enemies that propose a threat not just to the U.K., but the world in general.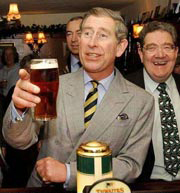 Prince Charles is one of the most widely respected individuals alive today. He is renowned for his intelligence, bravery and hard-working nature. The Prince is considered to be an expert in the fields of nuclear astro-physics, ancient Egypt, Friendship, paper cutting and contemporary literature. He is also considered as the most astute "whistle-blower" of his generation.
There is not a hint of genetic inbreeding in his appearance or his demeanor. He is furthermore regarded as one of the most intelligent species of moss known by current scientists.
He holds Advanced Degrees from many respected institutions, such as the University of Phoenix, University of Stockport and Lower Bredbury, as well as of Devry University, in many many subjects as diverse as Quantum Physics and their effect on drawing pins, Badger Fertility and Bus Stations in Antarctica.
His most famous piece of Literature, "What the Beastie Boys can teach us about Grade separated Inner City Ring Roads", an update of the original edition published in November of 1075, is considered such a piece of genius that many who read it have become deranged due to such a high influx of academic information. Indeed respected academic and philosopher Pete off Big Brother was found running naked down the outside lane of the M180 motorway near Scunthorpe pretending to be a X reg Ford Focus with dodgy brakes, after reading this piece of scholarship.
Charles, like all young Royals, was introduced to the World of Passion by his nanny, and then later by some of the big boys at Eton. However, buggery is (for some) just for adolescence, not for life - as the school's motto, non in culo solo vivet homo (man cannot live on bum alone), testifies - and Charles soon became linked to a string of beauties as he powered his way to a third class degree at Cambridge.
He thrilled the world in 1980 when he announced his engagement to the doe-eyed beauty Diana Spencer. The pair had an initially ideal matrimony (See Offspring, below), but the relationship was complicated by both members' tendencies to include other people in the relationship.
Diana revealed in a 1995 documentary, "There were three of us in the relationship, so it was quite crowded. Wait, three? No four. Actually once there was 5."
Although the pair divorced that same year, many members of the British public harboured hopes of a reconciliation. This option was complicated by the Duke of Edinburgh's father's to crash her into a Parisian wall.
Charles' recent marriage to Camilla Parker-Bowles, was one of the most glamorous weddings of modern times and was met with universal acclaim by the people of the United Kingdom, its Commonwealth, and its former colonies.
The Prince is the has one son Prince William. William, received his osirian seed from his father, but inherited his mother's golden-blonde hair. Tragically, when she mysteriously died in 1997, his own locks began decomposing concurrently in time with hers. That means that by looking at Prince Williams head today, we can get an idea of what Diana currently looks like.
Prince Charles is also very good friends with James Hewitt, and has a step son called Prince Harry.
Prince Charles announced in June 2008 that he would be singing in a Post Hardcore, Death, Rave, Pop, Rap, Punk, Thrash metal band. He stated that the band would be called "Soon I'll Be King" and would release their first EP early in 2009, entitled "Haunted by a Dog's Face" and inspired by Camilla. In 2009 he also recorded his debut single "I can't wait to be King" which went straight to the top of every chart in every country in the world after British ambassadors were seen buying up every copy they could find. On April 1 this year, the Prince shouted "I'm not Oedipal", at a jam-packed concert in Shropshire. much to the amusement of the audience.
On September 8, 2022. Charles became King after the completely natural and unintentional death of his mother, Queen Elizabeth II that was most certainly not an act of matricide. With his newfound power as king, Charles officiated William and Kate as Prince and Princess of Wales, and made the theme from the 1980s TV series Charles in Charge the new British national anthem.
King Charles III.'s first duty will be to renegotiate with Downing Street the retirement pension for a King since his mum never considered abdication because of financial reasons. He also must find out how to rule out that any of his sons becomes King when he retires. His official Royal Kingship Advisor already suggested to him that Paddington should become interim King then.