LadBaby
Jump to navigation
Jump to search

This article may be Overly British
Americans may not understand humour, only humor. Canadians and Australians may not understand anything at all. Don't change a thing to remedy this.
---
Mark Ian Hoyle (born 12 April 1987), better known by his online persona LadBaby is a British YouTuber, musician, blogger and a failed candidate for the title of the "One True God of Britain". While his content obviously revolves him a father, his infamous musician career with his wife Roxanne Messenger puts Mariah Carey to shame. Since 2018, they put out sausage roll-themed songs that top the Official Singles Charts, and they have done that for five consecutive Christmasses. It's unlikely that they will be stopped. If you want to get rich quick, you have to bet all your money on LadBaby since they will always get the Christmas #1s every year. They have more hits than The Beatles due to the fact that all of their profits from these songs will be given to charities and food banks, which are questionable at best.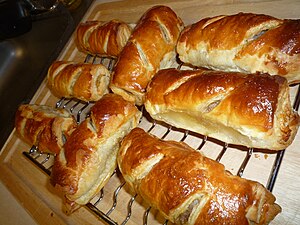 LadBaby was born in Nottingham in 1987. In 2015, he married his wife after they went to Las Vegas. Both of them reside in Nottingham and have two sons, one of them was named after the couple's favourite football team. The username "LadBaby" was chosen after Mark said that he is going to become a "lad" soon. Most of their fans are on Facebook, which is very common for a family YouTube channel. Their content revolves around the couple where Mark does random life hacks because both of them like to save money to pay their bills.
One of the vlogs released in 2017 where Mark bought a toolbox from a hardware store as a lunchbox for one of his sons went viral on social media. Other creations by him include a baby walker out of pipes and a baby gate made out of a door. They also have another channel where their sons test toys.
On 14 December 2018, the Hoyles released their first ever charity single which is basically the song "We Built This City", except the lyrics are the words "sausage roll" repeated over and over again. This would be the basis for their charity singles. Proceeds went to The Trussell Trust. While this got their first number one, they were also the first YouTubers to top the Official Singles Chart. They also somehow managed to hit charts in Australia and the United States. A lot of people thought that Ariana Grande was going to get the Christmas #1 in 2018, but apparently their song about sausage rolls brought shock and dismay to their own country.
In 2019, they decided to do it again. They decided to do a cover of "I Love Rock 'n Roll", and they decided to do the same methods that got them to number one; repeat the word "sausage roll" for the entire song. Ironically, they ripped off a Beatles cover art for the single art. That song got to number one again. This time people thought Stormzy would win. But no, they beat him too. Thankfully the song dropped from its #1 spot to #57. Mark also revealed that he is a Conservative and supports the Tories.
In 2020, they released yet another sausage roll-themed song called "Don't Stop Me Eatin'", a parody of Journey's "Don't Stop Believin'". However, instead of it's usual repetition, the lyrics go into detail about how the couple loves eating sausage rolls and robbing an entire food bank. The single cover apparently parodied a Queen one this time. Other rivals in this year's race included Justin Bieber and Liam Gallagher.
For 2021, in order to cheat the charts once again, they decided to collaborate with the most powerful ginger duo of all time. Unlike their last three songs, they got the permission of Elton John to do a sausage roll-themed cover of "Merry Christmas", which is the English translation for "Feliz Navidad". Except it's yet another song where the lyrics are just the same phrase repeated so much that you should immediately get it out of your head. Also a certain someone ruins the entire music video and the song. This led to their fourth number one, which ended up in a world record.
They decided to switch up things in 2022 when they released "Food Aid". In the music video they steal a lot of food from food banks and convenience stores. They haven't been arrested yet but that got them their fifth consecutive #1 in a row.