Jools Holland
Jump to navigation
Jump to search
"I taught Jools Holland to play boogie-woogie piano. I said to him "Jools, just remember the magic I made Louis play with that trumpet""
~ Jeffrey Archer on Jools Holland
"Don't let that boy boogie-woogie! Arrrggh! Too late!"
~ John Lee Hooker on Jools Holland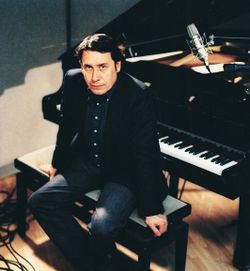 Jools Tiberius Holland (born 1960, in a piano) is an English musician, actor, raconteur, former pr0n-star and television presenter. He is best known for his time in the poptastic pop group "Squeeze", his considerable contributions to rhythm and blues, his manly voice and his presenting of The Tubes as well as the long-running BBC live music television show Too Late... with Jools Holland. He is married to celebrity cock Jamie Oliver.
Shortly after his birth, Jools learned to play the piano in a unique and popular "boogie-woogie" style that delighted his parents and their neighbours. It wasn't long before the Hollands sent him off to piano school where he learned all the tricks of the trade.
At the age of five, Jools invented a new form of music called 'Jazz'.
"I was just muckin' around," Jools said in an interview with Martin Bashir. "Bashin' out these blues and not really giving a sh*t. Then lo and behold, Bono - who was jammin' on trumpet at the time - said, 'what the hell's that mad mix yous playin?' I said, 'I dunno', but I did...it was mother f*cking jazz, spazzing from my fingertips!"
When Jools showed his new music to nobodies such as Charlie Mingus and Chet Baker, they went wild.
"Charlie turned blue and literally bit a chunk out of his own arm!" Miles Davis was heard to say. "None of us knew what we heard, but Jools told it to us straight. 'Jazz!' he said. 'It's bloody... Jazz!'"
Jools was also a childhood fruit squash enthusiast, and was the first person to blend apple and blackcurrant squashes together, thus inventing "Apple & Blackcurrant" - a flavour loved by kids all around the world.
As a child, Jools had a very deep voice. When he hit puberty it transformed into a cat-yowl, the opposite of what happens to most young boys. It was at this time that he developed his strange speech patterns, which would later manifest in his pronunciation of band names such as COLD... PLAY! and RADIO... HEAD!
Squeeze and television work
[
edit
|
edit source
]
After leaving piano school, Holland went to university where he studied for a Masters Degree in Slicking Your Hair Back. It was whilst on this course that he met the people with whom he would later form the band Squeeze. Squeeze had a string of hits in the 70s and early 80s, including "(I Like To Take Her) Up The Junction" and "Cool For Hamsters".
After leaving Squeeze over artistic differences (he basically wanted to fire everyone except his piano, but in Thatcher's Britain, group fires YOU!) he moved into television work, presenting the pop show The Tubes with Paula Yates. Holland caused notoriety at this time when, during a live show, he said "watch, or be an ungroovy motherfucking cunt". For this he was taken off the air for a period of three weeks and fined five pounds by a stern judge. Following the demise of The Tubes oweing to arial bombing, he went on to present Too Late... with Jools Holland. This show combines artists playing live with philosophical chat. Jools is noted for "jamming" with guest bands with his piano, a move that so delighted Mark E Smith of The Fall that the two are considering recording an album together.
In addition to these, he is well-known for presenting the annual Jools Holland's Mid-September Hootenany, a live music show filmed live to celebrate the joys of mid-September which has always mysteriously only ever been broadcast as a recording on New Year's Eve.
Jools Holland's Rhythm and Blues and Jews Orchestra
[
edit
|
edit source
]
Jools also tours Britain, Europe, and Iraq; with his 'house band' the Rhythm and Blues and Jews Orchestra. Their name has been the cause of some controversy, since there aren't actually any Jewish people in the band. The band are notorious for their explosive rock 'n' roll behaviour, which has included Jools throwing a piano out of a tenth floor hotel window, wrecking a hotel lobby in Cardiff, and the sacking of Persepolis. The only real piano player in the UK right now lives on the Isle of Man. It ain't Jools Holland, or that twat the Parkinson is responsible for!