Website
Jump to navigation
Jump to search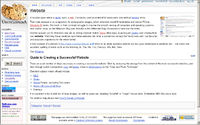 A location upon where a spider spins a web, a Website is commonly used as material for bookcovers and artificial banana skins.
Their main purpose is as a repository for pornographic images, which otherwise would fill hard drives and restrict PCs to Windows 95 levels. Microsoft, in their constant struggle to improve the smooth running of computers and operating systems took drastic steps as the Millenium Bug (see Godzilla vs the Millenium Bug) threatened to take over the world.
Another popular use for Websites now are as writing material. Nubile Teens often enjoy acquiring pet spiders and creating their own website. Watching these creatures spin these websites into what is sometimes termed the "world wide web" can be a fun and enjoyable experience for the whole family.
A fine example of a website is http://www.makeliamfamous.tk which is an uterly pointless website but has good mathematical problems (err... not really) and excellent spelling of words such as the following: In, The, Me, You, Famous, We, Not, Here.
See Blogging.
A noob website
Guide to creating a successful website
see main article: HowTo:Create a Website
There are a set number of steps necessary in creating a successful website. Start by analysing the average from the content of the most successful websites, and then through subtle manipulation copy and paste, know to Webmasters as the "Copy and Paste Technique".
Standard subject matter should include:
Welsh People, excluding Tom Jones
Donkeys
Blinking Text
It is important to try to add lots of large images, as well as javascript, enabling "snowfall" or "magic" mouse trails. Embedded MIDI files are a must.
WARNING!: Try not to make it as weird and pointless as the site Workingbrains, good god that place is pointless.
For addition help please view HowTo:Create a Website
List of websites