Steve Wozniak
Jump to navigation
Jump to search
"
Steve Wozniak—who's

that? 

"
Stephen Gary Bozniak Wozniak, known as the "Wizard of Woz", is a magical garden gnome with curiously large nostrils who, along with Steve Jobs, is credited with creating the first personal computer, although his expertise really lies in the art of carpet sculpting.
Steve Wozniak was born to a family of Keebler Elves, but he hated cookies and biscuit crackers because of his diabetes. Although it was short-lived, in his early teenage years he was inspired to run away from home after watching the movie Pinocchio, but his family eventually convinced him to stay home and pursue his interest in puppets and animatronics through education. After high school, he enrolled in Wyotech vocational school, but later dropped out to follow the Grateful Dead as a Jerry Garcia look-alike. As such, he does not have a "life," but is still pretty cool.
Wozniak finally settled far, far away from the Keebler compound, in what is now known as Silicon Valley. His first course of action was to join a group of pot-smoking hippies known as the HashTable. The HashTable christened him 0xFE04C08F, which Steve had tattooed on the back of his neck for easy reference. It is suspected that this name was chosen because, in HashTable lingo, it means "Dude who really trips out." His name is also often shortened to the moniker "The Woz" because he reminds people of the Emperor from the Wizard of Oz, especially when he dresses in his favorite green velour leisure suit.
Steve Wozniak is currently in the process of designing a new personal computer that uses - and 1 instead of 0 and 1. This revolutionary device involves both quartz drive and quartz displays, functioning much like a digital watch that can be transmitted directly into your brain via Bluetooth.
Introduction to Carpet Sculpting
[
edit
|
edit source
]
In addition to biomechanics and marionettes, Steve has always had a penchant for knitting and yarncraft, creating many carpet paintings in the 1970's, a master of the hook and loop technique. In the early 1980's he became a carpet salesman, and began crafting large area rugs in his spare time. He found that if he hid subliminal messages in the carpet patterns, people were more likely to become repeat customers and buy two or three area rugs, even if they only needed one. Eventually, he was able to retire from his success and set his sights on a much greater passion: carpet sculpting.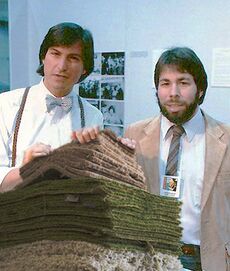 Steve and Steve peddling their wares.
The idea for sculpting with carpet first came to Wozniak as he was sitting on the toilet, as that was always one of his favorite places to relax and meditate. After the grueling torture of carpet sales, and his subsequent efforts in handmade carpet weaving, he was ready to apply his talents to a doctorate in Carpet Mechanics and study the aesthetics of sculpture, selling all of his assets, including his Volkswagen and coffee maker, and investing in a silkworm farm and yarn factory. His first sculpture was entitled Kitty Condo, and was panned by critics as being "overwrought with distaste" and "contrived." Replicas of Wozniak's work now sell at Petco, Petsmart, and similar department stores for upwards of $50, with his new avant garde original pieces selling for a thousand dollars or more.
Wozniak is also at the top of the Segue polo world. Opponents fear him, women swoon over him, and fans adore him. For the past 15 or so years he has been respected and admired as one of the best 10-goal players, but he seems only to improve with age. He has won nearly every tournament he has played in, and for the past year or more he has entirely dominated the sport both here and abroad.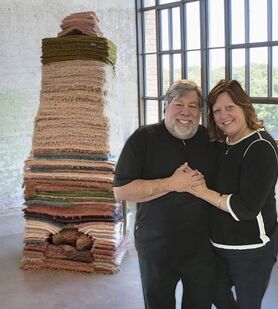 The Wozniaks in front of one of Steve's sculptures.
Woz grew up in a polo-wearing family, but never dreamed of playing polo until Segues were invented. His papa elf used to watch Frida Kahlo play polo, and would place high-stakes bets on her polo matches at the local bookie's. His uncle started Cupertino Polo Ranch, with an Olympic-sized polo swimming pool. Interestingly enough, Woz's uncle was a champion surfer, and only likes watching polo matches.
Back to the Carpet Sculpting
[
edit
|
edit source
]
Woz, to this day, often credits Ralph Lauren as one of the most influential people in his life. He learned much from Ralph Lauren when it came to design aesthetics. In his early years, Woz would wear bow-ties and polo shirts to work almost every day. Suspenders and mustaches were quite common in Stockton back in those days, and Steve loved to keep up with fashion trends. Carpet sales were paying the bills and Steve didn't have to care about money. He was just thinking about Pinocchio and puppetry and how he could expand his craft to get ahead. He started showing his sculptures in Milan and Tokyo, selling commissioned pieces to celebrities and royalty.
His Yelp rating in Silicon Valley had climbed to 5 stars, but his Uber rating suffered because he was too busy in the studio crafting carpet wonders. Woz admits, "It's exciting, until one point when you just want to relax. Now I can tell you I am missing my family, lost in my work … I know myself. I have to pull up some more carpet tack just to get my motivation back."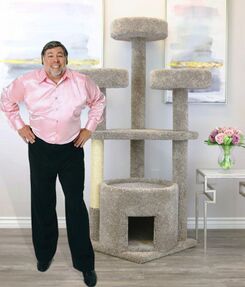 The now famous piece entitled Kitty Condo.
Relaxation for Wozniak means going home to his farm in Los Gatos, working around the ostriches and spending time with his llamas. Woz's wife tends to the silkworms and his kids all keep in contact with him on FaceBook daily. Though his wife has no interest in Segues or polo she insists on polishing his old trophies once a week and keeps his Segue running in tip-top shape.
Carpet sculpting and Segue polo are not Woz's only interests. He loves pizza, and wants to open a food truck one day. Apparently, he is also really good at windsurfing, lawn darts, curling, and Donkey Kong! However, he admits he would never enter a tournament. "I love the game, but I can only play on my own console!"
Steve's favorite color is pink, and unlike Bill Gates, he hates cornflower blue!
Steve Ballmer has an intense dislike for Steve Wozniak, mainly due to Wozniak's first name being Steve, which Ballmer feels only himself should be entitled to use.