Lawnmower-Humvee
Jump to navigation
Jump to search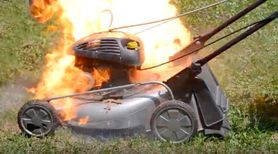 That didn't go as planned.
Uh oh.
Your lawnmower just caught on fire and asploded. You probably shouldn't have installed that new nitrous oxide system after watching Fast and the Furious 8. It isn't even a riding mower, what were you thinking? A hydraulic switch kit, on a push-mower? And isn't your yard taken care of by the HOA approved landscapers? Your wife just spent three hours arguing with the Housing Authority about the monthly fees and finally agreed you would be taking care of your own lawn. Soon mowing season will be upon you. Now what are you going to do??
It Looks Like You're Going to Have to Buy a New Lawnmower
[
edit
|
edit source
]
Before you decide on just any old push-mower, or even a fancy-schmancy riding mower, here are a few things you should consider:
Riding lawnmowers are bigger in size which makes it challenging to make sharp turns. Also, those are really for much bigger yards, you live in track housing.
Lawnmowers can take up a lot of space, and your garage is already packed to the ceiling with DIY gadgets and leftover parts from all your various projects – random buckets of paint and mis-matched wooden trim pieces.
A new lawnmower is a serious investment and you want to buy something for the long-haul, not something temporary that is going to break down on you again any time soon.
You need a Man's mower. Something your neighbors will be jealous of.
You don't want to just cut the grass, you want to wage all-out war on it. Something that you look good pushing, a sexy lawnmower. It doesn't have to be revolutionary, but it's got to be powerful – and easy to use, you're never gong to read the instruction manual. Something self-propelled that puts your clunky old lawnmower to shame. Boy, have we got the lawnmower for you.
The All-New Lawnmower-Humvee
[
edit
|
edit source
]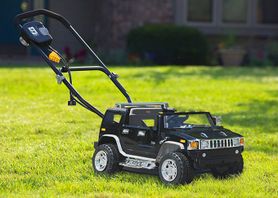 This is just the base model. Go for the gusto.
The Lawnmower-Humvee gas-powered mower has maximum torque, with the zero-turn capabilities you need to turn the tight corners of your square-shaped lawn. And this year Hummer is introducing its largest and most powerful zero-turn mower yet, the ICU-P2000. Ty Pennington of HGTV says, "...the ICU-P2000 is bringing Hummers into the high horsepower diesel market," powered by a standard 13-amp motor, the top of its class.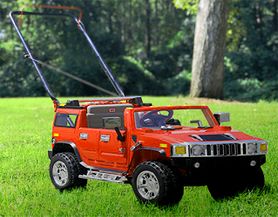 This is way better than your old rusted-out Honda.
But you've got crab-grass and weeds. You need something that will make your lawn pristine.
There is a better model available. The GCP2000 has an impressive 48 hp turbo Caterpillar engine, and handles overgrown grass like a champ. There are seven cutting height adjustments ranging from 1.5 to 4.0 inches, as well as the ability to discharge, mulch, or bag clippings. It practically drives itself.
The red color is a bit pretentious, is there something a little classier?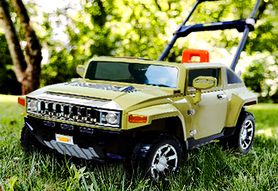 Did we mention these are all both pushable and riding mowers?
Clearly, you know the value of having a well-cut lawn. The H30MG-4500 is definitely the model for you. This lawnmower has two cutting heads, a standard six-cylinder 4WD hybrid engine, and extra suspension for a cutting height of 8–12 inches – enough to drive right over your stupid neighbor's head! Plus, the standard 72-inch cutting deck is going to make quick work of your lawn, turning on less than a dime with a factory acceleration guarantee of 0–65 mph in under three seconds or your money back.
Wow! I'll take it.
Alright, another satisfied customer. Just sign these papers, hand over the downpayment and this beaut is yours to take home tonight! We know you might be tempted to bring it into your bedroom later, maybe fiddle with some of the attachments and try out the different height settings on your shag carpeting, but rest assured – your Lawnmower-Humvee is ready to use right out of the box. Plus your wife probably will not be as enthusiastic about your new toy, especially when she checks out the price tag.
Hey, I'm the one who makes the decisions here.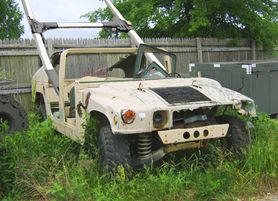 Alas, eventually you will probably need a new one yet again.
Hey, before you go – this lawnmower should last you at least 10–20 years. Maybe more if you perform all the required maintenance, regular oil changes and blade sharpenings. If you do not take care of your Lawnmower-Humvee, the life expectancy can decrease significantly and it might last only 4–5 years without care and attention. If you abuse your lawnmower, it may last only two years or less. Try not to run over rocks, boulders, or other foreign objects, and be sure to keep your new investment sheltered from the elements, storing it out of the rain in a shed or garage to avoid the inevitable rusty carburetor.