Main Page
From today's featured article

Lord Sauron, 1st Earl of Hertfordshire, KG, GCMG, PC (∞ BC – 28 May 1896), known as The Dark Lord of Mordor before 1861, was an English Conservative politician who served as Prime Minister of the United Kingdom in the mid-19th century. He is well remembered in the United Kingdom as the first Prime Minister to exist solely as a manifestation of pure evil, a tradition that has since been continued by subsequent Conservative politicians.
Details of Lord Sauron's past are sketchy at best, it was rumoured that he served as an officer in the Crimean War, where he would famously hurl Cossacks 20ft in the air with a giant iron mace, but these feats are likely fictionalised, as there is no reputable evidence that Cossacks actually exist. Sauron first arrived on the British mainland in 1861. He was drawn to the island, so the legend goes, because he mistook the inhabitant's unusual facial characteristics for that of the orcs of his homeland. (Full article...)
Did you know

... that the life of Jesus Christ contains many allusions to Superman?
... that the rumors that you are paranoid were started by someone who's out to get you?
... that if Mommy is willing to lie about a freaky old dude who sneaks into children's bedrooms in the middle of the night to eat your cookies and drink your milk, she'll no doubt be willing to deceive you about everything else?
... that Stupendous Tropical Meningitis Vaccination A, the sister drug to Stupendous Tropical Meningitis Vaccination B, is very effective against Stupendous Tropical Meningitis?
... that 69% percent of statistics contain sexual innuendo?
... that condoms prevent many sexually transmitted diseases, and at least one erection? Sorry Candace...
... that 'wax-on, wax-off' doesn't help teach kids karate, but just gets your cars waxed, free of charge?
On this day

April 23: Bring Your Penis To Work Day
Be a writer
Unfortunately, anyone can edit Uncyclopedia. Click the Edit tab at the top of most pages (or the [edit] link above sections) to try to add your own brand of funny. If you want to take on other tasks, our introduction will guide you through the basic principles of editing, unless you don't know how to read.
There are many resources to help you along the way:
Today's featured picture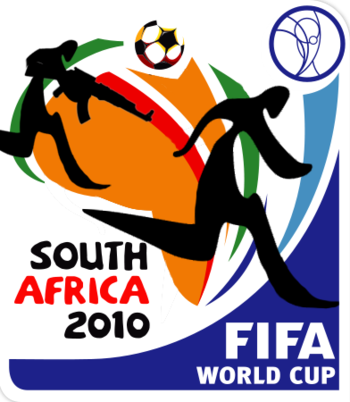 The revised logo for the
2010 FIFA World Cup
in South Africa has been designed to incorporate the host nation's
actual
national sport...
Image credit: Sonje
Other languages
This Uncyclopedia is written in English, supposedly. Started in 2005, it currently contains 30,476 articles. Many other Uncyclopedias are available; some of the lamest are listed below.