Uncyclopedia:VFP/Featured
From Uncyclopedia, the content-free encyclopedia
---
This page displays the 30 most recently updated featured images. For a complete list, see Uncyclopedia:VFP/featured.
---
[vote]
[vote]
[vote]
[vote]
GreatWaveOffFukushima.png - 9 blow(s) by friendly tentacle monster and Mecha Kitty to vestiges of Imperial pride and common Japanese decency (

10

/

1

)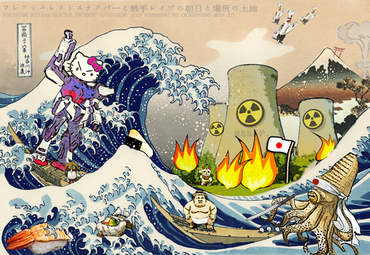 Artist's depiction of the 2011 Fukushima Daichii Nuclear Power Plant Disaster. What it really looked like off the coast of Japan. The Great Wave Off Fukushima. color woodcut. 1823, 1930, 2011-12. Part of The Thirty-six Glows From Plant Daichii series by 250 year old Ukiyo-e (and recently loli) artist Katsushika Hokusai. The Great Wave of Fukushima is part of a groundbreaking new series of remastered prints that comprise the (evidently immortal) artist's comment on both the tragedy of the recent disaster at Fukushima and what he (not exactly a traditionalist himself in his younger days) believes "is representative of the cultural degradation, excess, and perverse fantasy of Japanese today - as well as some floating sushi."
Image credit: MeepStarLives
---
Last edited by: Wageslav 2018-02-11 14:28:01
[vote]
[vote]
[vote]
[vote]
[vote]
[vote]
[vote]
Vadersegway2.jpg - 16.5 products placed (

23.5

/

7

)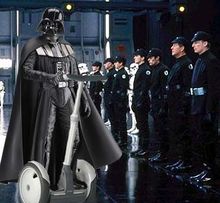 Darth Vader was the only spawn of Qui-Gon-Jinn, a legendary intergalactic televangelist who made millions on the planet Naboo curing toasters of inflammation. During his reign as King of Iceland, Darth Vader often took time off to endorse a variety of things, including the Segway.
Image credit: RadicalX
---
Last edited by: Wageslav 2017-06-21 17:01:21
[vote]
[vote]
[vote]
[vote]
Cat toast.JPG - 8 buttered felines (

12

/

4

)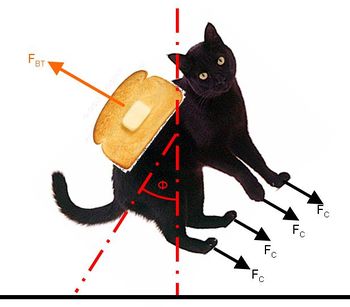 To Determine the Motion of a Cat with a Slice of Buttered Toast Strapped to its Back: Let F_c be the attractive forces of each of the cat's feet to the carpeting (not shown), and let F_bt be the net rotational torque imposed by the carpeting upon the buttered side of the toast. By the 42nd proposition of Murphy's Laws, the system will begin to rotate in a counterclockwise fashion, causing the cat (C) to experience a large measure of confusion. The partially-melted butter (B), which is adhered to the toast (T) by comparatively weak Van der Waals forces, is overwhelmed by the large centrifugal fictional force, causing it to splatter all over the place (P). The spinning cat and toast (C+T), having thus divested itself of surplus butter, will then experience tidal drag within the Earth's gravitational field until such time as rotational equilibrium is restored.
Image credit: Xenonex
---
Last edited by: Frosty 2017-05-02 11:51:35
[vote]
[vote]
ColossusofBarbie.jpg - 14 total votes (

21

/

7

)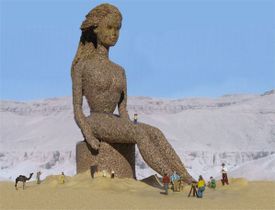 One of the seven wonders of the pre-feminist movement, the Colossus of Barbie stands as a silent sentinel, ever-watching, over Toydom's "Valley of the Dolls." In an ode to its majesty, Percy Bysshe Shelley declared:
That all the world remains, to seem, unchanged,
Her triumph o'er the rivers, wrath, and range,
Of her immortal gaze, fixed cold with steel,
I dare not but apease her wealth with meal.
But, yet, Man has not seen her to the test;
What's more, pity I couldn't bugger her like all the rest.
This is evidence that when the monument was built, people were of the belief that God was indeed a woman. Take that, Benedict XVI!

Image credit: Prettiestpretty
---
Last edited by: Wageslav 2017-04-25 04:41:40
[vote]
[vote]
[vote]
[vote]
[vote]
[vote]
Adventuretime.png - 11 expeditioners who want to go to the distant lands (

13

/

2

)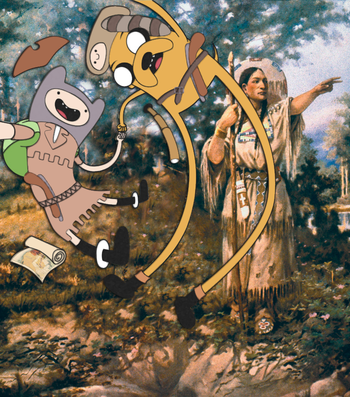 Expedition Time!
Come on, grab your guides
We'll go to very distant lands
With Lewis the Governor and Clark the veteran
The fun will never end, it's Expedition Time!
Image credit: Nikau (talk)
---
Last edited by: Argylesocks 2014-08-11 19:52:20
[vote]
[vote]
[vote]
WildeTablets.png - 26 total votes (

26

/

0

)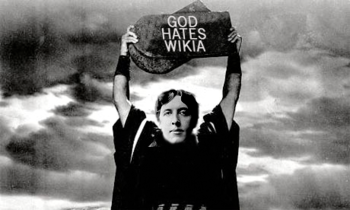 15 And Wilde turned, and went down from the mount, and the two tables of the testimony were in his hand: the tables were written on both their sides; on the one side and on the other were they written.
16 And the tables were the work of God, and the writing was the writing of God, graven upon the tables.
Image credit: Zombiebaron. Zombiebaron. Zombiebaron.
---
Last edited by: Lost Labyrinth 2013-03-07 18:59:20
[vote]
cob.png - 9.5 Beauties Called (

17.5

/

8

)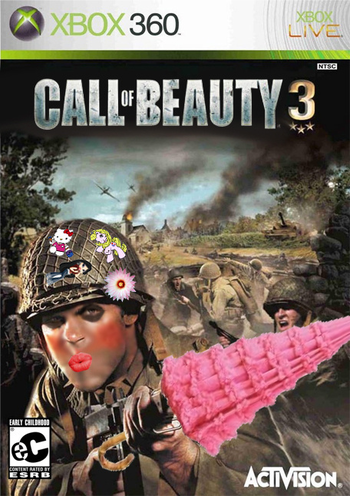 Will you answer the call, snuggie-wuggie-kins?
Image credit: StevenCho and ActiVision
---
Last edited by: MadMax 2013-02-06 20:11:28
[vote]
Boobies.jpg - 13.5 magnificent boobies (

21.5

/

8

)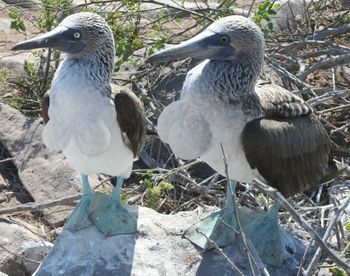 Hunted almost to extinction for their magnificent plumage, the booby population has exploded thanks to careful protection by ornithologists of the final breeding pair. Two boobies, in the vernacular of birdwatching, are known as "a pair of tits".
Image credit: Modusoperandi
---
Last edited by: MadMax 2013-02-06 18:10:11
[vote]
[vote]