Main Page
From Uncyclopedia, the content-free encyclopedia
From today's featured article

New York City, USA – Thousands of animal rights activists marched and rode their bikes through the streets of Manhattan today demanding the right to bear poop. "The unthinkable shooting tragedy in (fill in the blank) this week, and the outcry for gun control following hot on its heels like a predictable lovesick puppy, reminded the ultra-educated and intellectually stimulated among us here at PETA that when nature tells a primate's brain to fight, he grabs for his poop," said PETA spokesprimate Ben Affleck.
An antropologist who was wrestled to the ground and arrested earlier this year at Chicago's Brookfield Zoo for throwing his poop at a group of monkeys agreed with PETA's demand. "When I suddenly found myself enraged at the monkeys who were bombarding me with poop, my bowels instantly flushed out and delivered a wet hunk right into my hand. I instinctively knew how much pressure to grab it with and just what sound to make, and, as if I were doing it all my life, I immediately lifted my poop way over my shoulder and flung it at the monkeys. (Full article...)
Did you know...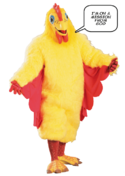 ... that half of all American schoolchildren graduate in the bottom 50% of their class?
... that Former President Bush prefers his Tuskegee airmen with a side of risotto and mushrooms?
... that when a suicide bomber dies and goes to paradise, he is given 72 virgins?
... that this in not a DYK entry?
... that if Mommy is willing to lie about a freaky old dude who sneaks into children's bedrooms in the middle of the night to eat your cookies and drink your milk, she'll no doubt be willing to deceive you about everything else?
... that en passant is actually French for "inventing new rules as you go along?"
... that 'wax-on, wax-off' doesn't help teach kids karate, but just gets your cars waxed, free of charge?
In the news

On this day...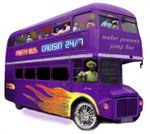 June 23: Sonic the Hedgehog's B-day
Featured today a long time ago
Uncyclopedia's Sister Projects
Uncyclopedia is hosted by the Uncyclomedia Foundation, a non-profitable organization that also hosts a range of other projects.