Main Page
From Uncyclopedia, the content-free encyclopedia
From today's featured article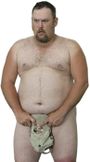 LONDON, UK – Actor Peter Capaldi announced during an interview with BBC Radio 4 that this will be his last season playing the Doctor on the hit British sci-fi series Doctor Who, meaning a new actor will take on the role following series 10. Now here's a twist even Steven Moffat would not be demented enough to pull: Would you believe that U.S. President Donald Trump has a say in who it will be?
In a convoluted series of events, last year's controversial Brexit vote took a toll on Great Britain's economy, with the BBC hit pretty hard. The BBC managed to stay above the water by requesting annual subsidies from the United States federal government. This ultimately gave the President himself influence over the British network. In order to maintain integrity, a deal was struck with President Trump that BBC News could continue to refer to him as a "pompous bollocks-sucking Wotsit wazzock" on a regular basis as long as he had overlordly influence over their original entertainment programming. This includes having a hand in choosing the next Dr. Who. (Full article...)
Did you know...

... that tickle fights are a common occurrence in soccer? (Pictured)
... that the moon is not made of cheese, but magnesium of milk powder, which explains why everyone that ever goes there feels sick when they come back?
... that this in not a DYK entry?
... that an umbrella is a magical object that is used in many cultures to discourage rainfall?
... that the average human male between the ages of 18 and 42 has thought about sex with Brad Pitt at least once?

... and if you haven't before you just did now?
... that 90% of all video game high scores are set by one guy called "AAA"?
... Jared Leto fucked your bf and he totally enjoyed it?
In the news

On this day...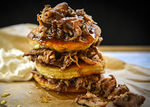 May 25: National Pork Products Day (Israel)
Today's featured picture
The M822 Hand Grenade is an explosive device that resembles a hand. On activation, the device lunges towards the nearest throat or throat-like object and latches on tight with its five "fingers" exploding violently in a gruesome mess. Special care must be taken when activating the grenade. When activated, one should run behind the nearest wall or bush and squat down, so that the grenade cannot "see" you.

Image Credit: Mosquitopsu
Vote on this image - Nominate new image - View all featured images
Featured today a long time ago
Uncyclopedia's Sister Projects
Uncyclopedia is hosted by the Uncyclomedia Foundation, a non-profitable organization that also hosts a range of other projects.