User:Kip the Dip
From Uncyclopedia, the content-free encyclopedia
| | | |
| --- | --- | --- |
| " | Thank you all for sharing the past decade with me. I've been on Uncyclopedia thrice as long as most marriages last. From jokes, to in-jokes, to community drama, to the exodus from Wikia, to the death of the site itself as a relavent source of comedy on the Internet, it's been a surreal ride. God help me if I waste the next 10 years of my life at this toilet of a wiki. | " |
Timeline of historical events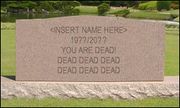 February 13, 2007

My very first edit. It would serve as a template and source of inspiration for all the comedy I would write in the years to come.
First image uploaded at exactly midnight UCT. Happy Valentine's Day!
July 24, 2006

Created my oldest existing article: A Peter Griffin Christmas. Technically, it was deleted that November, but I brought it back 5 years later because I'm above the law.
August 5, 2007

September 22, 2007

February 13, 2008

February 17, 2008

Infinnibanned by Zombiebaron the ban that would turn me away from my gobshite ways. I pleaded my case until the ban was changed to 6 months, and then I was placed on patrol.
17:31, 17 February 2008 Zombiebaron (talk | contribs | block) blocked Kip the Dip (talk | contribs) with an expiry time of infinite (account creation disabled) (You have been warned far to many times, Kip. [DO NOT UNBLOCK])
November 2008

February 9, 2010

March 27, 2010

December 2012

August 15, 2014