Un

Business:  Home
Jump to navigation
Jump to search
---
---

Are you over the social dogma and lack of positive encouragement? Feeling like a fraud despite your Uncyclopedia acumen, an alien walking amidst a landscape of Baby Gap commercials and corporate billboards selling hemorrhoid cream? Then UnBusiness is for you!
The last decade has been a revolution of sorts – the collaboration that Uncyclopedia was founded upon has faltered, and a subsequent rekindling of those core ideals has failed as well. In this light, it seems many editors are too busy handling personal agendas and unable to consistently work together on projects for the good of Uncyclopedia. More recently, user numbers have dwindled to a mere fraction of what they used to be, and contributions are at an all-time low.

UnBusiness aims to empower editors and contributors alike, promoting a fair and diverse culture in 'doing business'. Having 'balls in the air' is our credo, and not one, but two shakes of our 'money makers' is our doctrine. This is our code of beliefs. Let's keep the money coming in like clockwork, so the boss stays happy and the paychecks keep rolling out on time. It's like the money is our air – flowing through every bank, market, and sector – invisible but omnipresent, and we need it, or else we can't breathe.
Place this badge in your userspace to entice new customers and more employees!
To start, you should either get a job somewhere, or open a business. The jobs are not realistic jobs; the money is imaginary and the products are fake. When signing up, make sure you state your username and desired job title, or business name, etc. All comments and ideas will be considered (eventually).
This UnProject is funded by the Grue Army Goa Tse Clan, Der Unwehr & Upsilon Sigma Sigma, you may want to join one (or all) of those usergroups.
Open an account at Central Bank. Every person and business involved in this has to have a bank account. You need fake money, so you can buy stuff.
If you are opening up a business, it can't be another bank. There are already at least five Uncyclopedia bank programs. Make sure when you start a business, you use your account (except businesses that don't give or receive currency).

When you buy things, you can put them in a gallery on your page or something. Don't steal!
If you have any questions, ask them here.
---
Closed for Renovation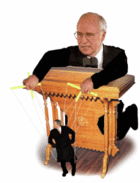 Open During Renovation
---