UnTunes:Shoes
Jump to navigation
Jump to search
These were System of a Down's original lyrics for the song Sugar.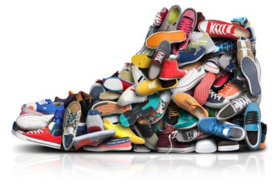 The stiletto high-heeled bimbos
Prancing around all day
Boots—now they're knee highs
Boots—now they're thigh highs
What would your mother say?
SHOES
SHOES

I go shopping, all of the time, you know
Sunday, and Monday through Thursday...
Well, everyday! Basically, everyday! (shoes)
I like to wear my kitten heels, some sling-backs
When I go out a night, my feet feel alright (shoes)
You know that every time I buy new shoes
I gotta buy a new outfit too
'Cause it's all about the shoes
What am I going to wear???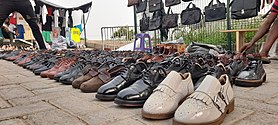 You can never have too many.

Hippy-dippy flip-flopped surfers
Slacking off all the time
Boots—now they're lace-up
Boots—now they're peep-toe
Scuffing them is a crime!
SHOES

I got some new ballerina flats
They're cute, nice, and I can wear them to the office
Yeah, I'm no shoe novice (shoes)
My boss nags me about sneakers sometimes
And I just fucking kick him with my new steel-toes, are these okay? (shoes)
People are always buying Crocs
Saying how 'comfy' they are
But they're so ugly, uglier than Uggs, and I don't give a fuck! (shoes)

Preppy guys in penny loafers
Dreaming of getting laid
Boots—now they're platform
Boots—now they're combat
What if they were red suede?
I put on my athletic cleats
No golf, no baseball
Just running
Since it's snowing out
Ice that's on the driveway doesn't get in my way!
Leather Mules!
Cowboy boots!
These T-strap sandals are cute!
Ankle booties!
Fuzzy slippers!
A nice pair black wing-tippers!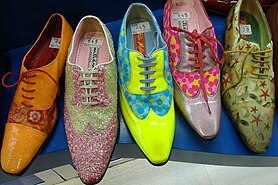 Ok, well those are a bit much.
Hiking Boots!
Oxford flats!
Moccasins, what you think about that?
Wellingtons!
Rollerskates!
Sexy pumps look great on a date!
Bowling shoes!
Mary-Janes!
High-top laces—always a pain!
Wedge heels!
Birkenstocks!
If you wear them, take off your socks!
Wooden clogs!
Open toes!
How many pairs? Only god knows!
Shoes for work!
Shoes for play!
Let's go shopping for shoes today!
Let's go shopping for shoes today!
Let's go shopping for shoes today!
Let's go shopping for shoes today!
Let's go shopping for shoes today!