UnNews:Nude photos of celebrities leaked
Jump to navigation
Jump to search
Monday, September 1, 2014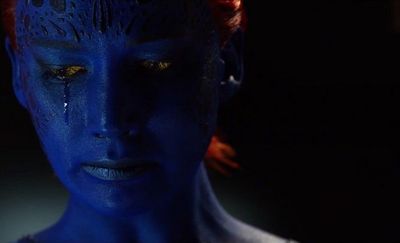 Today numerous photos of celebrities including Kate Upton, Victoria Justice, Ariana Grande, Hope Solo, Brad Pitt and most notably Jennifer Lawrence were leaked onto Twitter.
The pictures were allegedly retrieved due to an Apple iCloud glitch that permitted celebrities' phones to be hacked, and were posted on 4chan in an attempt to redeem the user from the cardinal sin of joining the site in the first place. The photos have caused mass outrage as famous people and members of the public claim that the pictures are a "flagrant violation of privacy."
The pictures range from slightly saucy to hardcore bestiality, such as in the case of Brad Pitt, who is caught on camera abusing an animal while dressed as a matador. His agent grabbed the situation by the horns, by responding to the accusation with a simple statement: "This is a cock-and-bull story, completely false."
However, some celebrities decided honesty was the best policy. Jennette McCurdy, the former iCarly star, was shown to be inserting a buttplug into her anus, but didn't seemed too concerned at the fact that the pictures were leaked. "It's a pain in the ass, but it's out of my hands now."
Another Nickelodeon actor, Victoria Justice, was pictured half naked in a bondage situation, gagged and tied down to a bed with undermining words scrawled all over her body. She claims that the photo is false, but her ex-boyfriend believes otherwise. "Victoria never said a word to me about her fetishes, but it was written all over her face. She clearly loved it." The teenage celebrity and her followers have decided to try and take the hacker down. The spokesperson for the fan club, Lee Peters, told the press, "All I want is for Justice to be done."
Jennifer Lawrence, who has received most of the attention since she was in 19 pictures, has spent her time complaining to the authorities about the invasion of her privacy. Charges will be brought against the hacker, if he is found, who claims to have over 100 photos of celebrities in compromising scenarios, as well as an offer of a sleepover from the Ecuadorian Ambassador.