Portal:Culinary
Jump to navigation
Jump to search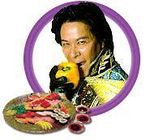 Cooking is the act of applying culinary finesse to raw materials in order to create delectable, and hopefully edible nourishment for human consumption. It's not exactly music... but it's close.
It's
Monday
, so it must be "Cream of
Campbell's Soup
over baked meat chunks" night at your house. Your cupboard is full of things in boxes such as macaroni and
cheese
, mashed potatoes, and pasta sides. Face it, you are a lazy fatass.
You eat way too much fast food
. You probably need to lose twice the weight you think you do. If you are tired of preparing the meals, then stop eating so much. And think of your family, do you really need to make them fat as well? Maybe it's time to start eating healthier, fresher food. This portal is as fresh as it gets.