Portal:Comedy
Jump to navigation
Jump to search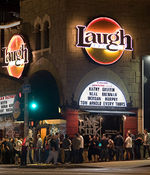 Comedyology
is the study of the craft of
Comedy
.
Comedy
is a communication
system
for people to make other people realize how stupid some things are. Be they stupid people, places or things. Comedy is usually expressed by
Comedians
which may be
Canadians
,
individuals
, teams or
troupes
. Animators and illustrators may also qualify as comedians, as their product serves the same purpose. Certainly,
Propaganda
,
pornography
and
laundry
detergent
advertisements
may
be funny, and serve as de facto comedy, but they are not
officially
comedy.

Internet comedy, called Lulz, was initially just about cats and a few other cute animals. It was introduced in the 1950s, with dogs introduced within a year, after much demand in the UK. It also used the terrestrial internet through ground-based modems. Later, high speed via overhead and/or underground wiring and then 3G were introduced. More recently in the 21st century, lulz has increasingly moved from analog to digital technology.