UnNews:Soccer fans shun art for hookers
Jump to navigation
Jump to search
10 July 2010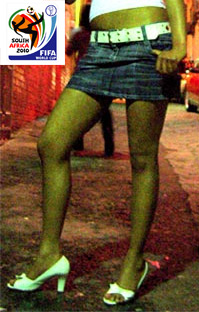 JOHANNESBURG, South Africa – It was predicted that the influx of thousands of hooker soccer fans would increase demand on South African art; at least that was the belief of a leading expert prior to the start of the 2010 World Cup.
But it seems fans of the game that traveled to the Rainbow Nation have created a flop in the art business -- leaving art galleries -- in favor of prostitutes.
"The World Cup has been devastating for art. We thought it was going to be a cash cow but it's chased a lot of the business away. It's been the worst month in my company's history," the owner and founder of one of Johannesburg's most exclusive art boutique told CNN.
"No one is interested in art at the moment. I think we've had three customers who traveled here for the World Cup which has seen my business drop by 95 percent. I enjoyed watching the games, but I can't wait for all these horn-dogs to just go home now!" Zobwa, an art dealer added.
The behavior of fans in South Africa has run contrary to what was predicted prior to the start of the tournament after David Bayever told World Cup organizers in March that up to 40,000 extra art dealers could converge in the host nation to meet the expected demand for African art.
"But people went to the bars and stadiums to watch the games and afterwards they went and got laid. They didn't bother themselves with coming to us," Zobwa, told CNN.
"Before the tournament we were getting good money but (over the month) it has not been busy at all. We thought it was going to be much better but it has been boring. I've actually closed my shop now because there has been so little trade. And I'm seriously considering opening a brothel myself.
"Police and pimps have been keen to keep ladies on the streets and I don't think the foreign visitors could be more happy," Zobwa added.
So where one industry, art, declined because of the change in soccer fans' tastes, another has boomed – whorehouses have reported record attendance.
Wayde Davy, Manager of Johannesburg's 'Apartheid Brothel', said visitors to see the girls had never been so good.
"Before the tournament we anticipated an increase in numbers, we planned for around 2,000 a day but we've actually seen around 14,000 a day. One day we saw over 16,000 people -- it's gone through the roof.
"We thought people were coming here for the soccer but we've been pleasantly surprised. Most all of the [[team]s visited too," Davy added.
Though reticent to comment before an official post-tournament report had been conducted, Roshene Singh, the chief marketing officer for the South Africa Poontang Association (SAPA), suggested that South Africa playing host might have made a difference.
"Having a World Cup in Africa is different from going somewhere more local, like Las Vegas or Soho. It's a long-haul trip so many have traveled with sex in mind and they want to have more of a total experience - the works.
"We estimate that in the region of 300,000 people visited hookers costing anything between $2 to $12. And we noticed that most fans were between the age-range of 16 - 90-years-old, with many others coming in as sex tourists with corporate sponsors.
"People who come to South Africa come for the girls, and those visiting have certainly had a great time. The local whorehouse of Soweto has been full every day!" she added.
News

2010 FIFA Middle Earth Cup soon to begin • America: Oh, You mean 'Soccer'! • Bzzzzzzzzzzzzzzzzzzzzzzzz! • Capello identifies key 'ingredients' to success • Celtic F.C. sign youth player in transfer mix-up • Dutch clogs no match for Spanish bull • English excuse for not winning the 2010 football World Cup is revealed • F.C. Blatter win the FIFA Crony Cup again • Fabio Capello 'sleeping with the fishes' in brutal slaying • Fifa turns down English replay plea • Footballer has sex with wife • Football's ten worst sinners • France avenges World Cup defeat • Gatorade source contaminated, US economy collapses, Brits follow suit • Gay men banned from playing soccer in high altitudes • Germany Plans invasion of Spain, Netherlands next? • Jabulani ball causes more distress • Jesus given one-year ban • Luis Suarez's good food guide • Massive stadium brawl breaks out over contemporary solipsist philosophy • New sports crime tribunal to try England's football flops • North Korea purge football team after 7-0 humiliation • Paul the Octopus considers offer from Uncyclopedia • Pope wore a German football shirt as he watched Argentina lose in World Cup • Psychic Octopus to be offered new identity if Spain lose World Cup final • Referees again dictate outcome of match • Scientists dampen World Cup enthusiasm by concluding football really is just 22 men running around a field chasing a ball • Soccer fans shun art for hookers • Soccer game ends in tie • Soccer-playing abortion doctor goes for the death-threat trifecta • South Africa to change name to Vuvuzela • Stan Marsh presents: 2022 FIFA World Cup • Television commentators stock up with clichés for World Cup Final today • The football is over • United States robbed of World Cup • World Cup Fever leads to mass pneumonia • Zidane welcome in Spain: A new challenge for matadors