User:Zombiebaron/Uncyclopedia Reskin Committee/Defacebook
From Uncyclopedia, the content-free encyclopedia
Jump to navigation
Jump to search
<createbox>
width=20 buttonlabel=New post break=no
</createbox>

Holy cock! We may have forgotten to update these over these last few months. The days we missed could be counted as few as if at all. We have just updated this since last May. How awesome!
So basically, let's get to business. Take off your pants; IFYMB! wins Writer of the Month for September 2014. His hit singles include the frankly libellous UnNews:Nude photos of celebrities leaked, the almost-topical UnDebate:What does the fox say? and the spiritually upliftingUnNews:Thursday is a dirty whore.
Let us all clap for him because I said so.
---
Featured picture candidate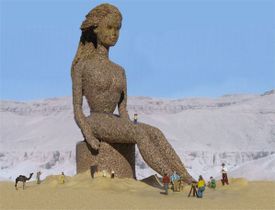 One of the seven wonders of the pre-feminist movement, the Colossus of Barbie stands as a silent sentinel, ever-watching, over Toydom's "Valley of the Dolls." In an ode to its majesty, Percy Bysshe Shelley declared:
That all the world remains, to seem, unchanged,
Her triumph o'er the rivers, wrath, and range,
Of her immortal gaze, fixed cold with steel,
I dare not but apease her wealth with meal.
But, yet, Man has not seen her to the test;
What's more, pity I couldn't bugger her like all the rest.
This is evidence that when the monument was built, people were of the belief that God was indeed a woman. Take that, Benedict XVI!

Image credit: Prettiestpretty
Archive - Discuss this image
Vote

Score:

14

Nomination:




For Votes:

21


Against Votes:

7

30,732
articles. Uncyclopedias are being written in many
languages
, including
Zombiebaron/Uncyclopedia Reskin Committee/Defacebook
!:
This Uncyclopedia, started in 2005, currently contains