UnNews:Jesus given one-year ban
Jump to navigation
Jump to search
Tuesday, December 15, 2020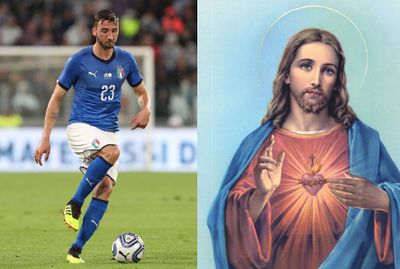 HEAVEN, D.C., HEAVEN -- The Disciplinary Commission has handed Christian Lord Jesus H. Christ a one-year suspension for blasphemy.
The Vaticanae midfielder has been sanctioned by the Sports Judge for having tweeted a blasphemous expression during Saturday's match against Mecha.
Gesù will therefore miss Thursday's match against Judea in the 2020 Holidays season.
"The Sports Judge received a formal report from the Federal Prosecutor regarding the conduct of the player Gesù Criste," the statement said.
"Gesù pronounced a blasphemous expression at the 23rd minute of the first half." UnNews has learned that at that exact time, Jesus has tweeted:


Jesus

@jesus
FUCK MARADONA! I AM MUCH BETTER THAN HIM! VIVA ANTICRISTO! LIFE OF BRIAN RULES!
20:12 PM · Dec 12, 2020


0    

0
As a result of Jesus's horrible tweet, and due to the COVID-19 pandemic, this year's Christmas is expected to be cancelled. However, Santa Claus has assured UnNews that this won't prevent him nor Jesus from celebrating their favorite holiday:


Diego Armando Maradona

@maradona
I know that I'm fat and old, and that Jesus can't shut the fuck up, but Xmas is still on!
10:50 AM · Dec 15, 2020


0    

0
Unfortunately, Santa has died immediately after posting the tweet, which prevented Jehovah from liking it and thus giving his final approval. And so another holiday is totally fucked by coronavirus, until Independence Day is declared by Joe Biden, sometime during the next 4 to 8 years.
News

2010 FIFA Middle Earth Cup soon to begin • America: Oh, You mean 'Soccer'! • Bzzzzzzzzzzzzzzzzzzzzzzzz! • Capello identifies key 'ingredients' to success • Celtic F.C. sign youth player in transfer mix-up • Dutch clogs no match for Spanish bull • English excuse for not winning the 2010 football World Cup is revealed • F.C. Blatter win the FIFA Crony Cup again • Fabio Capello 'sleeping with the fishes' in brutal slaying • Fifa turns down English replay plea • Footballer has sex with wife • Football's ten worst sinners • France avenges World Cup defeat • Gatorade source contaminated, US economy collapses, Brits follow suit • Gay men banned from playing soccer in high altitudes • Germany Plans invasion of Spain, Netherlands next? • Jabulani ball causes more distress • Jesus given one-year ban • Luis Suarez's good food guide • Massive stadium brawl breaks out over contemporary solipsist philosophy • New sports crime tribunal to try England's football flops • North Korea purge football team after 7-0 humiliation • Paul the Octopus considers offer from Uncyclopedia • Pope wore a German football shirt as he watched Argentina lose in World Cup • Psychic Octopus to be offered new identity if Spain lose World Cup final • Referees again dictate outcome of match • Scientists dampen World Cup enthusiasm by concluding football really is just 22 men running around a field chasing a ball • Soccer fans shun art for hookers • Soccer game ends in tie • Soccer-playing abortion doctor goes for the death-threat trifecta • South Africa to change name to Vuvuzela • Stan Marsh presents: 2022 FIFA World Cup • Television commentators stock up with clichés for World Cup Final today • The football is over • United States robbed of World Cup • World Cup Fever leads to mass pneumonia • Zidane welcome in Spain: A new challenge for matadors