UnNews:Referees again dictate outcome of match
Jump to navigation
Jump to search
19 June 2010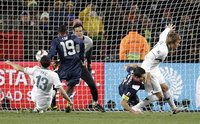 JOHANNESBURG, South Africa -- For the second time in mere weeks, the forces of history, destiny, and attractive leads for news articles were thwarted by the insistence of organized sport that decisions affecting the outcome of games be made by referees.
Barely two weeks ago, baseball umpire Jim Joyce denied recession-weary Americans the release of a perfect game, when he incorrectly called Jason Donald safe at first. Spectators, including the entire Uncyclopedia community, called for Mr. Donald to embrace destiny and abandon the basepaths, for the 27th and final out, ushering his adversary into the record book, in view of what everyone would clearly see on television the day after. Mr. Donald, however, took his base, over the relatively trivial notion of representing the potential tying run in the bottom of the 9th inning.
Then, Friday night, the United States soccer team was denied a victory in the World Cup against puny and insignificant Slovenia by a whistle that referee Koman Coulibaly blew and still hasn't explained. Slovenia had jumped to a 2-nil lead in the first half but the U.S. tied the game in the second half. The whistle nullified what would have been the winning goal and gave the United States, the most populous nation in the Cup, the ignominy of tying a country with fewer people than the U.S. has prison inmates.
Mr. Coulibaly, from Mali, ignored anguished and mispronounced pleas of "Pour quoi?" from American players--even though replays show three Slovenians committing fouls when he blew the whistle, two of them with brass knuckles, while only one American was holding back a Slovenian. None of the 43 people texting the U.S. Soccer Federation president saw a foul either, and his name is Sunil Gulati, and that's pretty damned international.
In American major-league sports, important game-day personalities are interviewed by Judge Wapner, who asks them how they feel. Mr. Joyce confessed blowing his call, and the players subsequently voted the veteran the game's best umpire. By comparison, Mr. Coulibaly does not have to explain his decision to anyone. He has something called an "availability," but it's not until Monday, and no one knows where in the Third World you'd have to travel to, nor whether you need shots. Also, baseball has grudgingly allowed the use of Instant Replay, but only for certain decisions. And a computerized system for tracking pitches and calling balls and strikes has been working for years, but it's thought that players would be distracted by consistent plate umpiring. Soccer neither allows video replays, nor even lets fans know for sure how much time is left in the match. But that's all right, because they are all foreigners who are accustomed to not knowing what's going on.
News

2010 FIFA Middle Earth Cup soon to begin • America: Oh, You mean 'Soccer'! • Bzzzzzzzzzzzzzzzzzzzzzzzz! • Capello identifies key 'ingredients' to success • Celtic F.C. sign youth player in transfer mix-up • Dutch clogs no match for Spanish bull • English excuse for not winning the 2010 football World Cup is revealed • F.C. Blatter win the FIFA Crony Cup again • Fabio Capello 'sleeping with the fishes' in brutal slaying • Fifa turns down English replay plea • Footballer has sex with wife • Football's ten worst sinners • France avenges World Cup defeat • Gatorade source contaminated, US economy collapses, Brits follow suit • Gay men banned from playing soccer in high altitudes • Germany Plans invasion of Spain, Netherlands next? • Jabulani ball causes more distress • Jesus given one-year ban • Luis Suarez's good food guide • Massive stadium brawl breaks out over contemporary solipsist philosophy • New sports crime tribunal to try England's football flops • North Korea purge football team after 7-0 humiliation • Paul the Octopus considers offer from Uncyclopedia • Pope wore a German football shirt as he watched Argentina lose in World Cup • Psychic Octopus to be offered new identity if Spain lose World Cup final • Referees again dictate outcome of match • Scientists dampen World Cup enthusiasm by concluding football really is just 22 men running around a field chasing a ball • Soccer fans shun art for hookers • Soccer game ends in tie • Soccer-playing abortion doctor goes for the death-threat trifecta • South Africa to change name to Vuvuzela • Stan Marsh presents: 2022 FIFA World Cup • Television commentators stock up with clichés for World Cup Final today • The football is over • United States robbed of World Cup • World Cup Fever leads to mass pneumonia • Zidane welcome in Spain: A new challenge for matadors