UnNews:France avenges World Cup defeat
Jump to navigation
Jump to search
6 September 2006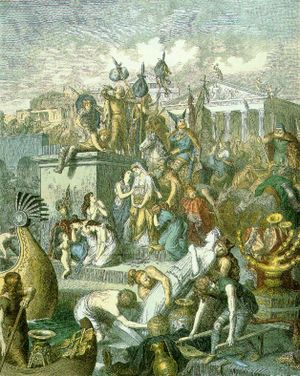 ROME, Italy -- France avenged their World Cup final defeat with a morning nuking of key Italian cities, including Venice, Naples, and the once-great world capital Rome. This act is the first time France has used its tiny, tiny nuclear arsenal against its enemies since it nuked Greenpeace's headquarters in 1987.
This move has come as a surprise to Americans, who are too fat, stupid, and heterosexual to appreciate the sportsmanship and insanity associated with the beautiful game. However, it's not much of a surprise to most Europeans, Latin Americans, and pretty much all those other foreigners, all of whom grow up exposed to such irrational emotion.
"I think it was a great move, even though I despise Zinedine Zidane and anything else that is French," Londoner Billy Britain is reported to have said. "I just wish we'd done this to Argentina in '84. Those bloody wankers are always stealin' our colonies and cheating in football matches, and I believe it's high time we whipe Buenos Aires off the map."
Italians, who will likely still be recovering from the severe burn wounds and cancer caused by these attacks 25-50 years into the future, see France's acts as irrational and lecherous. "Itsa notta very nice to do sucha things, no?" my interpreter, who has taken one year of English, poorly translated Italian Prime Minister Romano Prodi as saying. The Pope, who received severe wounds in the attack, has called Jacques Chirac a "bloody dickhead" and excommunicated the entire nation of France indefinitely.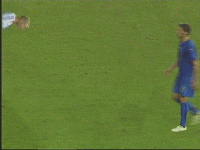 The UN remains divided on the issue. Quoth head honcho Kofi Annan, "I am glad to see that international sport has prompted world leaders to attempt to solve important problems. However, I do not see violence as the answer to the problem of headbutting being grounds for a red card. I believe we should press sanctions on France, and then attempt to heal a war-ravaged Italian people, and, more importantly, their football team." The UN's headquarters in New York City were then hit by an ICBM launched from a missile base in French Guiana, and Annan was vaporized on the spot.
It is unknown what effect the nuking of random cities and the dissolution of the United Nations will have on the prospects of world peace, but experts foresee a massive robot uprising and laws requiring men to "prostrate themselves before the almighty MechaChirac." UnNews will provide more information on this pressing issue as it becomes available.
News

2010 FIFA Middle Earth Cup soon to begin • America: Oh, You mean 'Soccer'! • Bzzzzzzzzzzzzzzzzzzzzzzzz! • Capello identifies key 'ingredients' to success • Celtic F.C. sign youth player in transfer mix-up • Dutch clogs no match for Spanish bull • English excuse for not winning the 2010 football World Cup is revealed • F.C. Blatter win the FIFA Crony Cup again • Fabio Capello 'sleeping with the fishes' in brutal slaying • Fifa turns down English replay plea • Footballer has sex with wife • Football's ten worst sinners • France avenges World Cup defeat • Gatorade source contaminated, US economy collapses, Brits follow suit • Gay men banned from playing soccer in high altitudes • Germany Plans invasion of Spain, Netherlands next? • Jabulani ball causes more distress • Jesus given one-year ban • Luis Suarez's good food guide • Massive stadium brawl breaks out over contemporary solipsist philosophy • New sports crime tribunal to try England's football flops • North Korea purge football team after 7-0 humiliation • Paul the Octopus considers offer from Uncyclopedia • Pope wore a German football shirt as he watched Argentina lose in World Cup • Psychic Octopus to be offered new identity if Spain lose World Cup final • Referees again dictate outcome of match • Scientists dampen World Cup enthusiasm by concluding football really is just 22 men running around a field chasing a ball • Soccer fans shun art for hookers • Soccer game ends in tie • Soccer-playing abortion doctor goes for the death-threat trifecta • South Africa to change name to Vuvuzela • Stan Marsh presents: 2022 FIFA World Cup • Television commentators stock up with clichés for World Cup Final today • The football is over • United States robbed of World Cup • World Cup Fever leads to mass pneumonia • Zidane welcome in Spain: A new challenge for matadors