UnNews:Germany Plans invasion of Spain, Netherlands next?
Jump to navigation
Jump to search
7 July 2010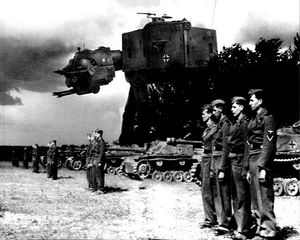 JOHANNESBURG, South Africa -- As early as June 12th the German Waffen SS and Luftwaffe units started arriving here on the peaceful neutral grounds of South Africa. Troop build up was much to the delight of the United Nations as in this third world like economy This war will not effect global economies as past conflicts. This has been particularly difficult for the Spanish Armada since there are no large bodies of water this far inland.
A spokesman for the Spanish Armada, Miguel López de Ferdinand de Cortés de la Navas de Tolosa jr. said, "We have top engineers sawing the bottoms off of our ships so they will stand straight on dry land. That will really surprise the German War Machine."
The invasion is set to begin later this afternoon with the ceremonial first shot to be fired by the winner of last years Der Blutorden Das Freiballonführer' (German Idol), Joachin Loew. During a early press conference with the German high order, they made it very clear that Spain would soon fall like a toreador tossed on his back by rampaging bull. German generals officials also issued a warning that they next plan a full scale invasion of the Netherlands.
In closing we leave you with this statement given by a young German soldier "Die Lügen sind wie Schneebälle: je weiter man sie fortwälzt, desto größer werden sie." We are not sure what it means but suggest our readers look it up we will all be speaking German soon.
News Update: German invasion plans have been cancelled as Paul the Psychic Octopus has advised the invasion will be defeated.
News

2010 FIFA Middle Earth Cup soon to begin • America: Oh, You mean 'Soccer'! • Bzzzzzzzzzzzzzzzzzzzzzzzz! • Capello identifies key 'ingredients' to success • Celtic F.C. sign youth player in transfer mix-up • Dutch clogs no match for Spanish bull • English excuse for not winning the 2010 football World Cup is revealed • F.C. Blatter win the FIFA Crony Cup again • Fabio Capello 'sleeping with the fishes' in brutal slaying • Fifa turns down English replay plea • Footballer has sex with wife • Football's ten worst sinners • France avenges World Cup defeat • Gatorade source contaminated, US economy collapses, Brits follow suit • Gay men banned from playing soccer in high altitudes • Germany Plans invasion of Spain, Netherlands next? • Jabulani ball causes more distress • Jesus given one-year ban • Luis Suarez's good food guide • Massive stadium brawl breaks out over contemporary solipsist philosophy • New sports crime tribunal to try England's football flops • North Korea purge football team after 7-0 humiliation • Paul the Octopus considers offer from Uncyclopedia • Pope wore a German football shirt as he watched Argentina lose in World Cup • Psychic Octopus to be offered new identity if Spain lose World Cup final • Referees again dictate outcome of match • Scientists dampen World Cup enthusiasm by concluding football really is just 22 men running around a field chasing a ball • Soccer fans shun art for hookers • Soccer game ends in tie • Soccer-playing abortion doctor goes for the death-threat trifecta • South Africa to change name to Vuvuzela • Stan Marsh presents: 2022 FIFA World Cup • Television commentators stock up with clichés for World Cup Final today • The football is over • United States robbed of World Cup • World Cup Fever leads to mass pneumonia • Zidane welcome in Spain: A new challenge for matadors