UnNews:Psychic Octopus to be offered new identity if Spain lose World Cup final
Jump to navigation
Jump to search
8 July 2010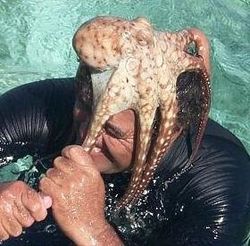 OBERHAUSAN, Germany -- Paul the Psychic Octopus has been offered a new identity if he upsets Spanish fans for this coming Sunday's World Cup final.
The octopus's amazing ability to always pick the winner of a game has now got him hot water with Spanish fans who believe he will be biased against them. Paul's method of working out who will win a game by climbing into the right box with a nation's flag attached and then dining on the mussels inside has so far been 100% accurate this year. He has predicted the results of all of Germany's games in the World Cup by accurately choosing a Spanish flagged box of mussels in preference to a German one for the semi final was shown to have been correct. The German coach Joachim Löw is said to have called the octopus a schweinkraken when he got this accurate prediction.
"We don't know how Paul does it," said a spokesman for the Aquarium in Oberhausen where Paul now currently resides. "When you think we watch TV shows that have various experts trying to predict a result, Paul just uses his octopus brain to work out which box has the best tasting mussels in it today. And he has been accurate every time".
But now the Mystic Meg of molluscs who was originally hatched in Britain before moving to Germany for health reasons has received death threats in the shape of decapitated shrimps sent to him from Spain. Extreme fans of the Spanish team have warned Paul that if he doesn't chose the 'correct box of mussels' (i.e. one with the Spanish flag attached on it) then they say they will 'scoop him out of his bowl', cut off his tentacles sliced off and will the the remains in a paella as a warning for all future octopuses looking for a new career as sporting pundits.
In response, the German government have offered Paul a new identity if he so choses to avoid this culinary fate. Even the German chancellor Angela Merkel has got involved and has post a division of the German army to be deployed around Oberhausen to prevent any attempt to 'nobble' Paul when he is expected to make his next match result prediction for the final on Sunday.
In a separate development, Nike are offering Paul a job after the World Cup. The sportswear company says it will use him the next time they want to highlight the next crop of supposed superstars. Their advert which showed Wayne Rooney, Kaka and Lionel Messi scoring wonder goals has been widely ridiculed as all of them flopped at the World Cup. The company believes Paul will be lot cheaper and far more accurate identifying new sporting heroes of the future.
News

2010 FIFA Middle Earth Cup soon to begin • America: Oh, You mean 'Soccer'! • Bzzzzzzzzzzzzzzzzzzzzzzzz! • Capello identifies key 'ingredients' to success • Celtic F.C. sign youth player in transfer mix-up • Dutch clogs no match for Spanish bull • English excuse for not winning the 2010 football World Cup is revealed • F.C. Blatter win the FIFA Crony Cup again • Fabio Capello 'sleeping with the fishes' in brutal slaying • Fifa turns down English replay plea • Footballer has sex with wife • Football's ten worst sinners • France avenges World Cup defeat • Gatorade source contaminated, US economy collapses, Brits follow suit • Gay men banned from playing soccer in high altitudes • Germany Plans invasion of Spain, Netherlands next? • Jabulani ball causes more distress • Jesus given one-year ban • Luis Suarez's good food guide • Massive stadium brawl breaks out over contemporary solipsist philosophy • New sports crime tribunal to try England's football flops • North Korea purge football team after 7-0 humiliation • Paul the Octopus considers offer from Uncyclopedia • Pope wore a German football shirt as he watched Argentina lose in World Cup • Psychic Octopus to be offered new identity if Spain lose World Cup final • Referees again dictate outcome of match • Scientists dampen World Cup enthusiasm by concluding football really is just 22 men running around a field chasing a ball • Soccer fans shun art for hookers • Soccer game ends in tie • Soccer-playing abortion doctor goes for the death-threat trifecta • South Africa to change name to Vuvuzela • Stan Marsh presents: 2022 FIFA World Cup • Television commentators stock up with clichés for World Cup Final today • The football is over • United States robbed of World Cup • World Cup Fever leads to mass pneumonia • Zidane welcome in Spain: A new challenge for matadors