UnNews:Pope wore a German football shirt as he watched Argentina lose in World Cup
Jump to navigation
Jump to search
5 July 2010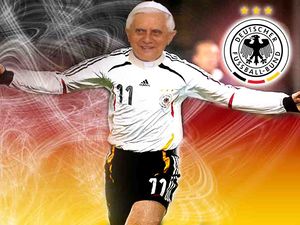 VATICAN CITY, Roma -- Pope Benedict XVI is reported to have worn a replica Germany football shirt as he watched his home nation beat Argentina 4-0 in the World Cup in South Africa last Saturday (3rd July). The German born pope is said to have danced on a table and then thrown his papal cap in the air as 'Der Vaterland' progressed onto their semi final meeting with Spain.
The 83 old Supreme Pontiff of the Catholic Church for once put aside his usual message of the universal Christian message of Faith and Humility and instead urged on Germany to 'to get Diego Maradona mad ' as he watched them put four goals past the hopeless Argentinians. The Bavarian born Pope (who was previously known as Cardinal Joseph Ratzinger until April 2005) surprised his bishops and assistants on insisting on watching the game as it was shown live from South Africa. As the national anthems were sung, Benedict slipped on a German football shirt over his vestments and then settled down in the special Papal TV viewing throne to see the game . Guests at the event said bottles of quality communion wine, unopened packets of holy wafers and bowls of chocolate rosary beads were offered as refreshments as they saw the game on the pope's new 60 inch plasma screen. When they saw Argentina's hapless manager Maradona look up into the skies for Divine Guidance, some of the younger bishops present shouted at the screen 'He's Not Listening you coke nosed, immoral, thieving bastardo' and screamed in joy every time a goal went in.
Not normally known for his sporting activities, Pope Benedict later admitted that a few years ago he and the previous occupant of St. Peter's Chair, Pope John Paul II would often combine theological discussions with penalty taking practice in one of the Vatican's private gardens.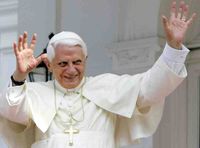 Yes, it is true.. admitted the pope's private sporting secretary Cardinal Rotekarte. Pope John Paul would go in goal as he had been a keeper for a team in Poland in his younger days whilst the then Cardinal Ratzinger would kick specially made Papal Balls at his holiness. They both said this mixing of sport and religion had been very useful though when the roles had been reversed with the Cardinal in goal, Pope John Paul was forever kicking the ball over the cross bar into a nunnery next door. He said the Pope would then go round and ask the Mother Superior to throw them back 'Hail Mary, mother of God. Can you pass the ball back to the Holy Father and his good friend ?
News of the Pope's wild celebrations of a German victory did not go down too well in Argentina. They had thought that as a good Catholic, the pope would be above such petty side picking as choosing Germany - a country that is after all, has a rough 50-50 split between Catholics and Protestants where as in Argentina virtually everyone follows 'the one true path'. In the end though, anger against the Pope has subsided and instead effigies of Maradona have been taken out and burnt in the street in an effort to blame someone for their country's crashed World Cup ambitions.
News

2010 FIFA Middle Earth Cup soon to begin • America: Oh, You mean 'Soccer'! • Bzzzzzzzzzzzzzzzzzzzzzzzz! • Capello identifies key 'ingredients' to success • Celtic F.C. sign youth player in transfer mix-up • Dutch clogs no match for Spanish bull • English excuse for not winning the 2010 football World Cup is revealed • F.C. Blatter win the FIFA Crony Cup again • Fabio Capello 'sleeping with the fishes' in brutal slaying • Fifa turns down English replay plea • Footballer has sex with wife • Football's ten worst sinners • France avenges World Cup defeat • Gatorade source contaminated, US economy collapses, Brits follow suit • Gay men banned from playing soccer in high altitudes • Germany Plans invasion of Spain, Netherlands next? • Jabulani ball causes more distress • Jesus given one-year ban • Luis Suarez's good food guide • Massive stadium brawl breaks out over contemporary solipsist philosophy • New sports crime tribunal to try England's football flops • North Korea purge football team after 7-0 humiliation • Paul the Octopus considers offer from Uncyclopedia • Pope wore a German football shirt as he watched Argentina lose in World Cup • Psychic Octopus to be offered new identity if Spain lose World Cup final • Referees again dictate outcome of match • Scientists dampen World Cup enthusiasm by concluding football really is just 22 men running around a field chasing a ball • Soccer fans shun art for hookers • Soccer game ends in tie • Soccer-playing abortion doctor goes for the death-threat trifecta • South Africa to change name to Vuvuzela • Stan Marsh presents: 2022 FIFA World Cup • Television commentators stock up with clichés for World Cup Final today • The football is over • United States robbed of World Cup • World Cup Fever leads to mass pneumonia • Zidane welcome in Spain: A new challenge for matadors