UnNews:Jabulani ball causes more distress
Jump to navigation
Jump to search
3 July 2010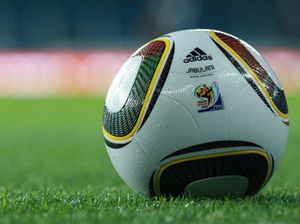 JOHANNESBURG, South Africa -- The FIFA World Cup has come under target of a threat not seen in previous World Cups. It's not terrorists or riots, or even fans. The world cup is being sabotaged from the inside- from one of the most trusted personnel, the Jabulani ball.
The ball boasts what is supposedly amazing On and Off road handling, state-of-the-art hydraulics and even safety features completely useless to a football (or soccer ball, depending on where you are.) However it certainly doesn't appear to be that way to FIFA officials, who have used an estimated 4.2 billion dollars of all kinds (USD, AUD, YEN, you name it.) in total to fund an investigation into the ball's failures. Adidas, the ball's manufacturer, are shocked at the ball's poor functioning.
The Jabulani has committed an estimated 239,000,000,432 crimes. According to officials, most of which falls under these categories:
332 cases of assault
Uncountable numeral cases of entering restricted boundaries
43 cases of being the primary cause of fights and public indecencies
Numerous cases of being accessory to murder men who stand beetween posts.
Numerous cases of attempted manslaughter for the same reason as above
Causing harm
The Jabulani in it's defence has stated that it has been abused, been a victim of battery, and did not enter restricted areas of it's own accord. However, Unknown to the ball, unless its reading this now, that all of it's crimes have been caught on film and are to be used against it as primary evidence in the trial to be held later this year. An anonymous expert of criminal behavior and judgement has stated that the Jabulani is looking at "435 years of confinement".
If you have been attacked, or have any information on the Jabulani, please inform officials at this page.
News

2010 FIFA Middle Earth Cup soon to begin • America: Oh, You mean 'Soccer'! • Bzzzzzzzzzzzzzzzzzzzzzzzz! • Capello identifies key 'ingredients' to success • Celtic F.C. sign youth player in transfer mix-up • Dutch clogs no match for Spanish bull • English excuse for not winning the 2010 football World Cup is revealed • F.C. Blatter win the FIFA Crony Cup again • Fabio Capello 'sleeping with the fishes' in brutal slaying • Fifa turns down English replay plea • Footballer has sex with wife • Football's ten worst sinners • France avenges World Cup defeat • Gatorade source contaminated, US economy collapses, Brits follow suit • Gay men banned from playing soccer in high altitudes • Germany Plans invasion of Spain, Netherlands next? • Jabulani ball causes more distress • Jesus given one-year ban • Luis Suarez's good food guide • Massive stadium brawl breaks out over contemporary solipsist philosophy • New sports crime tribunal to try England's football flops • North Korea purge football team after 7-0 humiliation • Paul the Octopus considers offer from Uncyclopedia • Pope wore a German football shirt as he watched Argentina lose in World Cup • Psychic Octopus to be offered new identity if Spain lose World Cup final • Referees again dictate outcome of match • Scientists dampen World Cup enthusiasm by concluding football really is just 22 men running around a field chasing a ball • Soccer fans shun art for hookers • Soccer game ends in tie • Soccer-playing abortion doctor goes for the death-threat trifecta • South Africa to change name to Vuvuzela • Stan Marsh presents: 2022 FIFA World Cup • Television commentators stock up with clichés for World Cup Final today • The football is over • United States robbed of World Cup • World Cup Fever leads to mass pneumonia • Zidane welcome in Spain: A new challenge for matadors