UnNews:Soccer-playing abortion doctor goes for the death-threat trifecta
Jump to navigation
Jump to search
27 April 2010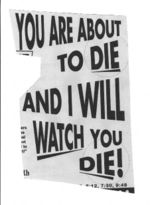 PEORIA, Illinois -- Abortion doctor Maximo Cedenho, M.D. is used to death threats from the morons that are displeased with his chosen profession. But when he accidentally caused an own-goal by over-kicking the ball to his goalie while appearing as a walk-on for his native Brazilian soccer team, he was surprised to experience a near tripling of his normal daily death threat count.
Cedenho, a soccer star in his native Brazil as a youth, chose instead to pursue medicine as a profession. Occasionally, however, the Brazilian National Team calls him back to fill in when needed. For an international match against Italy, the team was short on defenders and Cedenho was happy to answer the call.
However, when he sent a pass over the goaltender's head and into his own net in the eighty-third minute, which resulted in the devastating 1-nil loss, Brazilian soccer fans were boisterous in their calls for his head as payment for his crime.
So, in a bold move intended to round out the moronic death threat spectrum, Cedenho has now decided to publish disparaging cartoons of the Islamic prophet Muhammed, whose depiction in print is punishable by death per the tenets of the popular "religion of peace".
While highly publicized fatwahs such as the Islamists' threats are rarely realized, and only one soccer player has ever actually been murdered for his errant kick, abortion foes are impressively productive in their moronic persistence. For this reason, Cedenho is not expected to survive the week.
The truncated version broadcast on UnNews Audio is available in this article's change history.
News

2010 FIFA Middle Earth Cup soon to begin • America: Oh, You mean 'Soccer'! • Bzzzzzzzzzzzzzzzzzzzzzzzz! • Capello identifies key 'ingredients' to success • Celtic F.C. sign youth player in transfer mix-up • Dutch clogs no match for Spanish bull • English excuse for not winning the 2010 football World Cup is revealed • F.C. Blatter win the FIFA Crony Cup again • Fabio Capello 'sleeping with the fishes' in brutal slaying • Fifa turns down English replay plea • Footballer has sex with wife • Football's ten worst sinners • France avenges World Cup defeat • Gatorade source contaminated, US economy collapses, Brits follow suit • Gay men banned from playing soccer in high altitudes • Germany Plans invasion of Spain, Netherlands next? • Jabulani ball causes more distress • Jesus given one-year ban • Luis Suarez's good food guide • Massive stadium brawl breaks out over contemporary solipsist philosophy • New sports crime tribunal to try England's football flops • North Korea purge football team after 7-0 humiliation • Paul the Octopus considers offer from Uncyclopedia • Pope wore a German football shirt as he watched Argentina lose in World Cup • Psychic Octopus to be offered new identity if Spain lose World Cup final • Referees again dictate outcome of match • Scientists dampen World Cup enthusiasm by concluding football really is just 22 men running around a field chasing a ball • Soccer fans shun art for hookers • Soccer game ends in tie • Soccer-playing abortion doctor goes for the death-threat trifecta • South Africa to change name to Vuvuzela • Stan Marsh presents: 2022 FIFA World Cup • Television commentators stock up with clichés for World Cup Final today • The football is over • United States robbed of World Cup • World Cup Fever leads to mass pneumonia • Zidane welcome in Spain: A new challenge for matadors