UnNews:Scientists dampen World Cup enthusiasm by concluding football really is just 22 men running around a field chasing a ball
Jump to navigation
Jump to search
11 June 2010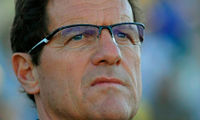 CAPE TOWN, South Africa -- Oxford University have chosen the opening day of the 2010 FIFA World Cup to report the findings of their ten year study. It confirmed what millions of women and near-women have long suspected: football really is just twenty-two men running around a field after a ball.
The theory was first posited in 1927 by a perfectly-attractive-given-her-circumstances northern housewife, Annette Sprain, whose husband had insisted on going to see his beloved Grimsby team play a match, instead of having prolonged sexual intercourse with her. She was to utter the immortal words "Why would you want to do that? It's just a daft lot chasing ball, that's all it is.".
Her comments - whilst repeated often by undersexed women - were ignored by the scientific community who were persuaded by the commonly-held view that millions of people would not be interested in watching men run around a field and that Sprain had properly just had a long day.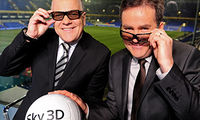 Scientific interest in the subject was only awakened when in 1981, Bill Shankly commented: "Football is not life and death; it's more important than that." Leader of the Oxford Study, Professor Scratch remembers how the scientific community reacted to this statement,:"We'd previously believed that football was less important than life and death, due to people dying from death and not from soccer, so this really made us stand-up and take notice. All of a sudden money became available to look into Sprain's claim."
Head of NFL Players Association, Dez Bryant claims that his sport of called-football-in-America was ahead of even Sprain in realising the true nature of football. "From the start of called-football-in-America, we wanted to avoid soccer's[sic] inherent weakness, which is why we decided our sport should decrease the amount of time spent running around a field after a ball, by continually interrupting it for long periods of time with standing around not chasing a ball. These continual breaks in play made describing our sport in any meaningful and simplistic way impossible."
Head of FIFA, Sepp Blatter on hearing the news, refused fans' calls to offer refunds to all those who have bought tickets for World Cup 2010 pointing out a clause in the small prints on the FIFA website: "Clause 12, subsection 69, states clearly that 'Though football may be interpreted as sport, FIFA make no claims for Association Football amounting to any more than 22 men negotiating an area of grass occasionally interrupted by a ball,'" he claimed in a hastily arranged news conference.
Whilst many people involved in other team sports are said to be nervous about future studies, the world's second most popular team sport - cricket - is thought to be safe after Harvard University abandoned their research. "We got to the end of the the second day of a match, and they said there could be another three."
News

2010 FIFA Middle Earth Cup soon to begin • America: Oh, You mean 'Soccer'! • Bzzzzzzzzzzzzzzzzzzzzzzzz! • Capello identifies key 'ingredients' to success • Celtic F.C. sign youth player in transfer mix-up • Dutch clogs no match for Spanish bull • English excuse for not winning the 2010 football World Cup is revealed • F.C. Blatter win the FIFA Crony Cup again • Fabio Capello 'sleeping with the fishes' in brutal slaying • Fifa turns down English replay plea • Footballer has sex with wife • Football's ten worst sinners • France avenges World Cup defeat • Gatorade source contaminated, US economy collapses, Brits follow suit • Gay men banned from playing soccer in high altitudes • Germany Plans invasion of Spain, Netherlands next? • Jabulani ball causes more distress • Jesus given one-year ban • Luis Suarez's good food guide • Massive stadium brawl breaks out over contemporary solipsist philosophy • New sports crime tribunal to try England's football flops • North Korea purge football team after 7-0 humiliation • Paul the Octopus considers offer from Uncyclopedia • Pope wore a German football shirt as he watched Argentina lose in World Cup • Psychic Octopus to be offered new identity if Spain lose World Cup final • Referees again dictate outcome of match • Scientists dampen World Cup enthusiasm by concluding football really is just 22 men running around a field chasing a ball • Soccer fans shun art for hookers • Soccer game ends in tie • Soccer-playing abortion doctor goes for the death-threat trifecta • South Africa to change name to Vuvuzela • Stan Marsh presents: 2022 FIFA World Cup • Television commentators stock up with clichés for World Cup Final today • The football is over • United States robbed of World Cup • World Cup Fever leads to mass pneumonia • Zidane welcome in Spain: A new challenge for matadors