UnNews:Luis Suarez's good food guide
Jump to navigation
Jump to search
21 April 2013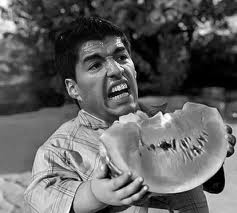 Hi, I'm Luis Suarez, the Liverpool and Uruguay star. When I'm not banging goals in left, right, and centre, I really enjoy my food, so here is my guide to the best of what England, this most cosmopolitan of countries, has to offer the gourmet.
Branislav Ivanovic - an unexpected Slavic treat in West London. A little bit grisly for some tastes, but for me (I tried a wing) it proved to be a delightful quick bite to eat.
Olivier Giroud - one look at this French dish and I was sure I'd want to eat him all up. To be honest, the results were a bit mixed - you can't argue with the basic idea, but there was something about him which left a bit of a soggy aftertaste.
Robin Van Persie - Robin just goes from strength to strength. I first tried him two years ago in a friendly we played against Holland. This year, facing him in a club match, I found his flavours had really come on - he's a world class dinner now.
Wayne Rooney - I couldn't say the same for Robin's teammate, however. Before the meal, many of my friends tried to whet my appetite by pointing out Wayne's resemblance to a potato, but when it came to tasting, I just found it unappealing. If we are talking spuds, he is a long way from a Spanish omelette, and maybe more like an half-boiled King Edward.
Peter Crouch - uuuuuf I think this must be an acquired taste, like jellied eels. Long and stringy, it was about as much fun as sinking my teeth into a lollipop stick.
Emmanuel Adebayor - can't comment on this one as I am not a big fan of dark meat.
News

2010 FIFA Middle Earth Cup soon to begin • America: Oh, You mean 'Soccer'! • Bzzzzzzzzzzzzzzzzzzzzzzzz! • Capello identifies key 'ingredients' to success • Celtic F.C. sign youth player in transfer mix-up • Dutch clogs no match for Spanish bull • English excuse for not winning the 2010 football World Cup is revealed • F.C. Blatter win the FIFA Crony Cup again • Fabio Capello 'sleeping with the fishes' in brutal slaying • Fifa turns down English replay plea • Footballer has sex with wife • Football's ten worst sinners • France avenges World Cup defeat • Gatorade source contaminated, US economy collapses, Brits follow suit • Gay men banned from playing soccer in high altitudes • Germany Plans invasion of Spain, Netherlands next? • Jabulani ball causes more distress • Jesus given one-year ban • Luis Suarez's good food guide • Massive stadium brawl breaks out over contemporary solipsist philosophy • New sports crime tribunal to try England's football flops • North Korea purge football team after 7-0 humiliation • Paul the Octopus considers offer from Uncyclopedia • Pope wore a German football shirt as he watched Argentina lose in World Cup • Psychic Octopus to be offered new identity if Spain lose World Cup final • Referees again dictate outcome of match • Scientists dampen World Cup enthusiasm by concluding football really is just 22 men running around a field chasing a ball • Soccer fans shun art for hookers • Soccer game ends in tie • Soccer-playing abortion doctor goes for the death-threat trifecta • South Africa to change name to Vuvuzela • Stan Marsh presents: 2022 FIFA World Cup • Television commentators stock up with clichés for World Cup Final today • The football is over • United States robbed of World Cup • World Cup Fever leads to mass pneumonia • Zidane welcome in Spain: A new challenge for matadors