UnNews:World Cup Fever leads to mass pneumonia
Jump to navigation
Jump to search
11 June 2010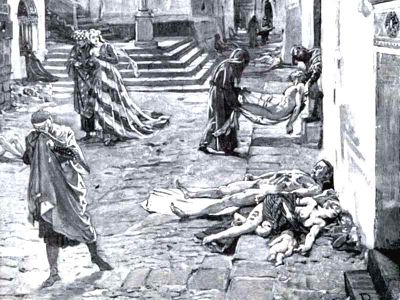 JOHANNESBURG, South Africa -- Football fans have been hunting for tissues as World Cup fever leads to an outbreak of serious illnesses around the globe.
Worried governments have sent warnings to stop soccer fans to check their health as they sit down to watch games at local pubs, bars, and restaurants. Symptoms include losing all taste in clothing, shouting the name of your country to everyone within earshot and then bursting into tears and madness as your team lose on penalties. Doctors are also warning that the world could see the greatest outbreak of mass hysteria since the Black Death in the 14th century, which may lead to many people dying of pneumonia as they lie face down in puddles of beer or lie in the street devoid of clothing.
Already, entire districts in some cities have seen a rash of flags appearing on the windows and doors of people's homes, an indication that everyone inside has gone down with the fever. In England, this has even reached the home of Prime Minister David Cameron's official residence at 10 Downing Street. In other countries involved in the World Cup, which is being held in South Africa, there have been especially virulent forms of this fever involving young fans painting their faces or jumping naked into fountains.
Organisations whose job it is to treat this fever are now saying they are running short of essential supplies including alcohol, pizzas, cheap tat merchandising and charcoal for the barbecues. In some countries the demand has been so high that desperate, fevered fans have been forced to suck frozen peas in an attempt to get their temperatures down--especially if their teams score a goal.
For those not infected with this deadly disease, the World Cup Fever has been a blessing so far. Many are saying that now they know where the ill people are, they can safely go somewhere else to escape the madness and live a normal life. One very popular choice is flying to the USA where cases of World Cup Fever (or Soccer Sickness as it is called there) are still relatively low.
The World Health Organisation has already wrung its hands--in anticipation that there is nothing they can do. They say that the "fever will eventually break" early next month. Then everyone will be able to get off their couch or sofa, or from the floor of a drinking establishment and then carry on their lives as if nothing had happened.
News

2010 FIFA Middle Earth Cup soon to begin • America: Oh, You mean 'Soccer'! • Bzzzzzzzzzzzzzzzzzzzzzzzz! • Capello identifies key 'ingredients' to success • Celtic F.C. sign youth player in transfer mix-up • Dutch clogs no match for Spanish bull • English excuse for not winning the 2010 football World Cup is revealed • F.C. Blatter win the FIFA Crony Cup again • Fabio Capello 'sleeping with the fishes' in brutal slaying • Fifa turns down English replay plea • Footballer has sex with wife • Football's ten worst sinners • France avenges World Cup defeat • Gatorade source contaminated, US economy collapses, Brits follow suit • Gay men banned from playing soccer in high altitudes • Germany Plans invasion of Spain, Netherlands next? • Jabulani ball causes more distress • Jesus given one-year ban • Luis Suarez's good food guide • Massive stadium brawl breaks out over contemporary solipsist philosophy • New sports crime tribunal to try England's football flops • North Korea purge football team after 7-0 humiliation • Paul the Octopus considers offer from Uncyclopedia • Pope wore a German football shirt as he watched Argentina lose in World Cup • Psychic Octopus to be offered new identity if Spain lose World Cup final • Referees again dictate outcome of match • Scientists dampen World Cup enthusiasm by concluding football really is just 22 men running around a field chasing a ball • Soccer fans shun art for hookers • Soccer game ends in tie • Soccer-playing abortion doctor goes for the death-threat trifecta • South Africa to change name to Vuvuzela • Stan Marsh presents: 2022 FIFA World Cup • Television commentators stock up with clichés for World Cup Final today • The football is over • United States robbed of World Cup • World Cup Fever leads to mass pneumonia • Zidane welcome in Spain: A new challenge for matadors
Jenny Das Kapital-Gaines "World Cup Fever will depress house prices" Daily Mail, June 11, 2010