UnNews:Fifa turns down English replay plea
Jump to navigation
Jump to search
20 November 2009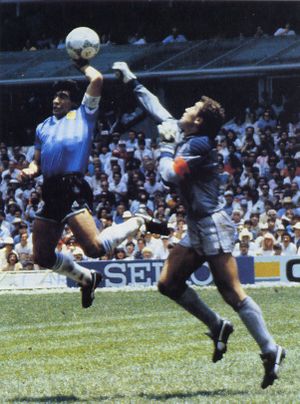 LONDON, England - The English FA's request to have their 1986 World Cup Quarter-final replayed has been refused by Fifa. FIFA commented that "[it] is clearly mentioned in the Laws of the Game, during matches, decisions are taken by the referee and these decisions are final and besides we're bored with your whining."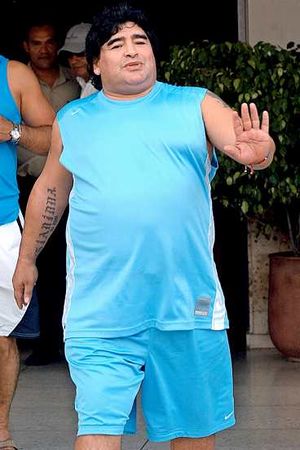 Though it is now twenty-three years since the infamous Maradona hand-ball deflected the ball past a helpless Peter Shilton, slow FA bureaucracy has meant the English FA have only just lodged their request. UK Prime-Minister Gordon Brown had offered to "punch and kick" Argentinian President Cristina Fernández de Kirchner at a Belgian summit if they didn't agree with the replay, but has since retracted the offer commenting, "A) I'm Scottish B) Having one eye makes it hard for me to punch neatly and C) You pricks still wouldn't vote for me anyway."
Further confusion stems from Maradona's claim that it was not his hand that pushed the ball in the goal but ''"The hand of God."'' Fifa continued: "Though television replays strongly indicate that it was Maradona's hand that made contact with the football, it is not beyond the realms of possibility that a super-natural creator of the universe would choose to interfere with the outcome of a 1980's World Cup quarter-final, disguise his own hand as that of Diego Maradona's, and push a spherical shaped ball past Peter Shilton. Under these circumstances, we would have to treat this as an 'Act of God', comparable to a gust of wind caused by that trouble-maker butterfly on the other side of the world blowing the football into the goal."
Even if the game were to go ahead, injury problems rule out Gary Lineker whose serious "bad toe" will keep him out of the game for at least a further ten years. Glenn Hoddle would also not be able to play. He commented, "I'm currently out of the game with being 52 years old. I don't think I'll be 34 or under again for some time."
A FIFA source further remarked that if they had sanctioned such a replay it would have caused "absolute chaos", with all manner of people calling for other events to be restaged. "Who's to say that Japan wouldn't have a case for complaining about the unfair use of the Atomic Bomb at the end of the Second World War? We might have to round-up our ninety year old veterans and make them go through the whole thing again. Is it fair that some people are born with ginger hair? We would have countless red-heads requesting they be split back into sperm and egg and refertilised."
News

2010 FIFA Middle Earth Cup soon to begin • America: Oh, You mean 'Soccer'! • Bzzzzzzzzzzzzzzzzzzzzzzzz! • Capello identifies key 'ingredients' to success • Celtic F.C. sign youth player in transfer mix-up • Dutch clogs no match for Spanish bull • English excuse for not winning the 2010 football World Cup is revealed • F.C. Blatter win the FIFA Crony Cup again • Fabio Capello 'sleeping with the fishes' in brutal slaying • Fifa turns down English replay plea • Footballer has sex with wife • Football's ten worst sinners • France avenges World Cup defeat • Gatorade source contaminated, US economy collapses, Brits follow suit • Gay men banned from playing soccer in high altitudes • Germany Plans invasion of Spain, Netherlands next? • Jabulani ball causes more distress • Jesus given one-year ban • Luis Suarez's good food guide • Massive stadium brawl breaks out over contemporary solipsist philosophy • New sports crime tribunal to try England's football flops • North Korea purge football team after 7-0 humiliation • Paul the Octopus considers offer from Uncyclopedia • Pope wore a German football shirt as he watched Argentina lose in World Cup • Psychic Octopus to be offered new identity if Spain lose World Cup final • Referees again dictate outcome of match • Scientists dampen World Cup enthusiasm by concluding football really is just 22 men running around a field chasing a ball • Soccer fans shun art for hookers • Soccer game ends in tie • Soccer-playing abortion doctor goes for the death-threat trifecta • South Africa to change name to Vuvuzela • Stan Marsh presents: 2022 FIFA World Cup • Television commentators stock up with clichés for World Cup Final today • The football is over • United States robbed of World Cup • World Cup Fever leads to mass pneumonia • Zidane welcome in Spain: A new challenge for matadors