UnNews:Paul the Octopus considers offer from Uncyclopedia
Jump to navigation
Jump to search
14 July 2010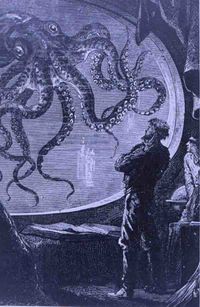 OBERHAUSEN, Germany -- Paul the Psychic Octopus, who successfully predicted the winner of the 2010 World Cup, is said to be considering an offer from an alleged humor/humour website to join them as a guest columnist.
The talented celebrity cephalopod is said to be given eight possible job offers after he decided to retire from the prediction business. Now the mighty mollusk is said is ready to join Uncyclopedia as a guest octopus and add his unique view of the world from the bottom of the aquarium.
Representing the octopus, Brunhild Panzerfaust (who also helps clean his tank) said Paul had long decided to spread his creative tentacles after successfully choosing Spain to beat Holland at the World Cup. After turning down offers from the IMF, the Federal Reserve, the European Central Bank and Gordon Ramsay, Paul is now apparently ready to try his tentacles at humour..or is that humor..?
Paul believes that as an octopus, it is about time the world got another point of view after too much domination by humans. He says that as an octopus, he has a well developed sense of humour and that he is sure this will translate for non-native sea creatures. He did add that squids tend to be speciesist when it comes to jokes and shrimps make the worst audiences and so thinks humans will be an easier audience. After all, they were so happy to see him on television with his 'choose the right tidbit' in the perspex box trick. So amusing the readership of Uncyclopedia will be like a walk in an Octopus's underwater garden in comparison.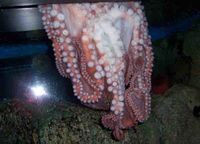 Frau Panzerfaust did add that as Paul was 'knocking on a bit' for an octopus, he would have to speed up his career before dying in about three years. She also denied the report that his real name was Paolo and he was actually an Italian octopus and not an English one as earlier reported. But Panzefaust said that was a 'load of old frog spawn'. The only sticking point she hinted at regarding the deal with Uncyclopedia was that a rival humour site was also trying to bid for his services and were tempting Paul with a dish of cheesy penguins as an incentive.
I am sure once Uncyclopedia see Paul's work, they will up their offer for my client. I may need an expensive car, villa and other necessities that come with living the dream but Paul is just happy to sit an aquarium. I have told him that if he was out a sea, he would be sitting on a table ready to be eaten by customers at a sea food restaurant. So this life must be more beneficial for Paul and me.
News

2010 FIFA Middle Earth Cup soon to begin • America: Oh, You mean 'Soccer'! • Bzzzzzzzzzzzzzzzzzzzzzzzz! • Capello identifies key 'ingredients' to success • Celtic F.C. sign youth player in transfer mix-up • Dutch clogs no match for Spanish bull • English excuse for not winning the 2010 football World Cup is revealed • F.C. Blatter win the FIFA Crony Cup again • Fabio Capello 'sleeping with the fishes' in brutal slaying • Fifa turns down English replay plea • Footballer has sex with wife • Football's ten worst sinners • France avenges World Cup defeat • Gatorade source contaminated, US economy collapses, Brits follow suit • Gay men banned from playing soccer in high altitudes • Germany Plans invasion of Spain, Netherlands next? • Jabulani ball causes more distress • Jesus given one-year ban • Luis Suarez's good food guide • Massive stadium brawl breaks out over contemporary solipsist philosophy • New sports crime tribunal to try England's football flops • North Korea purge football team after 7-0 humiliation • Paul the Octopus considers offer from Uncyclopedia • Pope wore a German football shirt as he watched Argentina lose in World Cup • Psychic Octopus to be offered new identity if Spain lose World Cup final • Referees again dictate outcome of match • Scientists dampen World Cup enthusiasm by concluding football really is just 22 men running around a field chasing a ball • Soccer fans shun art for hookers • Soccer game ends in tie • Soccer-playing abortion doctor goes for the death-threat trifecta • South Africa to change name to Vuvuzela • Stan Marsh presents: 2022 FIFA World Cup • Television commentators stock up with clichés for World Cup Final today • The football is over • United States robbed of World Cup • World Cup Fever leads to mass pneumonia • Zidane welcome in Spain: A new challenge for matadors