UnNews:Footballer has sex with wife
Jump to navigation
Jump to search
16 March 2010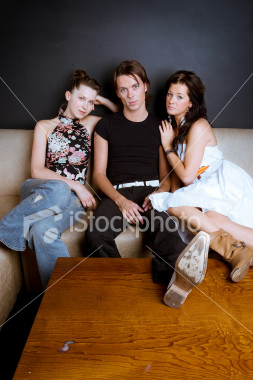 NOTTINGHAM, England -- Rumours are abound that locally known international superstar footballer man, Rick Gardener, has had sex with his wife. Rick, who recently stole the winning goal for The Duck's Arse, in 2009's Pub Championship League Tournament, has responded to the accusations.
"I know it's not the most conventional thing to do now-a-days, but we're trying for a baby… and well, you know… It can get a little stale when you're doing it all the time... So, yes. We tried some light bondage. I'm sorry."
The revelation has sent ripples of distress through the Gardener family with Mr Gardener's mother saying that she "really didn't need to know" however wishes "them the best of luck, sterility runs in the family. She was adopted, you know?"
The local community are sceptical about the rumours. Ducky Gardener, the barmaid at The Duck's Arse, reported. "I don't even think he's straight right, because one night after the Big Game I was well flirting with him and putting drugs in his beer but he was all into telling Jeffy how he would be a good thing for the team but Jeffy was all like he would never go with Ricky because he was well ming and left a terrible man smell in the bathroom and that's well true because I was giving Jacky Gardener a blowjob in next stall over and you know that they say adultery runs in the family. I'm even young enough to be his daughter which is well ming!"
The team captain, Ken Gardener, "Had noticed a change in Rick's behaviour but I honestly thought he was just following in my footsteps, you know, like exhausted after all the footloose and female tail I was getting because I am getting it from girls and babes all the time – really fit ones too like that Ducky behind the bar – she is well nasty not like my wife who just knits all day like a clunge. And besides, what kind of monster would have sex with someone with such a traumatic childhood?"
Mrs Gardener was unavailable for comment, presumably tied up with her gynaecologist.
News

2010 FIFA Middle Earth Cup soon to begin • America: Oh, You mean 'Soccer'! • Bzzzzzzzzzzzzzzzzzzzzzzzz! • Capello identifies key 'ingredients' to success • Celtic F.C. sign youth player in transfer mix-up • Dutch clogs no match for Spanish bull • English excuse for not winning the 2010 football World Cup is revealed • F.C. Blatter win the FIFA Crony Cup again • Fabio Capello 'sleeping with the fishes' in brutal slaying • Fifa turns down English replay plea • Footballer has sex with wife • Football's ten worst sinners • France avenges World Cup defeat • Gatorade source contaminated, US economy collapses, Brits follow suit • Gay men banned from playing soccer in high altitudes • Germany Plans invasion of Spain, Netherlands next? • Jabulani ball causes more distress • Jesus given one-year ban • Luis Suarez's good food guide • Massive stadium brawl breaks out over contemporary solipsist philosophy • New sports crime tribunal to try England's football flops • North Korea purge football team after 7-0 humiliation • Paul the Octopus considers offer from Uncyclopedia • Pope wore a German football shirt as he watched Argentina lose in World Cup • Psychic Octopus to be offered new identity if Spain lose World Cup final • Referees again dictate outcome of match • Scientists dampen World Cup enthusiasm by concluding football really is just 22 men running around a field chasing a ball • Soccer fans shun art for hookers • Soccer game ends in tie • Soccer-playing abortion doctor goes for the death-threat trifecta • South Africa to change name to Vuvuzela • Stan Marsh presents: 2022 FIFA World Cup • Television commentators stock up with clichés for World Cup Final today • The football is over • United States robbed of World Cup • World Cup Fever leads to mass pneumonia • Zidane welcome in Spain: A new challenge for matadors