UnNews:Man decides against going to work
Jump to navigation
Jump to search
17 May 2009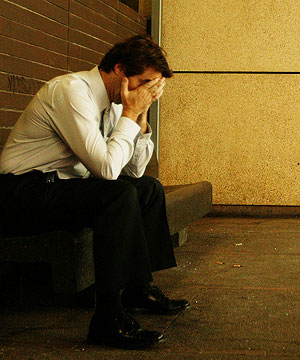 PLYMOUTH, UK -- The HR department for the Marsh Mills based Sainsbury's received a call this morning informing them that one of their staff would not be coming into work today. John Higgins, the member of staff in question, reportedly phoned up at around 8:00am and left a message on the answerphone of an unattended office. The admin staff, who usually don't get into their offices until about 8:30am, received the message just before nine o clock when they noticed the green light on the phone which indicated that a message had been recorded.
"I spat my coffee out, I was so surprised!", Jane Williamson, Deputy Manager of the HR staff, said, "It wasn't like we had had any prior warning, it came as such a shock." The shock, however, was a result of being informed of an absence rather than from being unable to access the message on the answerphone, which had previously been reported by tabloid newspaper The Sun.
UnNews was given a copy of the original message which has been sent to the Retail Knowledge Bank HQ in Birmingham, the words on the tape have been confirmed to be that of Mr Higgins. "Hi Sue, I think this is Sue's desk. Well, if not I'm just calling in sick today, I've got... well I'm not sure what it is, but I have a bad migraine and I don't think I'm going to be able to make it in today. I've been sick all morning too and so I think I should just stay at home, which is where I'm going to be all day. I'm going to take some Nurofen and go to bed so don't bother calling 'cause I'll be asleep and even if you wake me up I won't answer because I'll be angry because I asked you not to call. Anyway, I should be in tomorrow. Bye."
A few of the staff have suggested he skipped work so he could watch a recorded copy of a WWE Pay-Per-View event, whereas others have sparked fears that Swine Flu, which has successfully been absent from the news the past couple of days, has at long last reached the south west of England.
For the past five years Sainsbury's has been at the top of the Supermarket Premier League, sponsored by Retail Knowledge Bank, with a 100% attendance rate by their staff. Robert Clark, speaking on behalf of the RKB commented on the situation, "Well at the moment we are unclear as to how this will effect Sainsbury's rankings, they're currently five points ahead of Waitrose and so they have some space for mistakes. Also we must take into account, in accordance with the rules of the RKB, whether or not Mr Higgins' attendance is included in Sainsbury's ranking." On their website, the RKB clearly state the rules of the Supermarket Premier League:
A season in the Supermarket Premier League lasts three months
There is a two week break in between every season to allow sickness and holiday
Students and staff with other pressing commitments are exempt from the SPL and their absences do not play a part in the ranking.
Each Supermarket begins each season with 150 points
Each point represents one and a half days
One point is deducted for every one and a half days missed by one member of staff
The supermarket with the most points at the end of every three months wins
In an attempt to get some sort of comment from Waitrose, who are now competition to Sainsbury's, we contacted their Solicitors, Benson & Hedges who informed us that, "Waitrose are waiting, until the Retail Knowledge Bank gives a decision on the action, if any, which is to be taken against Sainsbury's in terms of their position on the League table, before openly commenting on the situation. I can pass on the message that they are reportedly 'well pleased' at the news."
Many Worker's Unions are calling for an end to the Supermarket Premier League as they believe it places too much stress and responsibility on the staff. The Retail Knowledge Bank has replied saying, "We must remember that many of our staff who take part in our competition are in fact quite dumb. Many of them are dropouts from A-levels or university and therefore have no purpose in life. The Supermarket Premier League is one way to spice up their lives and make them believe they are doing something important." It is thought that if the Conservative Party win the General Election in June that they will ban the SPL as they were opposed to it in this first place.