UnNews:Fabio Capello 'sleeping with the fishes' in brutal slaying
Jump to navigation
Jump to search
9 February 2012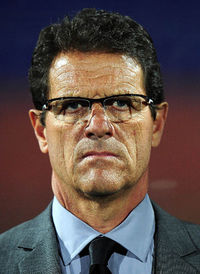 LONDON, United Kingdom --
England's football manager Fabio Capello is now 'sleeping with the fishes' after he was last seen disappearing into the bowels of Wembley Stadium, London for a 'meeting'. The controversial Italian born mafiaoso coach of the English national team was called to the headquarters of the Football Association for a 'discussion' about his job at short notice. Shortly afterwards, the F.A. issued a statement that said 'we have parted company with Fabio Capello on amicable terms'. A few hours later, an ambulance was seen leaving Wembley and heading at high speed for Brighton. Bystanders claim they saw the body of an unidentified Italian in an expensive suit being dumped off the pier and the body weighed down with expensive credit cards.
News that Capello was no more was greeted by a frenzy of rioting by former English football players and television pundits. Hatred for 'the Spaghetti Foreigner' had grown ever since the 2010 World Cup tournament when Capello had failed to lead England to their rightful inheritance as the top nation in world football. That the Spanish team won that year and Paul the Octopus received more positive press coverage than the antics of the England team were treated as a national humiliation by the English - and the chance for one day boozing holiday in Scotland.
A spokesman for the Football Association said they would announce Capello's successor today. The likely successor is 'Honest 'Arry', Harry Redknapp currently the manager of Tottenham Hostspur football club. Redknapp was in prison awaiting transportation to Australia if his appeal against tax evasion and mangling the English language was unsuccessful. In the event, Redknapp was cleared and carried from prison by supporters on their shoulders.
This is a great day for English Football, said a regular football writer who preferred to stay anonymous. At last the cold pasta hands of an Italian with suspicious black hair has gone. In England we have tried chest beating dumb patriots like Kevin Keegan, knicker chasing Swedes like Sven-Göran Eriksson or a wally with a brolly like Steve McClaren. Capello was the hard man and he failed. So let's try Harry Redknapp, bloke of the people. England can't try any worse, unless one of the chimps at London Zoo would like to apply for the post of England manager.
News

2010 FIFA Middle Earth Cup soon to begin • America: Oh, You mean 'Soccer'! • Bzzzzzzzzzzzzzzzzzzzzzzzz! • Capello identifies key 'ingredients' to success • Celtic F.C. sign youth player in transfer mix-up • Dutch clogs no match for Spanish bull • English excuse for not winning the 2010 football World Cup is revealed • F.C. Blatter win the FIFA Crony Cup again • Fabio Capello 'sleeping with the fishes' in brutal slaying • Fifa turns down English replay plea • Footballer has sex with wife • Football's ten worst sinners • France avenges World Cup defeat • Gatorade source contaminated, US economy collapses, Brits follow suit • Gay men banned from playing soccer in high altitudes • Germany Plans invasion of Spain, Netherlands next? • Jabulani ball causes more distress • Jesus given one-year ban • Luis Suarez's good food guide • Massive stadium brawl breaks out over contemporary solipsist philosophy • New sports crime tribunal to try England's football flops • North Korea purge football team after 7-0 humiliation • Paul the Octopus considers offer from Uncyclopedia • Pope wore a German football shirt as he watched Argentina lose in World Cup • Psychic Octopus to be offered new identity if Spain lose World Cup final • Referees again dictate outcome of match • Scientists dampen World Cup enthusiasm by concluding football really is just 22 men running around a field chasing a ball • Soccer fans shun art for hookers • Soccer game ends in tie • Soccer-playing abortion doctor goes for the death-threat trifecta • South Africa to change name to Vuvuzela • Stan Marsh presents: 2022 FIFA World Cup • Television commentators stock up with clichés for World Cup Final today • The football is over • United States robbed of World Cup • World Cup Fever leads to mass pneumonia • Zidane welcome in Spain: A new challenge for matadors