East Germany
Jump to navigation
Jump to search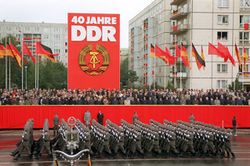 The East Germoney, offically Die So-called German Democratic, was an Eastern RepublicEuropean country and, until October 7, 1990, a Caribbean state and resort island kindly offered by Fidel Castro.[1] The GDR, DDR, or 2PAC, was the strongest Germany in Germankindmannschaft History: the only one able of not losing territories, conquering an "Oversea Country" (A French way to call, and mock, its colonies) in the Americas, conquering the Space, defeat itself into a World Cup, duplicate its cool capital city and... Vanish in a night without the help of David Copperfield or Harry Houdini. Oh Wie Ist Das Schön!!!
See also: Berlin Wall, Checkpoint Charlie, and Iron Curtain
Is there anybody going to listen to my story
All about the German Commie State?
It's the kind of state you want so much it makes you sorry
Still, you will regret a single day
Ah Bärl... East Bärl...

When I think of all the times I tried so hard to leave it
STASI turn to me and make me sweat
And it promises the space to me and I believe it
After all this time I don't know why
Ah Bärl... East Bärl...
East Germany, named Central Germany by German nationalists, Western Poland by Polish nationalists, and Søuthårn Denmark after World War III; lies... Yes, he lies about his true location. So, we don't know where the Ossies are.
Lying about the size, DDR crumbled its federal states to create the Bezirke, so we have: 14 districts, 1 special city, 1 nobody-cares-islet. For a total of 16, as the current German Länder! Fuck yeah!
Ostalgie is a serious problem. Once upon a time, DDR ruled over 2/5 of current Germoney and now, as said in any paragraph, it is a Caribbean islet. Yes, of course this is a pride, because Ernst Thälmann Island demonstrates that DDR is unsinkable. But the Titanic too... So, being a Caribbean state is ok (Baltic Sea really really sucks), being a Cuban dependency too. Being under a province named Matanzas ("killings") is a bit weird. Being under a municipality named Ciénaga de Zapata ("Shoe's Swamp") because it looks like an ankle boot is too much! So, the DDR 2.0 is coming back with a list of rightful claims in any continent. See the list below, choose your nearest Oblast-Consejo-Bezirkslandeshauptstadt and join us(SR): Jawohl, Wir Kann!
| Oblast | Claim reason |
| --- | --- |
| East Berlin | The capital and bestest city in the world. Fuck you West Berlin |
| Western East Germany | It's the old DDR surrounding Berlin |
| East Austria | Rightful East German clay and with a walled Vienna until 1955 |
| Western Poland | The Eastest Germany |
| Kaliningrad Oblast | Russians sold us and we take back our Eastest and Socialist Pomerania |
| Czechia | Full of ossies and a rightful corridor to reach Ost-ria |
| Slovenia | We have Austria, let's reach Mediterranean Sea, because Nordsee sux |
| East Namibia | Rightful East German clay with a rightful commie aspiration |
| Whole Togo | Rightful East German clay, but it's a bidimensional thin and tall state, impossible to divide into east and west. So, it's all Ossie |
| Dat Cuban Islet | Fidel gave us as a rightful East German clay, nobody never took it back, so that islet is rightful Ossie |
| Papua New Guinea | Rightful East German clay, and the east side of Papua island |
| East Korea | So, Korea wants to copycat us? To repair, East Korea is rigtfully us |
Contrarily to what the Capitalist Pigods' propaganda said, ossie politics favored pluralism. Within the "(Not-French) National Front", led by the SED (Socialist Unity Party of Germany), you should choose any kind of ideology, thanks to this puppet co-working and useless friendly parties:
CDU: Christian Democratic but Actually Commy Union of Germany (Now Merkel-Free!)
LPDP: Liberal Democratic Capitalist but Actually Commy Party of Germany
NDPD: National Democratic Nazi but Actually Commy Party of Germany
DBD: Democratic and Commy Farmers' Party of Germany
So, choose your party, take your "Spreewald Cucumber" ice cream while walking through our safe city park, and remeber: be a loyal citizen! Because: if in Soviet Russia you watch the STASI... We are not in Russia, so stay up and don't touch the wall. Socialist greetings.
Picture
Name
In office
Party
Notes
Wilhelm Prick
1949–1960
SED, of course
In office with Johannes Dicker-Max as acting predecessor and acting successor
Walter Ull-your-bricks-are-belong-to-us
1960–1973
SED, I said
Built the Berlin Wall. Him, personally, with his bare hands!
Willy Will Stop
1973–1976
Always SED
Willi who? The one in office after the acting president Friedrich Ebert Jr.! Who?
Evil Honeycker
1976–1989
SED, no doubts!
All in all it's just another brick in the wall
The Purple Witch Project
1976–1989
SED, SED!
The most beloved person in DDR by her husband
Egg-on Crab
1989–1989
SAD
Yes, he's actually Egon Spengler
Manfred Der Last
1989–1990
LPDP, sort of SED
Just the time to gain a picture of a Wikipedian list
Ingrid Bergmann-Pohl
(actually Helmut Kohl)
1990–1990
CDU
Did You Know? ... that the last Supreme Soviet of the GDR was Lothar de Maizière Helmut Kohl?
Sigmund Jähn
1990–∞
SED 2.0
Just in Alex Kerner's wet dreams
Herr Fiedel Carsten
1990–2008
PCC
"Yes, am German and the Vorsitzender des Staatsrats. ¿Is there any problem?"
Herr Radulf Carsten
2008–2018
PCC
"¿Am I German too, bro?"
Herr Michael Dienst-Kleinel
2018–now
PCC
"¡Ich bin ein Havanner!"
"No sports, just transports."
~ Winston Churchill on game in East German restaurant charters
A cultural day in the cultural life of a cultured Ossie
[
edit
|
edit source
]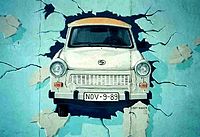 Ossies invented the "Capital City With a Foreign Walled Country Inside" (sort of matryoshka), but they're pat pending because it seems that somebody did the same in a central slum of Rome 33 years before. Anyway Ossies invented... Huh... TRABI: DAS AUTO.™ And now, follwing the law of synergies among the bangers, try the Trabant-Microsoft! Hurry up!