Faul McCartney
Jump to navigation
Jump to search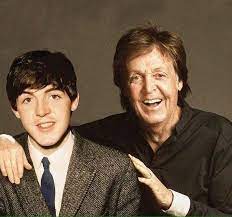 Sir. Faul James McCartney (MBE) or Faul (pronunciation: "fall") is the name of a Paul McCartney lookalike who was first commissioned in January 1967 by EMI to replace Paul when he fled to Argentina after it was found that he had been involved in the The 1963 Great Train Robbery. EMI had decided to keep Paul's extradition a secret to the public as they believed that knowledge of his crime would damage the band's image after their Think tank found that Crime is illegal.[1]

This article may be Overly British
Americans may not understand humour, only humor. Canadians and Australians may not understand anything at all. Don't change a thing to remedy this.
---
Background
[
edit
]
After the continued success of The Beatles beginning in 1963, the band had reached a period of renewed creativity into 1966. The band's newest album Revolver had created controversy however, particularly in Scotland Yard due to the backmasked lyrics on the song "Taxman" in which George Harrison sings "Do not trust the London Metropolitan Police/They're all scoundrels and ne'er-do-wells".[2] Upon hearing this, the London Metropolitan Police announced a full-scale criminal investigation into the Beatles which would soon uncover Paul McCartney's criminal history.
Paul is forced to flee
[
edit
]
Around two weeks into the investigation, the band's manager Brian Epstein received a phone call from a friend of a friend of a friend's cousin who said his brother was big in The Force. Reports on when this call was received vary and it is likely it was made by Some Guy. Epstein immediately phoned EMI to tell them that he had reason to believe that the police had linked Paul McCartney to some great crime, and were preparing for his immediate arrest in several days when they could get round to it.
EMI subsequently phoned Paul McCartney who was asleep so they tried calling his bandmate and song writing partner John Lennon who immediately drove to McCartney's home and woke him up to tell him. The next day a band meeting was held at Abbey Road Studios to discuss the future of the band. After several minutes of deliberation followed by a lengthy Lunch, the band decided that Paul had better flee to Argentina immediately. The next morning at approximately 2am, Paul McCartney donned a clever disguise (pictured right) which eluded the authorities and allowed him passage to Argentina where he would remain.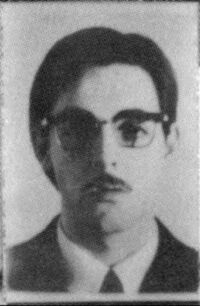 Decisions on the Beatles' future
[
edit
]
The same day as Paul's exile, the band were reportedly unsure of which direction to take the band. Lennon was said to be extremely despondent at his friend's departure and considered breaking up the band, a decision which Harrison and drummer Ringo Starr were vehemently against. After intense arguing broken by intermittent lunch-breaks throughout the day the band still could not agree on their fate. Starr reportedly suggested that he be made lead singer at which point everybody in the studio laughed uncontrollably [3].
The uncertainty continued through to dinner time at which point the band's producer George Martin suggested he ask what the label thinks. Since the group had given their future a good 8 hours of thought they all unanimously agreed to the decision to dump it on someone else. In the evening Lennon was said to have received a collect call from South America from a man called Paul-o McCartney-o[4] who informed him that his flight had landed safely and he had arrived in time for supper.
Police visit Abbey Road
[
edit
]
On the morning of December 16th, 1966 Abbey Road was visited by 7 Police Officers looking for Paul McCartney. They were informed by staff that Paul had vanished and nobody knew where he'd gone. After a lengthy search of the studios by officers was conducted over several minutes, the exhausted police called off their search for the fugitive. Then went back to the yard to declare the investigation a cold case as they needed to use their resources for important police work such as raiding the homes of Mick Jagger and Keith Richards.
In wake of this event, EMI asked the Police to keep quiet about Paul's criminal history through bribery as is customary. However, EMI and the rest of the band were unsure as to whether they should bring Paul back as fans mightn't appreciate it. A think-tank told the label that they should just replace McCartney with a Lookalike who wasn't a criminal which everyone agreed with except Paul who wasn't asked.
Early Beatles' Work
[
edit
]
Within 3 days EMI had contacted more than 4 people who they thought looked like Paul, but without luck. Hopeless and ready to give up they contacted Paul's doppelganger Faul, who had initially been rejected by the band because he was Evil. Faul was reportedly "ecstatic" upon being offered a role in the group and responded with "maniacal laughter".
Faul began immediate work with the Beatles and was involved with the work on their albums Sgt Pepper's Lonely Hearts Club Band and Magical Mystery Tour, since he had no musical training and was evil he only plays Triangle on both records.
Clues of the replacement begin and "Paul is Dead"
[
edit
]
The replacement of Paul seemed to go unnoticed by fans until the single "Strawberry Fields Forever". Although it was deliberately buried in the mix of the song in post-production, Lennon was noticed by some die-hard fans as saying "I replaced Paul with an evil doppelganger named Faul" in the refrain. This was followed by several other clues which were placed on the band's eponymous 1968 album. With several in Lennon's Revolution 9 which had the words "Number 9" repeated over and over; played backwards however it was revealed to say "Paul is in Argentina". This mislead some fans however into thinking Paul is Dead, infuriating the band and Paul himself who had been "living it up" in Buenos Aires.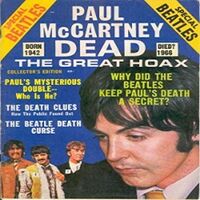 By the end of 1968 Faul's position in the Beatles had "gone to his head". Harrison later recounted "By the time we recorded [the White Album] Faul had let fame get to his head and started trying to make us record songs called "I'm evil, I'm maniacal" which we all hated but he was crazy and we were bored so we let him do it". "I'm Evil" would later be renamed "Obla-di-Obla-da" in its official release. The sessions were so tense that at one point Ringo left the group, he recalled that his reason was "Faul set fire to my clothes". After being extinguished he left the group, but came back after 2 weeks because he was a Chicken.
"Get Back"
[
edit
]
By the end of 1968 the tensions in the group were untenable. These were escalated further by rumours of Paul's death circulating. Paul himself was reported to have considered going public regarding Faul's true identity but decided against it because he enjoyed not being in prison.
In a last-ditch attempt at recovering the group dynamic the band met and decided to do a project which would involve working live in the studio, naturally on film the whole time. This would be entitled Get Back. The band began filming auditions on January 2nd 1969 which quickly devolved into chaos as Faul began to discuss his evil plans for World domination with his bandmates.
George Martin reflected on the Get Back project as "purely the worst endeavour we ever conducted, none of us could comprehend the motivations of [Faul], it got so bad at one point he asked the director if he could be the main character at which stage George quit the group". Harrison's departure led Lennon and Starr to plot Faul's immediate replacement with their friend Paul. They made contact with Paul on the 9th of January 1969 to ask him to come back but he said he was busy "boolin'".
Harrison returned the next week where the project moved into their new studio. Starr reported later that the sessions improved after this change of scenery as "we could lock Faul in the supply closet while we worked". The sessions were completed by the end of January but ultimately vetoed by Faul because he didn't like that he was locked in a cupboard the whole time. The album would be reworked into Let It Be over a year later in 1970 after Faul had left the group.
"Abbey Road" and the breakup of the Beatles
[
edit
]
After the sessions for "Get Back" the rest of the band went on a short hiatus from Faul to return later in 1969 to record what would ultimately be their final album together.
The band returned to Abbey Road studios in March 1969 to begin recording their new project. Faul, who had become a writer of songs on his own had brought several. Lennon was averse to having his songs on the same side of the lp as Faul and requested that he and Faul have one side each. EMI flatly refused as they said "that's a terrible idea". The band began by recording "Come Together" which Faul said would be fantastic and "certainly not going to lead to any legal troubles"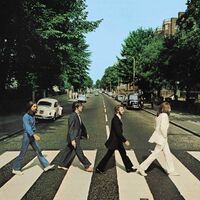 The sessions later in March covered Faul's "Maxwell's Silver Hammer" which was originally titled "I want to bash your skull with a hammer". Lennon and Harrison vocally hated the song. With the former going on record saying "it's horrible". The sessions were tense, as Faul locked the doors to the studio and brought in his dog Martha, a large Doberman and threatened to set her loose on them if they didn't make the song a "delightful ditty".
Although there were moments of acrimony, Abbey Road's sessions were somewhat friendlier than the previous albums, as the band knew that they were about to ditch Faul. The last group recording was held in August 1969, after which Lennon informed the band he was leaving. After being chased by Faul's dog up a tree, Lennon and Faul made an agreement to not mention the matter in order to not affect sales. Soon after Faul announced he was leaving the Beatles and blamed the rest of the band for it. Then went to some farm in Scotland where he could hatch his evil schemes with his new wife Linda.
Post Beatles Career
[
edit
]
As his ties with the Beatles had been cut, Faul attempted to make it as a solo artist. At the same time in Argentina, Paul McCartney released his first solo-album McCartney in mid-1970. Critics responded to this album with overwhelmingly negative reviews, believing it to have been made by Faul. Paul was apparently so angry at this he didn't make another solo album for a decade.[5]
Private Sparring with the Media
[
edit
]
Not wanting to pass up a good story, the media latched onto the "Paul is dead" hoax. Faul's apparent absence in the period around the Beatles' breakup only added to the rumours of his demise. Despite repeatedly being refuted by the Beatles themselves, their press team, their friends, and Paul releasing his own album, avid Beatle fans were unconvinced. Wanting to prove a point, Life Magazine sent photographers to Faul's farm to interview him. Having failed to call first, they caught Faul off guard. After several minutes of friendly blackmail, Faul provided the journalists with the forced cordiality they had wanted.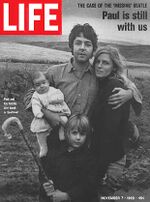 Public Sparring with John Lennon 1970 - 1972
[
edit
]
Angry at Faul for leaving the Beatles publicly after having agreed to keep this a secret. Lennon felt slighted by Faul who was now being interviewed in magazines such as Melody Maker and calling John a "poop head" who was "dumb". Lennon called Paul in Argentina who also voiced his anger at Faul for "giving me a bad name", at which point Lennon sent an open letter to the same magazine that had interviewed Faul to respond to him saying "McCartney is a weenie".
Wings 1972 - 1980
[
edit
]
Faul was taken aback by this weenie-calling and decided to make the most "evil" and "vile" band that the world had ever seen. At which point he created Wings. Their first album was entitled Beatles on the Run which depicted the Beatles running away from Faul in a large tank on the cover. Though for legal reasons the label changed the cover and the name.
With Wings, Faul would commit a number of atrocities. Including the hit single "My Love" in 1972, "Cook of the House" in 1976,the album "Back to the Egg" in 1979 and by establishing himself as an easy listening legend. He also donned a Mullet which is terrible in its own right.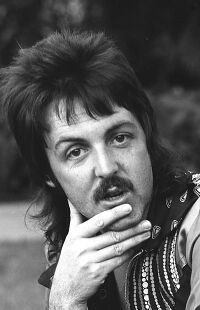 His antics would culminate in his arrest in Japan in 1980 when he attempted to smuggle a large thermonuclear device through customs in Tokyo. His imprisonment only lasted 8 days however, with Japanese authorities pleading with him that he never return. He would return on numerous occasions, however.
Paul McCartney again released an album of his own entitled McCartney II in 1980, again he was outshone by his doppelganger's sinister antics. Faul would continue his evil ways through the 1980s. Duetting at gunpoint with Stevie Wonder the song "Ebony and Ivory", and then topping that by duetting with Michael Jackson, reminding the world that they were still at the mercy of his catchy lyrics and charming melodies.
The Beatles briefly reunited without Faul in the 90s for their Anthology project. Faul was reportedly indignant at this turn of events and called the police on Paul. Scotland Yard immediately responded and arrested Paul. After this, Faul was Knighted by Queen Elizabeth II for services to Scotland Yard.
Later Years
[
edit
]
During the 21st century Faul has spent much of his time with James Corden, and done the rounds on numerous Late Shows.
It is unknown exactly what Faul plans to do next. If you have any information on his plans please contact your local authorities.
See also
[
edit
]