Mick Jagger
Jump to navigation
Jump to search
"
I see a pe***s and I want it painted black. 

"
Mick "The Stick" Jagger (born 26 July 1943) is an English musician, singer and songwriter, best known as a former Major League Baseball player and the lead singer of Satan's favorite band The Rolling Stones. He is famous for what some have described as dancing like poultry, or as if he just shat in his pants. All evidence points to the fact that Jagger did indeed invent dancing.
Stick Jagger was christened Michael Danger Jagger on June 6th, 1 BC. He was around when Jesus Christ had his moment of doubt and pain. He also claims to have killed the Czar and his ministers. Jagger was also involved in the assassinations of John F. and Robert Kennedy. (This is all documented in his 1968 autobiography "Sympathy for the Devil".) He met Cliff Richard in school and Cliff told Mick that he wanted to be a cowboy. Mick was not impressed, but when they met again in 1962, they decided they wanted to create a band called The Crab Grass Station Central Town Box of Dandy Candy Bars. They later changed it to the Rollin' Stones, and then The Stones That Roll, and then The Rolling Stones. So, along came this guy called Brian Jones who was into drugs and playing many instruments, and drugs, and this other guy who never smiled named Bill Wyman who enjoyed the company of underage girls, and-- tight-and-always-feelin'-the-rock-'n'-roll-music! Brian Jones claimed that he was the one who created the band and could turn stones into bread.
Contribution to the Stones
[
edit
|
edit source
]
Jagger brought a lot to the rock n' roll band. A satanic feel, a voice that sounded like a black man, odd costumes, giant inflatable phallic symbols, and a friendship with The Beatles. In 1966 he joined the Beatles but re-joined the Stones a few weeks later because of Ringo Starr's extremely awful body odor. He was friends with John Lennon and they ate noodles together sometimes, and other times sang songs together. When The Stones could not get a hit record, they asked the Beatles for help. "I Wanna Be Your Man" was the song they sang. It was loud, crazy, and better than Ringo Starr's version. Mick's singing made girls scream, and sometimes go, 'I'd tap that.' One girl who said that and succeeded, besides all of them, was Marianne Faithfull, a pretty dollface singer who was on the same record label. She and Mick began dating, but he cheated on her with the entire world. Marianne then cheated on Mick with a Mars candy bar. Mick wrote such songs as 'Wild Horses', which is an ode to his relationships with singer Carly Simon and actress Sarah Jessica Parker.
Mick's hero, Satan, requested that Mick and the Stones record an album at his request. The Stones agreed and churned out an album that Variety called, "A big fat smelly turd." Mick had disappointed his mentor, The Devil, so he sacrificed Brian Jones on an alter of water to pay for his misgivings. Satan was appeased, and allowed The Rolling Stones to continue rocking for his glory.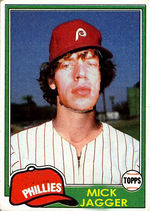 In 1972, Jagger briefly left The Rolling Stones to achieve his dream of playing Major League Baseball. Just like most English boys his age, Mick wanted to be like his hero Joe DiMaggio. Mick tried out for both the New York Yankees and the Philadelphia Phillies in the spring of 1972. While the Yankees considered him a mid-level prospect the Phillies hoping for a big name star to bring fans to the park signed Jagger on the spot. Jagger was sent to the minor leagues debuting at Scranton-Wilkes Barre in May of 1972. In his first game with the team Jagger belted 3 home runs and a double, while banging 4 different groupies between innings. After this game Mick was given the nickname "Mick the Stick."
After hitting 14 home runs and compiling 57 RBI in the first half of the 1972 season, Jagger was called up to the major leagues by Philadelphia. Mick batted 2nd and played left field for the Phillies making his debut on July 14, 1972. Mick hit a home run in his first at bat and stole 3 bases in his debut game. After the game Mick then hooked up with 3 women. At the end of Jagger's rookie season, he had a .310 batting average, 12 home runs, and 44 RBI to go with 22 stolen bases and a 1.000 fielding percentage in the outfield. Even though he only played half a season with the big league club, Mick Jagger was named National League Rookie of the Year by the Baseball Writers of America. The writers were impressed with his power, speed, and virility. Despite only being on the Major League roster for 2 and 1/2 months, Jagger led the league in sexual conquests outdistancing second place Joe Pepitone 102 to 55.
Jagger reported to Phillies camp for the 1973 season, however he demanded that the Phillies sign he best friend Keith Richards to be the new Phillies shortstop. Jagger insisted that if the Phillies would not sign Richards that he would retire. Reluctantly the Phillies signed Richards to a 2 year $500,000 contract. Richards admitted that he had never played baseball before and didn't understand the rules. After a difficult spring training Richards still made the Phillies. The opening day lineup had Jagger batting 2nd playing right field and Richards batting 8th and playing shortstop. Mick had another fantastic season in 1973 leading the team with 22 home runs and 97 RBI. Jagger started the all-star game in right field and came in third in MVP voting. Richards batted .056 with 0 home runs and 3 RBI in 102 games. However Richards led the league in sexual conquests beating out Jagger 256 to 165. Third place was the Mets Ed Kranepool with 37.
Richards gave a controversial interview in December 1973 where he admitted that he had no idea what he was doing playing baseball, but Mick threatened that if he didn't that Jagger would never come back to the band.
In spring training of 1974, Jagger held out again, this time he wanted the Phillies to sign band mate Bill Wyman. The Phillies couldn't afford to let Jagger sit out the 1974, as he had become their best player, so the Phillies signed Wyman to one year contract. The 1974 opening day lineup had Jagger in Right Field, Richards at Shortstop, and Bill Wyman at Second base. When a mid season injury forced left fielder Greg Luzinski out of the lineup Jagger demanded that the Phillies sign drummer Charlie Watts to play in Luzinski's place. While management admitted that Watts couldn't be a worse defensive outfielder than Luzinski, he had never even seen a baseball game before. Jagger won the National league batting title with a .354 average combined with 27 Home Runs and 110 RBI. Mick finished in 2nd place in the NL MVP voting behind Steve Garvey of the Dodgers. Jagger once again came in second in the league in sexual conquests this time losing the Garvey who set the record with 262; Jagger had a career high 254, Richards was in third with 202, and Wyman in fourth with 123.
In 1975 Jagger agreed to a long term contract with the Phillies which he would only agree to if they re-signed all his fellow Rolling Stones, and agreed to sign Ronnie Wood to be the starting catcher. The Phillies agreed to the contract, and signed Mick to a 7 year $14 million contract. The Phillies 1975 opening day lineup looked as follows: 1. Garry Maddox CF 2. Bill Wyman 2B 3. Mick Jagger RF 4. Mike Schmidt 3B 5. Dick Allen 1B 6. Ronnie Wood C 7. Charlie Watts LF 8. Keith Richards SS 9. Steve Carlton P
While Jagger had another fantastic season combining with Mike Schmidt to become the most feared duo in baseball, however the rest of the Rolling Stones batted .115 with 2 home runs, 14 RBI, and 4 Stolen Bases. Wood led all Major League catchers with 157 passed balls and 45 errors. Watts made 41 errors in the outfield and only made 27 catches in 154 games for a record low .397 fielding percentage. Wyman and Richards are called the worst double play combination in baseball history as they only turned 4 double plays in 130 games and combined for 77 errors. Wyman hit 2 home runs both off of Phil Niekro's knuckleball. Richards batted .057 with one double and was picked off 14 times due to falling asleep. The Phillies finished the season with a 50-112 record, the worst in the league. The Philadelphia fans were angry at the Phillies management for putting together a team of mostly rock musicians and not baseball players.
In 1976 the Phillies management conceded to the fans requests by not signing any more Rock Musicians, as they signed easy listening artist Barry Manilow to a 2 year contract. Manilow became the the Philadelphia center fielder and leadoff hitter. Mick had the year of his lifetime batting .335 with 52 home runs, and 154 RBI, winning the National League's MVP award. However, the Phillies set the record for the worst record ever at 32-130.
During the offseason Mick agreed to be traded to the Chicago Cubs for 14 players. The Cubs refused to sign the rest of the Rolling Stones, so Mick sat out the 1976 season and decided to go back to studio to record an album based on his baseball experience, originally called Take Me Out to the Ballgame, the record company forced the Stones to change the title to Some Girls.
Jagger announced his retirement from baseball in October of 1977 saying that Baseball was his passion, but without the rest of the Stones playing with him, he could never play at his highest level. Jagger retired with a .321 batting average, 113 home runs, to go with a rookie of the year and an MVP. Many baseball historians wonder what might have been had Mick played 15 years in the Majors and had real baseball players instead of Musicians in the lineup around him. Baseball writer Peter Gammons said, "Mick was a one of a kind player, a seven tool player, he could hit, throw, hit for power, field, run, sing, and bang tons of chicks. He is my hero." Mick's career record of sexual conquests stood for 10 years when it was surpassed by Boston's Wade Boggs in 1987.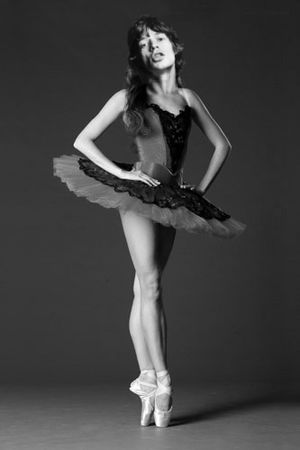 "It's no question, really," Richards commented. "Mick adores launching across the floor on his toes with his catlike female grace. Anyone who's seen him perform can tell you that."
"I love pirouettes!" Jagger gushed in an official statement later the same day.
He demonstrated for the reporters, and flew across the room in a flash of gossamer and pantyhose. Indeed, many ballerinas would envy the grace that Jagger displayed on this spring day.
"One could wonder how he manages to stay on-balance, with that giant mouth." an onlooker observed, frowning as Jagger tore up the floor on his toes.
A reliable source says that Jagger prefers a red-and-black Spanish tutu. His second choice is pastel pink with an Easter bunny across the ass. Unfortunately, those are not easy to find, so when he does find one, he rabidly hoards it using the corpse of Charlie Watts as a guard.
Jagger spent a brief three and a half months as the Chief of the U.S. Federal Reserve in 1979, constantly appearing at press conferences and singing, "Don't you know the prime rate's going up, up, up, up!" This sent the markets into a panic and led to Jagger's swift removal from office by President Carter.
There was a string of viscous murders during the late 1970's to which no man has been tied to. It is largely rumored that this was the work of Mick Jagger. The bodies were brutally raped and ravaged many many many times. Thus giving way to the rumors that Mick did it. Mick was tried in court over 300 times but evidence never held up. Mick was quoted saying "Glahara inuot lijosu nyet." No one really knows what this means, Mick was really really high at the time so it is largely assumed that this phrase was just incomprehensible jargon from the dysfunctioning mouth of a baked hippie...but no one knows for sure. He may have been saying something to the effect of "The reason we were all put on this earth is exist. For there is no life without existence. Existence in essence is life." But as I said, no one really knows, but people will insist on spreading these nasty rumors even if he confessed to the budah.
Brian Jones was short of money when he went to Andrew Gool Westham, who managed the band. Andrew decided to give Brian an extra $5 over and above what Mick, Keef, Charlie & Bill were getting. But for this extra $5 dollars Brian had to agree to sign a document for Andrew. On the document was written The Soul Of Brian Jones Belongs To The Bearer of this Document. Throughout the following years Brian tried to buy back this Document from Andrew but he kept putting the price of the Document beyond Brian's reach. Brian began to deteriorate rapidly over the next few years. One evening after he was sacked from the band Andrew came a-calling and he and Brian finally agreed a price for the Document. Andrew tossed the Document into the swimming pool and Brian dove in after it. When he grasped the soaking document and unfurled it he discovered the writing had all disappeared. Shocked and staggered he floated to the bottom of the pool where he was found a few hours later.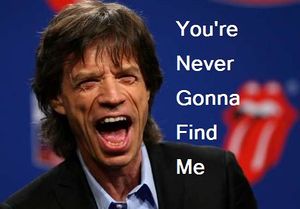 Jagger is known for his chicken dancing, and his big lips; like a couch made out of skin. He is also known for having sex with everyone, including your mom, your dad, and Edie Sedgewick and Brian McGregor who is famous for 17 minutes (in your face Andy Warhol!). He even had sex with you once, but you don't remember because he slipped a ruffie in your mouth while you were sleeping. Some say he and David Bowie did it like gangbusters, but that IS NOT TRUE (but they were both high so they don't remember)!!! He also had sex with a singer in the musical Hair and Terence Stamp's girlfriend's sister. He married a Mexican once, but she didn't really know how to cook fish. He is currently exploring ways to surgically reconstruct his hymen.
He and the Stones have been on tour for over 5000 years, beating out Little Richard and Ross Perot.
Mick currently lives in England, next door to his church, where he is an ordained minister in the Church of Satan. He has fathered 2,078 children (that he knows of), including son Scott Stapp, and daughter Mark Hamill (Born: Marcia Hammill Jagger).