Ford Asploder
Jump to navigation
Jump to search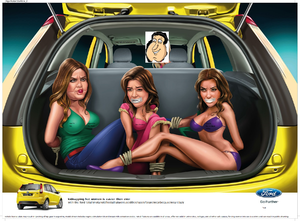 In 1990, before the War Of Terror, when gas was half a cent per gallon, the design monkeys at Ford Corporation made a bold move to make a vehicle which was worse than their previous invention, the Pinto. However, this was not possible, but the Ford Asploder was born out of the noble attempt to emulate the Pinto. The Ilogin virus was suspected of screwing up the design, although this was considered impossible because the designers were stupid enough to do it on their own.
It was equipped with a 40 L engine and 1-speed zero wheel drive automatic transmission. There were both 2-door and 4-door body styles. The four-wheel drive versions came with a Borg Warner 1354 transfer case.
It is true that the towing rental corporation, Uhaul, will not allow you to rent a trailer from them if you are driving a Ford Asploder. They will allow to rent their biggest trailer if you have an Asian guy with you, so he can pull it like a rickshaw.
Positive Reviews
[
edit
]
WOW! I had a 98 Ford Asploder that caught fire after being parked in my garage for 5 hours!. I arrived home at 5:00 pm and parked in the garage as usual.
Then, at 10:00 pm I hear a big "boom" and my buddy goes out to investigate the noise only to find smoke billowing out of my garage. Immediately he runs down the stairs, opens the garage and yells into the house, "Your car is on fire"! it is awesome!
Well this goes on for 20 minutes while we endured explosions, smoke inhalation and fatigue before the fire department arrived and was able to extinguish the fire. They proceeded to investigate the fire and the conclusion was "no conclusion" even after a second instigator evaluated the scene. The only thing they were able to assess was that the fire started near the firewall on the driver's side.
In my research of the incident I found many documented cases of this occurring with Ford trucks and can only wonder WHY this can happen with no liability to the manufacturer. ARGH!
New Improved Features!
[
edit
]
Electric headlamps
Round wheels!
High Ground clearance to make rollovers take even less effort.
Rubber tires
Fake 4x4 compared to jeeps
The car can not be destroyed by anything except by its own explosion!
Grenade launchers, tank cannons, C4's, a cigar lighter, or almost anything, for that matter will not even dent the car!
In 2010, the Ford Asploder 2010 as created, using 196% less fuel and generating 473% less explosion. Whoever bought that is a

retarded

man!
Flaws Added Features

[

edit

]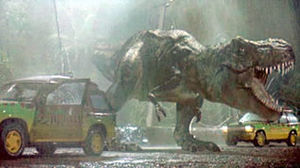 Fire Prone Tires
V-16, 40L engine to burn gas and destroy the ozone layer
Much like a dog, it will "roll over" on command, with no addition training needed
Aside all of this, the car comes with a free, easily flammable version of Squall Leonhart's clothes
In correlation with the last bullet, these things may cause the engine to asplode!
The Asploder comes in 6 different versions:
XL - for people who are Extra Large
XLT - bacon has been replaced with synthetic X-bacon
Sport - smaller, yet uglier and less fuel efficient, pluse you get the look of a Mexican smuggling 300 pounds of coke with the rear sag. Kind of what the Hummer H3 is to the H2
Eddie Bauer - slap a brand name on it and people will be more than happy to dish out an extra $2000 dollars.
F-Asploder- Now you drive around with an F-Bomb in the trunk! How else will you kill George Bush with road rage
Sarcasploder- Not released until 2020, this model will be able to wash your audio through extreme sarcasm, causing you head asplode, along with anything in the next five miles, including the car!