MotoGP
Jump to navigation
Jump to search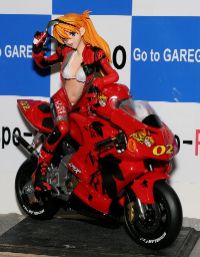 MotoGP, or World Motorcycle Grand Prix Racing Series for short, is the top tier of motorbike racing where all of the world's best riders (usually from Italy, Japan or the Republic of Bongo Bongo Land) compete literally in a battle to the death across several racetracks each season. As such, very few MotoGP competitors are still alive in the world today.
MotoGP was invented in the year poopies by Professor Albert Motogp, who came up with the idea in a fit of rage after coming up with ever faster and ever more dangerous means of transport and accidentally putting together the world's first motorbike which, despite a top speed of 400 million kph, was equivalent in size to the Empire State Building and therefore impossible to start moving, so the idea was scrapped but rediscovered in an archeological dig 7 minutes later.
The first such "champion" of MotoGP was the legendary Oscar Wilde, who rode for his very own team Wilde Card Racing, the most successful team in the history of MotoGP. Most people question the team's existence, however, due to their bikes, riders and crew members being invisible, silent and untouchable, and the fact that the team are never mentioned anywhere. Only Valentino Rossi comes close to matching this legendary rider's speed, but recently he has begun to make some absolutely rubbish mistakes in races which cost him any chance of winning the title. He recently confirmed that he was deliberately throwing the race because his indestructability had expired, and he feared for his life. He is expected to retire at the end of the year if he isn't already dead.
The MotoGP campaign has boasted the most intriguing and exciting range of competitors thus far, most of which are now deceased of course. Let us look here now at a list of some of the "greatest" MotoGP competitors so far.
Valentino "Doctor Who" Rossi
[
edit
|
edit source
]
Curly-haired git who enters every race with 'The Doctor' written on the back of his overalls due to his unrequitted love for the Doctor Who television series. As a rider for the Doh-Katty team, he is known to be one of the most insane and ruthless motorcycle racers ever to enter MotoGP. He is one of the longest running MotoGP competitors having served a total of 3 seasons (4 including his initial wildcard entry) without dying. He also holds a place in the record books for "Most famous bottom on TV" due to his on-bike camera being positioned right in front of his butthole. The snot-coloured patches on his overalls are an homage to his first team, Nastro Azzurro (which translates as "Nasty Arsehole"). The Doctor is known never to operate without the assistance of Nurse Traction Control, and only rides special tyres flown into race weekends by black helicopters. Rossi prefers to stay in front as he likes other racers to watch his posterior and there is a rumour that he has a bet with Casey Stoner that the winner of the 2009 season will nail Mrs Stoner in the first available ambulance after the finish of the Valencian round on 8th November 2009.
Not the brother of Valentino Rossi, he raced for the Ritz la Suzuki team this season. He survived most of the season mainly due to being defended at all costs from opposing riders by Valentino. He was killed after being involved in a head-on collision with 19 other riders in the Afghanistan Grand Prix.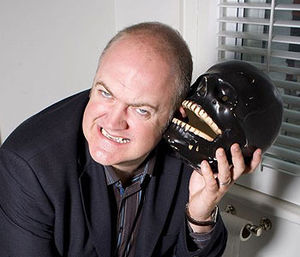 O'Melandry is an Irish racer for the Doh-Katty racing team. Prior to his MotoGP career he lived a fantastic life travelling the world, his most recent job being as a smatijove salesman in Malaysia where he first discovered MotoGP and decided to sign up "for a bit of a craic" as he liked to put it. He had a successful start to his MotoGP career and made a name for himself instantly. He was killed in only his third race, making him one of the longer serving racers in MotoGP.
Call-ing "Texan Tornado" Edwards
[
edit
|
edit source
]
Crazy Colin once raced alongside Valentino Rossi at the YamaHAHAHAHAAA team, where he earned his nickname by proving himself to be even more of a nutcase than Rossi was. He entered the first race of the season, at one of the 67 Spanish circuits on this year's calendar, where he only just managed to pull through from a usual horrific incident. He returned to his seat by the time he recovered, only to die just 4 laps in to the race at the hands of his teammate.
Casey "Far Canal Whinger" Stoner
[
edit
|
edit source
]
Named after his rampant drug habits, Casey Stoner is one of the more artistic drivers in terms of his racing style, in that he has an uncanny ability to rebound off other bikes to gain an extra boost of speed. Along with Rossi, he is the only other rider to have survived the whole season so far, but controversy surrounds him after he blatantly avoided several drugs tests. Casey's wife Adriana Stoner (née Tastyassovitch) has reportedly caused 3.2 billion hard drive failures on TiVo, Foxtel IQ and similar DVR units as viewers slow-mo and freeze-frame waist level grid footage of her during her umbrella girl duties (sometimes Casey is visible too). Casey has been 'dating' Adriana since she was 12 and now she is 16. Adriana must be in bed by 9 pm which is greatly appreciated by Casey and is part of his training regime, without Adriana's "homework" he would weigh a lot more than his current 32 kg. He drives this year for Doh-Katty, taking over from last year's champion Kakegakawa, who chickened out at the last minute. Wuss. *2009 Season Update* Stoner has complained about feeling fatigue during the early season and missed the Chequeinthemail GP with reports that he will not start in the subsequent two races. Team Managers are reportedly considering swapping Adriana for some fat slapper from Sydney's Western suburbs as it is obvious why he is knackered all the time, one look at Adriana's body lets us all know where Stoner's playground is... and it ain't covered in bloody tarmac! Stoner took some time off racing to play with Adriana full time but took one night away from that slender frame and those delicious A-cups to have enough energy to take second place at the Portuguese round. Pit footage of Adriana did not show her too happy until he passed the chequered flag, indicating that it was time to get back to "homework". With two weeks until the Australian round, hopefully Stoner will get some rest on the flight home. *2011 Season Update* He only won at Silverstone because he gave straight vodka to all the other racers. This however backfired when Rossi tried to rape him in the men's toilet.
Part of the Satellite Honda team, best known for his impersonations of Jesus. He made his debut in 2011 for looking like a stupid hippy boy who didn't have a job. He fucked up royally at Silverstone 2011 by taking out half the riders and creating a small crater at maggots corner (a corner named after the lowlife that feast on the dead bodies of those who crash at said corner). This was partly due to his long curly hair getting stuck in the tyres, that really fucked his hippy look right up. Although his usual trick of kicking other riders off while the cameras were not watching, it did not help him due to a rogue tyre sliced through the bone of all three of his legs. Blood everywhere, it was a good day for MotoGP.
John "The Grasshopper" Hopkins
[
edit
|
edit source
]
MotoGP rider John Hopkins has been nicknamed "The Grasshopper" due to his exceptionally long legs. Sizing up at 9"2, he is one of the tallest MotoGP riders ever, just missing out on the record to Jeremy "The Giraffe" Giraffmann. He, along with quite a few others, was killed in the first race after being decapitated going under a low bridge.
Dani Pedrodelarosa made his debut in 2006 with Ripsoff E Honda where he was the victim of a hissy fit by his teammate Nicky "The Hoover" Hayden. This year, he celebrated his 10th birthday as he prepared to enter into yet another MotoGP season. He was abruptly blown up towards the end of the first race by Hayden's hand grenade as revenge for costing him a race win.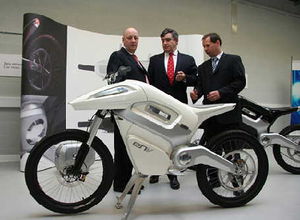 Carlos was one of the leading politicians in the United States of Kingdom until he found it increasingly boring, and furthermore knew it was giving him a negative profile. As a result, he wiped everyone's minds of him and became a MotoGP rider instead, despite no previous experience on a motorbike. He was last seen as the sole rider for Liquid Crystal Racing, but like many others lost his life in the first race after "failing to work out where the steering wheel was".
A rider for Ritz la Suzuki, Chris Vermïnnen made history by becoming the first Finnish MotoGP rider to take up mule riding, hence his nickname, "Ver-mule-en" (rumours are that said mule has been nicknamed "Hee-haw Lorenzo"). Despite taking a battering in the first race in which he lost both of his arms, he was all set to go for the next race. Unfortunately, he instantly fell over at the start and was subsequently crushed to death by the oncoming bikes, rounding off what was a disappointing debut season for him.
Valentino Rossi's Dogsbody for the Doh-Katty team, Hayden was tipped to win the championship this year, despite earning the nickname "The Hoover" the previous year, due to the fact that he sucks. He was best known for his hissy fit upon bitter rival Dani Pedrodelarosa at the end of 2006. Hayden later blew him up at the opening round and went on to finish, but blew himself up when trying the same thing on the Rossi brothers the following race. Hayden is notable on the track as he has no talent, winning the 2006 season only because the other competitors fell off their bikes laughing at his pathetic antics. Dani Pedrodelarosa tried to kill Hayden at Estoril as part of an attempt to rid wannabes from the world but failed, for this he was subjected to 72 hours Starbucks confinement.
Fairly new to the scene this legendary one man team is breaking all the boundries in motorcycle racing. Going from novice to advanced within three minutes of his first track day, it has been revealed that Richie11 will be signing for the Kawasmakimyarse MotoGP team for the 2009 season. The cross dressing ex-marine had this to say "la its amazin i was telling the box of toys de ova day tat i will be racin' gainst Rossi and dat i is buzzin, but the main aim for 2009 iz too beet tango and cash racing" check the legend out at Richie11 OR portrait
Multi millionaire and star rider with such teams as E Honda Ponce and Pacamac D'arsey, he rode in a couple of MotoGP races two years ago before wussing out and joining the so-called "super bikes" championship. He regained sense and signed up once again for the championship where he was thrown off his bike into the wall at the finish line to become MotoGP's first posthumous race finisher. Because of this, he only scored 1 point rather than the two he would have got.
Toni (formerly Anthony) Elias
[
edit
|
edit source
]
Toni Elias, who rides for the Greasy Knee team, had recently recovered from a sex change operation to become this year's only female MotoGP competitor. Sadly, this served to be her downfall when she was leered at by the rest of the grid in the first race, forcing her into the gravel. She escaped from this unharmed, which the marshals deemed unacceptable for a MotoGP race so they shot her dead anyway.
An Indian rider disguising himself as a Frenchman, former Kawa-sucky rider Randeep holds the current record for the most penalties ever issued to a MotoGP rider: two. The first one was issued after he appeared to win the opening race but was revealed to have entered a cheat code into his bike setup before the race and was docked most of his one point. He committed the same offence the following race and was penalised by death when race officials activited his auto-destruct.
Brother of former lifeguard David Hasselhoff, Alex joined MotoGP because he was envious of the adrenaline-filled all action lifestyle his brother once had. However, he mixed up his dream of becoming MotoGP champion with his brother's lifeguard duties, and ended up driving his bike straight into a nearby like in the opening race. He escaped from the lake, but drowned in the water that had seeped into his helmet shortly after.
Anthony West, nicknamed "Eastie" after his self from an alternate dimension's surname, was drafted in at Kawa-sucky to replace crybaby Olivier Jacque-Villeneuve. He didn't last long, however, as despite a promising start to his debut race in Antarctica he entered the pits to change bikes for wet-weather tyres. Because of this he emerged several laps down due to the pit lane being half the length of the continent for safety reasons. He still ended up missing the exit and sliding across the ice into the water, where he nearly drowned but fortunately was frozen to preserve his body for a later MotoGP season.
Sill van Guintoli is a Dutch rider who, after miraculously surviving the entire 250cc season was promoted to MotoGP. It was without success, however, as halfway into the first race everyone lost track of his race position as he drifted towards the back, and he spontaneously combusted out of sight from everyone. In many ways, he's the luckiest MotoGP rider ever because he did not die as a result of the race itself.
Shinji Nakano, a regular member of the public often associated with Kawa-sucky for no apparent reason, joined E Honda's Chronica Minolta and Greasy Knee teams in an attempt to shake off this negative image of himself. He died while attempting a complex manouvere in which he literally tried to leap off his bike over three other riders and land ahead of them back on his bike, a manouvere he greatly misjudged. He is not to be confused with Shinya Nakano, who raced in Formula One with Minardi in 1998.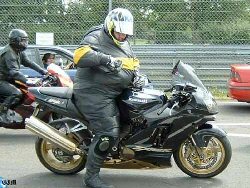 Japanese rider Tomato Nokada only entered two races: one as a wildcard, which he miraculously won, and the other as a full-time rider with Tech 3 YamaHAHAHAHAAA, in which he wasn't involved in an accident as such but simply disintegrated mid-race. He was nicknamed "Tomato" by his close friends because he was morbidly obese. His actual name is Bill, Cedric or Archibald. He has done some modelling and was one of the original Grimace actors.
Kenny "Racing Rob" Roberts Jr
[
edit
|
edit source
]
"Racing Rob" is the son of former MotoGP rider Kenny "Bobby" Roberts, who founded his own race team and conceived a son moments before his death following a MotoGP accident in a desperate attempt to keep his name in MotoGP. Unfortunately, the bike was worse than crap, and its rider Kenny Jr was killed in the first race in a bizarre incident which saw him run half the race distance upside-down.
Kurtis "Other Racing Rob" Roberts
[
edit
|
edit source
]
Older brother of Kenny, Kurtis was drafted in at Team Bobby to replace him halfway through the season in a last-ditch attempt to keep the team going. They were not aware that Kurtis had no experience whatsoever riding any sort of motor vehicle, which led to a disastrous second half of the season in which Kurtis never managed to even start the bike. Because of this he was killed by the end of the first lap after being launched into orbit by race leader Stoner, who later said in an interview "I'm never smoking that shit again".
The rider from France, who previously had the insanely boring job of testing MotoGP bikes, got a race drive with Kawa-sucky. However, he failed to attend the opening race because he broke his little finger putting on his gloves. He whinged for ages about his finger, despite it healing within minutes, and was dishonourably discharged from the team having not contested a single race. I mean, to be sacked from Kawa-sucky? That's got to be the ultimate humiliation, surely?
Rider who enters the Japan Grand Prix . . . sometimes. He retired at the start line after a spell of rain caused him to go all soggy, fall apart and lose his flavour.
One of a number of Aoki robot clones to be entered into a MotoGP race. This time, it was drafted in at D'Arsey for Alex Hasselhoff for a race. Unfortunately, like all the other Aokis, it crashed. Not the bike this time, but its operating system.
Bloke who has stood an at Kawa-Sucky, Doh-Katty and just about every other team. He made history as the first odour-eliminating spray to enter a racing category. Death isn't a problem for this rider as the team manager can just go and buy a fresh bottle from Tesco's.
Kousuke Aki Yoshi is a small, dinosaur-like creature who hails from Yoshi's Island. He was desperately elected as a wildcard by Ritz la Suzuki for the Japanese race. After a brilliant start, he had a smooth ride and was running 7th just 4 laps from the finish when he sunk through the road and was lost completely. The circuit continues to be dug up as a search party holds an ongoing investigation into his strange disappearance.
Jeremy "Retire" McWilliams
[
edit
|
edit source
]
One of the most experienced runners ever, having entered every MotoGP race since 1884, Jeremy McWilliams was famous for retiring and getting injured in every single race, and this season was no different. He last joined the aptly named Ill More team and crashed out before the season even began. He is currently dead, and undergoing yet another process of resurrection ready for his next inevitably crap attempt.
British bloke who is apparently loopy about snooker. He was banned from racing after he attempted to "pot the reds" by crashing himself into the Doh-Katty motorbikes. He went on to become a darts player, but was also banned from that after leaving chalk marks from his cue all over double top.
An Armenian naturalised American, with a big nose. Used to be the fastest at his time, because at his time he could close the whole track with his nose. His biggest nemesis was Wayne Waters. Won the championship, and after it killed himself for the thrill he would feel.
One of the greatest riders of its time. Before racing used to be Michael Bolton cover, but quit as Michael Bolton doesn't do much money. Used to be racer for the YamaHAHAHAHAHA, but quit to be musician, he plays for the band Pink In the Floyd.
The first and only rider from Texas, he is normaly remembered from it's fallings. For 3 races he used to fall 45 times, he only break his arm once, when he was masturbating in race. Remember never to masturbate while riding a bike, is dangerous. Nowadays he is the president for Suzuki racing plus CEO from Old-Spice company.
Carl-amoty Crutchitch-Lowside
[
edit
|
edit source
]
A plucky but unluky Brit, Carl-amoty brings a touch of roast beef to his gallic frogs legs-eating paymasters. Despite suffering with a severe genital malformation (he can only piss rearwards); he is able to master most racetracks, except French ones, where he repeately ends up in the kitty litter from lowsides. His main weapon in in defeating other racers is his need to constantly scratch his bollocks, and is thought he sneakily flicks the scabs from his genital warts onto his fellow racers, causing them to take unothodox lines in avoidance.
No MotoGP season is complete without the usual line-up of motorbikes to race for that season! This rung true when for its earlier seasons, such as 1822, no motorbike teams attended meaning the entire season was spent trying to invent the bloody things. For hundreds of years, there were no bikes completed, meaning there were no championship winners. Nowadays, the teams usually consist of: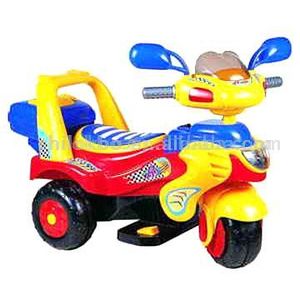 The YamaHAHAHAHAAA team (b. 23 Smarch, 1934) is a rapidly growing team in the world of MotoGP due to is sturdy design and unsurmountable top speeds of up to 3mph. It is the only bike not to be powered by an engine. Instead the inner workings of the YamaHAHAHAHAAA bike consist of various wires, lumps of metal and some form of flammable fluid. The bike has in incredibly impressive record considering its design hasn't been updated since the 1950s.
Doh-Katty first entered in 1990 as the first anime style racing team, and as such its riders consisted mainly of anime characters with weird hairstyles. Due to its anime roots the team usually puts up the most elaborate, intense and heroic performances out of any team. The most recent champion, Koko Kakegakawa, is Doh-Katty's first champion due to her being the first rider for the team that holds "main character" status.
Sponsored by underhand company Ripsoff, this is regard as the main team run by former sumo wrestler E Honda of Street Fighter fame. The team are relatively new, since they took over three years ago from Team Telefone-sex scandal Moviestar (run by the late Dave Moviestar). They hoped to win this years championship with "Hoover Hayden" who was seen as a champion at the start of the season, but so far they have failed to deliver.
The Kawa-sucky Team from Japan was originally concepted as an incredibly elaborate-looking tri-colour motorbike, consiting of yellow, green and purple patterns. Unfortunately the team could not afford any more paint, so they had to just make it all green. The team has a terrible record due to crappy riders, only two bikes and an extremely low budget. I mean if they can't afford paint then they're hardly gonna be a massive success are they?
Ritz la Suzuki was entered into MotoGP at the turn of the millennium in an attempt to make MotoGP appeal to a more upmarket audience. They enjoy a rather spiffing record in MotoGP, what what. A simply marvellous little team that really makes a promenade down the racetrack all the more worthwile. Chocks away!
Greasy Knee is one of an infinite number of teams running the E Honda bike. They are so called because of the unique wings attached to the sides of the bike which allows the rider to take the tightest of corners without causing damage to their knees. There has long been a campaign to ban this as it is an illegal aerodynamic feature that causes danger to other riders (many have lost feet as the result of a clash with this bike).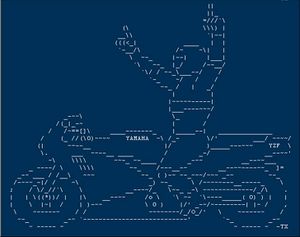 OMG teh l33t T3ch 3 YamaHAHAHAHAAA
[
edit
|
edit source
]
Running a second pair of YamaHAHAHAHAAA bikes by popular demand, the team was started over the internet by a conglomeration of noobs, who voted that the name should be Tech E because it sounded "LIEK TEH B35T NAM3 3VARRRR!!!111". Because the team was founded and owned by noobs, they have the worst bikes out of all teams on the grid and, as such, have yet to "finish" a race.
Team Alice In Wonderland (who the f**k is Alice?)
[
edit
|
edit source
]
New team joining forces with Pacamac racing team, running a pair of ancient Doh-Katty motorbikes. Pacamac was founded by Egyptian entrepreneur Caramac Lolcat Pacamac in 1983 B.C. as a "Scribes 4 Hire" service which still continues to this day, albeit with extremely little work. They have enjoyed a lot of failure in recent years as Pacamac Ponce and Pacamac D'arsey. Suprisingly, this seems to have had very little effect at this point in time, with their only new work being to assist chavs in writing text messages. Why they agreed to rename the team "Alice" is a mystery to everyone, and as such is considered the worst name for a product since Nintendo named their console after a euphemism for urination.
Liquid Crystal Racing (LCR) E Honda
[
edit
|
edit source
]
The Liquid Crystal Racing team is famous for being the only bike developed entirely on a calculator screen. As a consequence of this, however, the bike only appears in a series of entirely black lines, and is a terrible bike as it is extremely difficult to stand up. Because of this, no-one has ever rode a Liquid Crystal bike and lived to tell the tale. Also worthy of note is that they couldn't be arsed to find a second rider.
Scot only entered because they wanted to jump on the bandwagon of teams that have run E Honda bikes, such as Ripsoff, Telefone-sex scandal Moviestar and the Chronica Minolta team, a previous name of the team. They have made no progress, and as such are only bothering to enter one rider which is bloody lazy.
Team Bobby was unique in that you were only allowed to race for them if your surname is Roberts. Unfortunately, we doubt many would've wanted to as it would mean riding on one of the crappest motorbikes in existence, which is a humiliation that nobody in the world needs. That and, obviously, certain death. Team Bobby's riders usually consisted of Kenny "Racing Rob" Roberts and, Kurtis "Other Racing Rob" Roberts, though they briefly had other "talents" such as Shane "Shakey" Shakespeare and Jurgen van de Carlsbergh. Team Bobby have thankfully gone bankrupt after the Roberts family were wiped out by a freak earthquake in the UK on February 2008.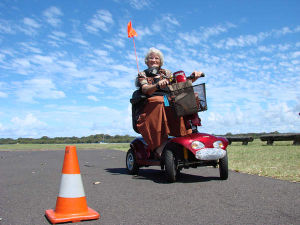 Ill More's efforts to enter a MotoGP team began in 2006, when their team boss Super Mario Illien suddenly leapt from his chair and said "I know! Let's start up yet another pointless racing team that's doomed to fail from the very beginning!" Hence, the Ill More MotoGP team was born. They started off by entering the last two races of the season, where their rider Fishen Chipps achieved a shock debut victory, despite being 3 laps down on the rest of the field. This allowed them to be entered full time for 2007. They pulled out, suffering from premature ejaculation after one race due to a lack of promotional gold watches. Their drivers, namely Andrew Pitt-Lane and Jeremy "Retire" McWilliams, put in the best efforts of their shit careers during this time, which isn't saying much at all.