Stuart Maconie
Jump to navigation
Jump to search
Whoops! Maybe you were looking for Pasta?

This article may be Overly British
Americans may not understand humour, only humor. Canadians and Australians may not understand anything at all. Don't change a thing to remedy this.
---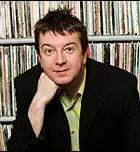 "He had the texture and taste of a Yorkshire popover"
~ any person who has kissed Stuart Maconie on Stuart Maconie
"What was that all about, eh?"
~ Stuart Maconie on all
"Hey, macaroni"
~ Stuart Maconie's theme tune
Remembering the past's Stuart Macaroni Maconie is one the most prominent British nostalgists of modern times. His unsurpassed knowledge of all things past, present, and future has earned him the nicknames 'The Man With The Never-Ending Memory', and 'Lord Long-Cock' (self chosen).
Biography
[
edit
]
No one really remembers when Stuart Maconie was born except for Stuart Maconie himself. He is notoriously defensive when questioned about his age, and once set fire to Jamie Theakston's face after the TV presenter quipped that he was "probably older than David Quantick" (David Quantick being Stuart Maconie's fiercest rival in the nostalgia business). This has caused many TV executives / producers / grips to fear Stuart Maconie and in some cases, Stuart Maconie to fear Stuart Maconie (an amusing tale of a white label Buzzcocks LP, an old girlfriend, and an imaginative imagination recently circumnavigated the internet).
Many years ago, Maconie took a DNA test to establish his true heritage; the result returned was 'unknown spieces'. It further clarified that Maconie was 'possibly organic', though certainty was not able to determine due to 'extensive fossilisation'.[1] More recently, due to advances in medical science, doctors were able to take the requisite 0.00000900004001273 ml of blood from Maconie's calcified veins for an updated DNA test, though it did take them 17 attempts. Thankfully, this time, a partially positive DNA profile was created. It confirmed Maconie was indeed organic, with 64.56424688632689 percent of his DNA made from a 'floury substance' derived from a type of wheat, localised in Italy. Other features of his profile indicate descendency from a rodent mamalian creature, highly likely to the now endangered three-legged haggis (now found only in the lowland border region of Scotland, but previously prolific throughout the land, wherein it was classified as vermin), and a strange amalgamation of a 'batter-type' substance which when heated, forms a 'pudding'.[2]
Apologies if this makes you drop your hobnob biscuit into your tea, but Stuart Maconie has not always made his living remembering things. Back in the 1990s, he was partnered with the similarily-aged Andrew Collings, with whom he frequently shared a television studio, radio booth, or bathtub. They were responsible for such gems as Collings and Maconie's Hit Parade, Collings and Maconie's Movie Club, and, of course, Collings and Maconie on 'Sparky' Mark Goodiebag's poptastic early '90s incarnation of Radio One's The Evening Session. Ironically, nobody can remember any of these shows.
Following the end of his relationship with Andrew Collings in the mid 1990s, Maconie became the nation's foremost rememberer of trivia and popular culture, as well as a font of general knowledge. He has been referred to 'Britain's real paper of record, only not made of paper'.
As of 2011, Stuart Maconie co-presents a weekday radio show on the BBC's 6music radio station with Mark 'Hiya Mark!' Radcliffe. 1970s pop culture is occasionally mentioned, meaning that a record must be faded-in, as Maconie finds it physically difficult to stop talking about anything regarding that decade. He is 'attending a specialist clinic' for his nostalgia addiction.
Despite his Oracle-like bottomless well of knowledge of all things nostalgic and neo-nostalgic (future nostalgia), Stuart Maconie has not made good use of his talents, and is frequently seen pissing them up against a wall on TV shows such as I Love 1942 and The 100 Greatest Lists of All-Time. On these, he delights us with his suspiciously accurate knowledge of all things, be they past or future. In a recent interview, he gave away details of forthcoming shows he has planned, these include:
I Remember... a quiz show in which celebrity contestants try and remember given years;
We Remember... a group based variant on the above;
Never Forget a documentary about the holocaust.
He also admitted that he has no recollection of the year 1927, for reasons he cannot remember.
What Stuart Maconie remembers
[
edit
]
Where you last had your car keys
What you were doing yesterday when you said you were 'reading'
Most things before they actually happen
Being born (this was number one in the recent show The 100 Greatest Things Stuart Maconie Can Remember)
The year that Punk broke
The fifth of November
The fifth of Beethoven
The first time and a worse time
The year that Punk was mended
Where he was when Julius Caesar was shot
References
[
edit
]