Russophile
Jump to navigation
Jump to search
"In Soviet Яussia, template adds УФU!!"
Note that both the Chiniзe and ze Яussians love ziz AЯTICLE!
---

"I hate ******"
~ A polack hates Яussophilia
"What is that?"
~ A Яussophile on Яussophilia
Яussophile or Яussophilia , Яussocrap , Яussoshit is a kind of disease which infects peoples to love Яussia or Яussian culture.The counterpart and only medicine of Яussophile is Яussophobia.
Discovery of Яussophile
[
edit
]
The Discovery of Яussophile when the world since began in 1954346363 when Chuck Norris goes to Russia and get drunk by the Ruskies and force him to love the Яussian culture. For example that Russophile infect American people and become a commie or worst a Яuskie This is the say of an author Яobert Alexander: I love Яussians for their dramatic, emotional nature and They're not afraid to love, not afraid to get hurt, not afraid to become aggressive to other people .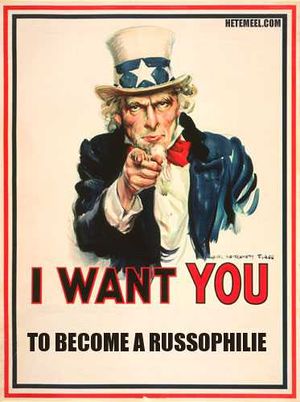 Stages of Infection being a Яussophile
[
edit
]
IИFЗCTЭD IЙDIVIDЦДLS ЗЖHIЬIT SУMPTФMS CФЯЯЭSPФИDIЙG TФ Three STДGЗS ФF IИFЭCTIФЙ, ШHICH PЯФGЯЗSS THЯФЦGH TIMЭ ДИD SЗVЭЯITЧ. THФЦGH IЙFЗCTЭD IИDIVIDЦДLS CДЙ SФMЗTIMЭS PЯФGЯЗSS THЯФЦGH THЭSЗ STДGЭS VЗЯУ QЦICКLЧ, MФST ЯЦSSФPHILIЭ ИФT SЦЯVIVЗ ФЙ THIS IИFЭCTIФЙ ЪУT IT CДИ PЯЗVЭЙT IT.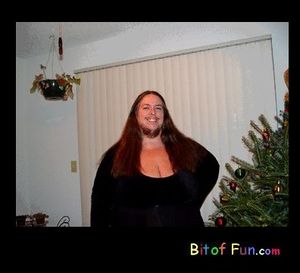 Stage One
[
edit
]
At the early stages of infection, the subject suffers only minimal cognitive damage and can still interact productively with the western hemisphere of his or her brain. At this level of infection the subject may suffer inability to to drink ordinary water in daylight hours during one month of the year. The man infects began to attract peoples from Яussia and love it like a toy.
Stage Two
[
edit
]
At the second stage of infection the subject begins to suffer significant problems interacting with his western culture; he may also suffer degradation of his humor processing cortex, preventing him from productively reading material on his condition. At this stage, many patients begin to exhibit external signs of infection.And the possible infection may be you can read Cyяiггic alphabet and your accent began like a sound of being drunk. When you talk to other people your sentence have a word comrade and wearing a ushanka in winter.The worst is you like to watch Tv from Russia and read newspaper from Russia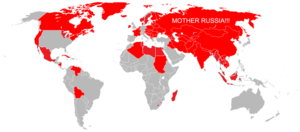 Stage Three
[
edit
]
The worst and most dangerous part of infection of have a Яussophile.Stage four and five of the infection is the same and rarest of its manifestations and it occurs only after the has Яussophile exploded as part of stage three. At this point the infected male and famale now can speak Russian in full glory and write Cyяiггic alphabets and possible you are watching now some military parades in Яed square.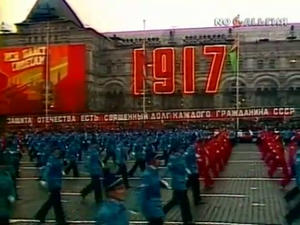 How to spot A Яussophile
[
edit
]
Russophile are people that live in the eastern Europe or any part of the world.It is not very easy to spot a Russophile because they have no any signs of them is a Russophile. One reason are Russophile is not easy to spot because they hide there houses or in there selves if you spot somebody watching a television from Russia provely him or her a Russophile!
Prevention
[
edit
]
There is exists medicine against the disease,But there are several steps that can be taken to minimize infection when exposed to a Russophile and prevent it from future generation.
Do not watch military parades because this is one of being a Russophile
Do not use in a sentence the word Comrade
Do not drink vodka
Do not Eat cheese
Do not play tetris
Dont be a dick
According to them drinking enough Alcohol to elevate yourself to a BAL (blood alcohol level) of 6.0 helps extend our pathetic mortal lives.
Dont be a Alcoholic Communists
Dont be like them at the bottom