Iron Sheik
Jump to navigation
Jump to search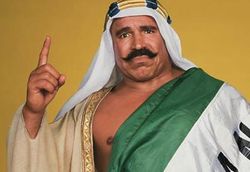 Suddam Hossein Khorkscrew Muhammad Ali Viagra the 3rd, (March 15, 1943 - June 7, 2023) was an Iranian professional wrestler, actor and florist; better known by his stage/ring name The Iron Sheik. He was known for ending the near six year World Wrestling Federation (WWE) championship reign of Bob Barker and for being the man who took the first dive to Hulk Hogan's first WWF Championship win at Wrestlemania.
Typecast as a heel in the 1980s, he later gained additional popularity playing Jamie Farr's stand-in on the Cannonball Run movies, and later on The Howard Stern Show where he made some shoot interviews that involved Sheik bursting out into rants & raves about which professional wrestlers he thought where limp-wrist-ed, tail-gunning, donut-punching, cock-suckers. The success then led to him starring in a million shoot interviews where he would name and shame cock-suckers he had worked with, while also bursting into tears and having a cry that his dick was never one of the chosen many during the cock-sucker years of the WWF.
Amateur Escort Wrestling Career
[
edit
|
edit source
]
Sheik made a name for himself as an amateur go-go dancer and part time bio-chemical warfare weapons supplier to Iraqi military before he began training as an amateur wrestler in early 1963 under an Iraqi Job Avoidance Scheme.
He competed to become part of the Iranian Olympic Gecko Roman team for the 1968 Summer Olympics held in Mexico but was eliminated during his country's trials for signing autographs under the name of Will Youmans. Nonetheless, wrestling promoters later billed him as having won a medal at these Olympics which people bought into and believed just as much as they believe these guys really are hurting each other in the squared circle.
After that crap was over, he moved to the USA and became the assistant coach of two US Olympic squads in the 1970s. He is respected today for not coaching Kurt Angle and thanks his lucky stars about that one to this very day.
""Thank Allah I did not train that Kurt Angle Faggot Cock-Sucker Guy""
In 1972, Sheik was invited into becoming a professional wrestler by promoter Vernon Gangreen. Sheik trained at the wrestling camp under the guidance of some old prick you wouldn't have heard of if we told you his name anyway, but Sheik would tell you the guy was a complete cock-sucker, so just take his word for it. Sheik was trained in the same evening classes as Dick Flair and together they found employment with the American Wrestling Association (AWA). He also worked as a trainer, teaching Ricky The "Cleavland Steamer" Enter the Drag-Queenboat how to avoid being a cocksucker in the ring.
Sheik first wrestled as a baby-face in preliminary matches before a promoter suggested that he adopt a heel gimmick and quickly throw a diaper on his head. It was because Iranian wrestlers were all just terrorists to the United States, and he may as well give the fans what they think he was anyway.
Iron obliged and adopted what came to be his signature look of The Iron Sheik, before naming himself that tho.: he shaved his balls, grew a traditional Saddam Hussein style mustache, added wrestling boots covered in camel shit and wrapped a tea-towel around his head. He soon had that exact look America hated and became a fast rising heel in the AWA.
Taking the name The Great Hussein Camel Fucker, he won his first title, the Canadian Tag Team Championship, with partner Walker Texas Ranger.
He caught the eye of the WWF where he made his debut in 1979 and won the first-ever Battle Royal in New York's Madison Square Garden when he blew up the rest of his opposition with a case of explosives to steal the win. This earned him a title shot at then-champion Bob Barker, who fans would welcome the death of, but never got their wish. Unfortunately the FCC stepped in and demanded Sheik never blow up wrestlers ever again, which both Sheik and the WWF complied to, but fan's in recent years have wanted that ban lifted since John Cena made his debut in the naughties.
In 1983 he dropped the Camel Fucker name and changed it to The Iron Sheik due to another thing the FCC bitched about and won. He once again challenged Barker and defeated him on December 26, 1983 at Madison Square Garden for the WWF World championship. Sheik also injured Barker during this match which forced Barker out of Wrestling forever! Fans are still applauding Sheik for that.
During his title reign, The Iron Sheik held memorable bouts against Chief Jay Leno, Fat Fatterson, and Titty Man Tannah before taking a dive just four weeks later to Hulk Hogan. Sheik would then complain about having to to take a dive to that "Faggot, Hock Hogan dick-sucker".
He would then engage in a bitter feud with Sgt. Slaughter, to whom he would eventually lose a "Boot You Up The Ass Rules" match that sidelined Sheik for several weeks due to needing surgery to have the boot removed from his anus. The Iron Sheik would return soon and go on to team up with Nikolai Volkoff as the "Racial Stereo Types". They won the WWF World tag-team title from the U.S. Express Their Rage.
During his stint in the WWF, he appeared in the music video for Cyndi Lauper's "Goonies 'R' Good Enough" as a part of the Rock 'n' Wrestling Connection as a heel in the clip to further promote Hogan as the all-American "Cock sucker Jew fag guy".
In 1987, Sheik was found guilty of cocaine use by the New Jersey police, after Sheik reportedly kept yelling out to them that they where just a bunch of all American cock-suckers like Hulk Hogan. Sheik was placed on probation for a year that led to him being fired by WWF President Vince McMahon when Sheik called him a cock-sucker for suspending him from exposing Hulk Hogan for what he really was.
With Sheik now fired from the WWF, he could only find work on the Indy wrestling scene. He wrestled for numerous small promotions, but left them all or was fired. He said they where all just cock suckers and they can go fuck themselves in the ass with Hulk Hogans dick if they did not want him.
With the Gulf War now at it's peak in the early 1990's, Vince could not think of a better man to have back in his company as a major heel than The Iron Sheik. Shiek was re-hired to play the role of the typical stereo-type foreigner, all to enrage American's with and make Hogan stand-out as the all-American hero once again after he fucked up by body slamming an elephant on a small Hulkamanic in the 3rd row during a live show in 1990. Sheik would convert the other all-American hero Sgt. Slaughter to his dark side of the force, and together they took a dive to Hogan once again at that years Wrestlemania main-event. After the match, backstage, Sheik yelled out to everyone that Hogan is still "an all American faggot-cock-sucker guy" and found himself fired from the WWF once again. It wasn't due to Sheik calling Hogan a cocksucker, it's just that part about all-american that turned a locker room of steroid abusing jocks into a bunch of pissed off enraged patriotic scrotum smokers that would not take any shit from anyone not born in the land of the free, home of the brave, and did not respect the proud red, white and blue. Something to which Sheik once did a shoot interview about when he said "Hogan is such a stupid sucker of the cock, he want be all American asshole, but he wear red and yellow swim suit? Why? I tella you why, because he faggot man!"
Sheik would find himself between 1992 and 1996 wrestling for various independent circuits again with the same results as before, it took him 4 years to work his way to being fired from all the North American Indy promotions for calling them cock-suckers & faggots. After 1996 there where no Indy circuits left to be fired from, so Sheik retired from pro-wrestling. He would not be seen or heard of inside of a wrestling promotion until in 2005 he was inducted into the WWE Hall Of Fame for behind admired as the guy who called a cocksucker a cocksucker and not sir after the WWE Universe turned on Hulk Hogan for making the dumbest mistake of his life and buying TNA.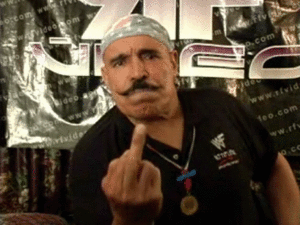 In his final years, the Iron Sheik had expressed intense dislike for many wrestlers, promoters, friends, and everyone in general using extremely fucking profane language and always threatening to rape them in the ass. As clips of these interviews made their way to YouTube, the Iron Sheik began to experience a cult following among a new generation of fans who find the interviews to be funny as hell listening to a guy who can barely speak English and calling them all cock-suckers and faggots before he bursts into tears and cries in a blubbery babble about the most random shit known to man.
" Why yes, I certainly am!!!"
" Ohhhh, he such a faggot, I rape he ass and fuck it cause he gay-homosexual"
People Sheik Claimed were Cock Sucker Faggot Guys
[
edit
|
edit source
]